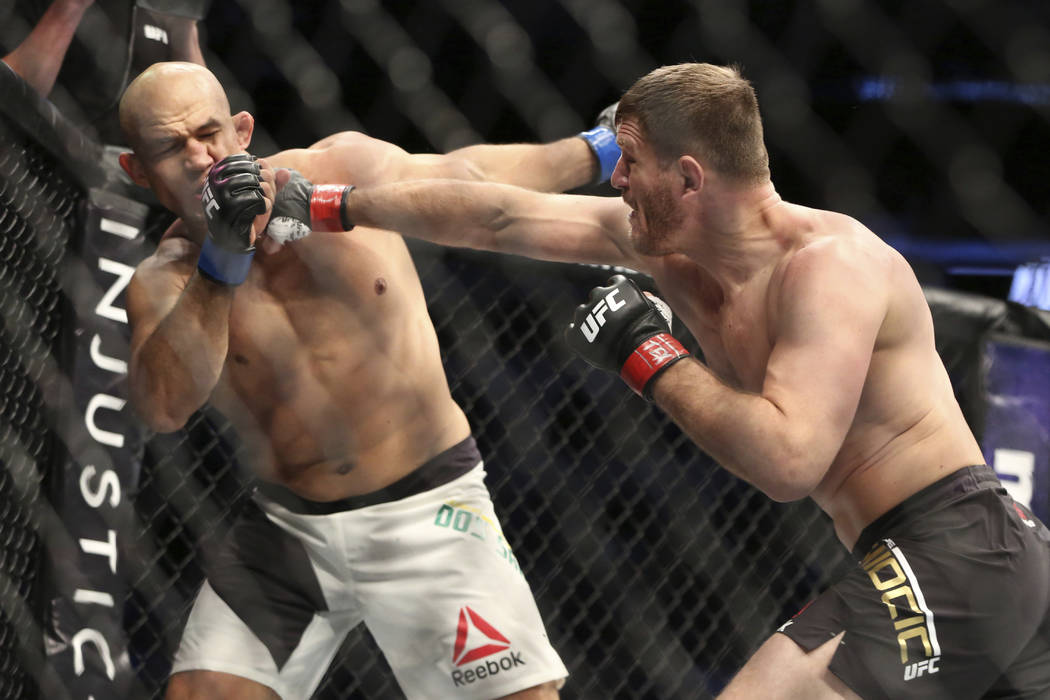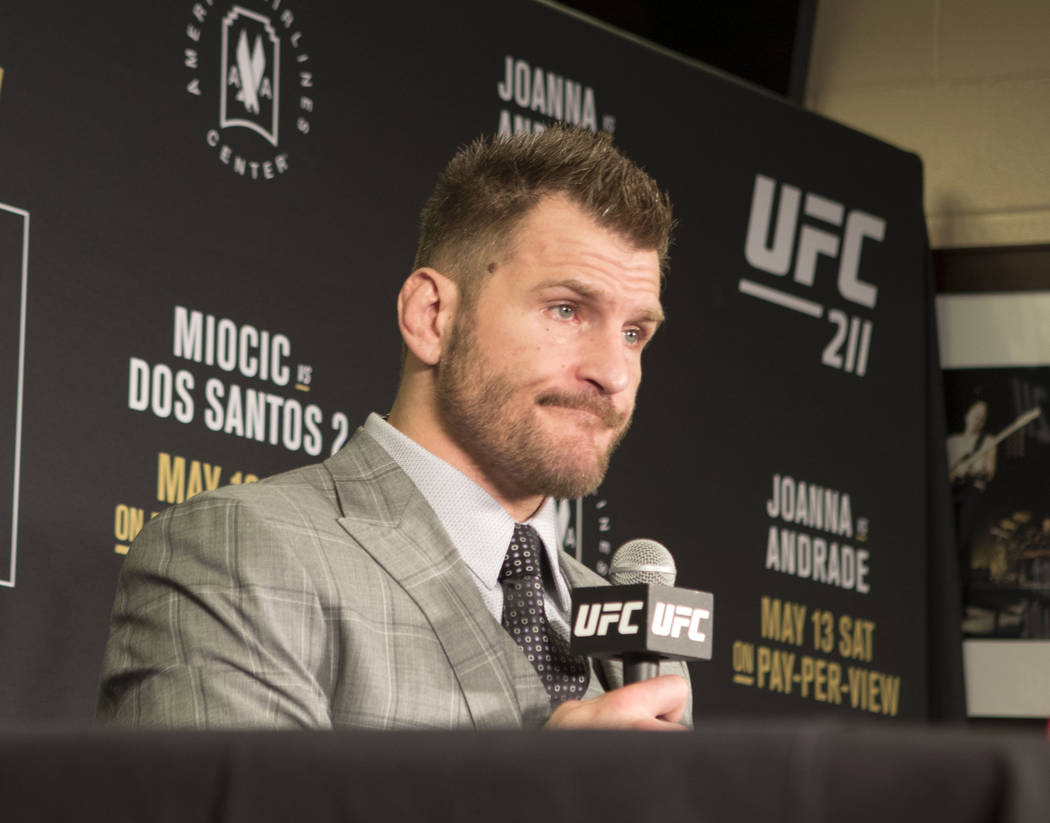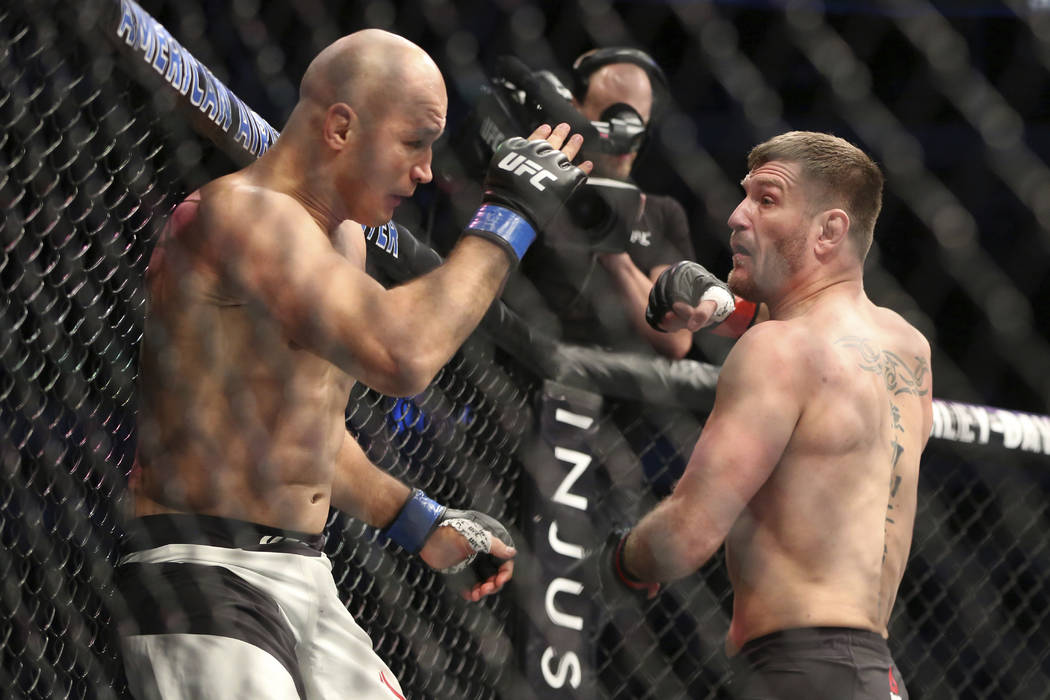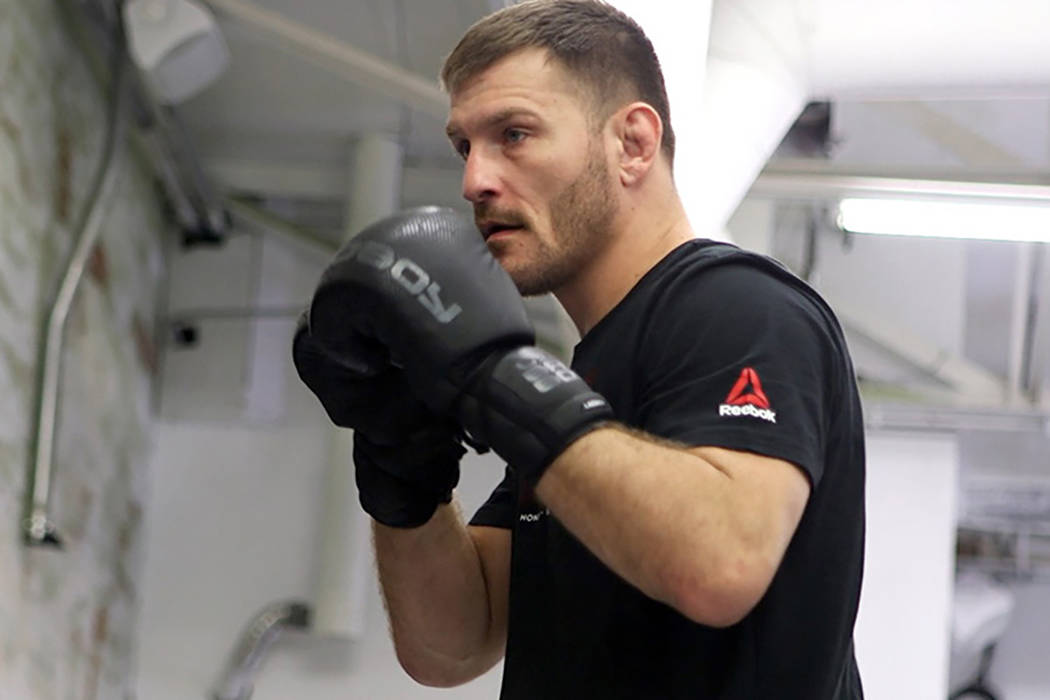 Stipe Miocic can set the record for longest title reign by a UFC heavyweight champion with a win in the main event of UFC 220 on Saturday in Boston.
Good luck finding anyone outside his circle of friends picking him to do so.
Despite knocking out five straight opponents, including three former UFC champions, Miocic will enter his title defense against phenom Francis Ngannou at TD Garden as a plus-150 underdog.
Miocic said he thinks even UFC officials want to see him lose to make way for one of the most hyped prospects the heavyweight division has seen.
Ngannou has taken to calling Miocic the interim champion, implying he's just a place holder until the Ngannou era begins.
It's a story Miocic has heard before.
"A lot of people think that, and they all end up laying on their backs looking up at the lights," Miocic said.
That has been the fate of Ngannou's UFC opponents, too.
He is 6-0 since joining the organization in 2015, with just two opponents getting out of the first round. Neither saw the third.
Ngannou has the potential to be the UFC's most marketable heavyweight champion outside of Brock Lesnar. He looks the part and packs a punch that stands as the most powerful ever recorded at the UFC Performance Institute.
While it's a limited sample size, the resulting marketing makes one fear for his opponents' collective lives.
"Francis Ngannou holds the world record for the most powerful punch," UFC president Dana White said in December. "His punch is the equivalent of 96 horsepower, which is the equivalent of being hit by Ford Escort at top speed. It's also the equivalent of being hit by a sledgehammer being swung full force from overhead."
OK then.
Ngannou also has the kind of backstory that Hollywood producers dream about. He spent his youth working as a laborer in the sand mines of his native Cameroon before seeking a better life in Paris, where he was homeless before walking into a gym where he hoped someone could teach him to box like his idol, Mike Tyson.
He had no idea it was an MMA gym. About four years later, the 31-year-old will fight for the heavyweight title.
"My thought is to always dream about something big and always live with the dream," said Ngannou, who moved to Las Vegas last year. "I'm on the way to making that dream come true."
He thinks winning the belt can be the beginning of the next chapter. No heavyweight champion has recorded three consecutive title defenses, something Miocic hopes to do Saturday, but Ngannou wants to hold the belt for a long time.
"I said he was interim champion because I haven't been there. I'm the real champion for this division," he said. "I'm the guy that's going to change the heavyweight division. It starts (Saturday), and I'm going to bring more excitement to a heavyweight division which was for a long time almost forgot about.
"I know what Stipe is able to do. Everyone knows what Stipe can do. But the scary thing is this, no one really knows what I'm able to do. They just see my fights go for like one minute and then I win the fight. But they really don't have any idea for what I can do."
That's a frightening thought for the rest of the division, but not Miocic.
"I fear no man. I fear my wife maybe, but not him," the champion said. "I mean, listen, he's a good guy, and he hits hard just like every heavyweight. They measured his punch, I guess. I never saw it, but I'm sure he hits hard.
"I'm concerned about everyone's power. It's the heavyweight division. It's not unique to him. You don't even have to be a good striker with the size of these guys, it just takes one shot."
The bout headlines a 7 p.m. pay-per-view card that also features a light heavyweight title bout between Volkan Oezdemir and champion Daniel Cormier.
UFC 220 main card
Main card bouts on the 7 p.m. pay-per-view card at TD Garden in Boston:
— Stipe Miocic (17-2) vs. Francis Ngannou (11-1), for Miocic's heavyweight title
— Daniel Cormier (19-1, 1 No Contest) vs. Volkan Oezdemir (15-1), for Cormier's light heavyweight title
— Calvin Kattar (17-2) vs. Shane Burgos (10-0), featherweights
— Gian Villante (15-8) vs. Francimar Barroso (19-5, 1 No Contest), light heavyweights
— Thomas Almeida (22-2) vs. Rob Font (14-3), bantamweights
More MMA: Follow all of our MMA and UFC coverage online at CoveringTheCage.com and @CoveringTheCage on Twitter.
Contact Adam Hill at ahill@reviewjournal.com or 702-277-8028. Follow @AdamHillLVRJ on Twitter.