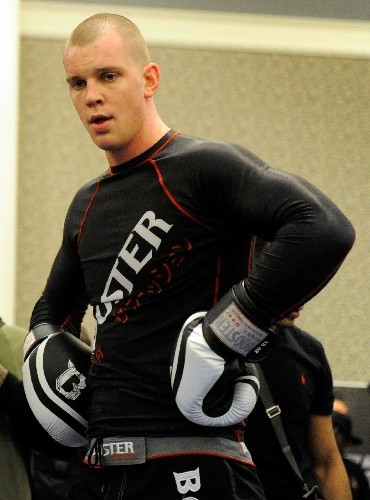 After Stipe Miocic and Stefan Struve are finished fighting in separate bouts on Saturday night's Ultimate Fighting Championship card at the MGM Grand Garden, each hopes to watch the heavyweight title bout that serves as the evening's main event.
Both fighters hope one day to compete for that prize, though they have different approaches toward reaching that goal.
Struve and Miocic are two of the top prospects in the suddenly loaded UFC heavyweight division that will be on full display at UFC 146. The card marks the first time in the organization's history that five heavyweight fights will make up a main card.
Struve is 6 feet 11 inches and though just 24 years old already is a UFC veteran. He will be fighting in the UFC for the 11th time when he meets powerful striker Lavar Johnson on Saturday.
With all of those bouts behind him at such a relatively young age, Struve has the potential to be a force when he reaches his athletic prime in a few years. He still is getting stronger and hopes to continue to put on muscle as he gets older. But Struve would rather his day come sooner than later.
"To be honest, I don't really think about the future. I try to enjoy every moment right now," he said. "I live right now, and I train right now, and I try to do my best right now. The future might be fun, but that's for then.
"We'll see what happens down the road. I could get injured, break my leg or whatever. I'm going to do my best now and make my run."
He could be in the midst of that surge now. Struve appears to be learning how to put his height and reach to better use in the cage. He had been more comfortable in the ground game in the past but knocked out Dave Herman in February for his second straight win.
"It's hard to use your size when you're not strong enough, but I'm getting strong now. I'm 260 pounds and adding muscle to my frame," said Struve, who says he one day wants to enter training camps around 300 pounds and cut down the heavyweight limit of 265. "I believe on a good day I can beat anyone in the division right now if I use my physical abilities and my technique the right way.
"It's just about being confident and putting it all together in the cage. When I do that, I don't see anyone beating me."
Miocic, who faces Shane del Rosario, is taking a more patient approach. He believes his day will come but is focused on gaining experience for now.
"A win will get me another fight in the UFC," said the 29-year-old former Golden Gloves boxing champion and collegiate wrestler and baseball player at Cleveland State. "I just want to keep winning so I can get more experience. That's what I need right now."
The buzz around Miocic has only picked up since he knocked out Phil De Fries in 43 seconds in February to improve to 8-0 as a pro and 2-0 since making his UFC debut in October.
He has yet to give up his day job, however, and has no plans to do so. Miocic works part time as a firefighter and paramedic for two towns in Ohio.
The side gig works out well for him because in addition to being fulfilling, it gives him guys to work out with and crack jokes with when he's in the firehouse.
The 6-4, 240-pounder says it helps keep him grounded even with a soaring UFC career.
While their routes are different, Miocic and Struve hope the path they are on leads to the UFC heavyweight title. It's possible those paths will intersect at some point.
Contact reporter Adam Hill at ahill@reviewjournal.com or 702-224-5509. Follow him on Twitter: @adamhilllvrj.
UFC 146
WHEN: Saturday, 5 p.m.
WHERE: MGM Grand Garden
TELEVISION: Pay per view
MAIN EVENT: Heavyweights, Frank Mir vs. Junior dos Santos