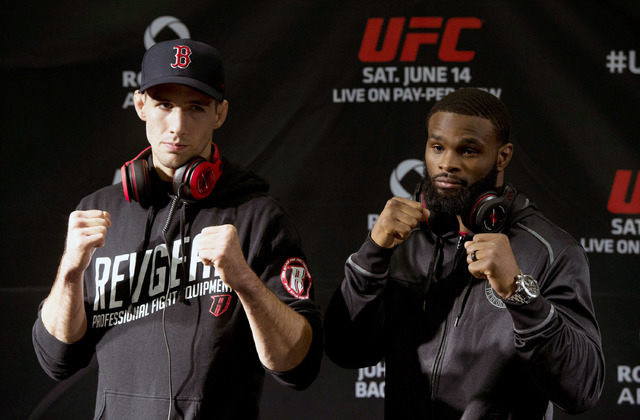 VANCOUVER, British Columbia — Former NCAA All-America wrestler Tyron Woodley thought for sure he was one win from an Ultimate Fighting Championship title shot when his fight against Rory MacDonald was announced.
Woodley is the No. 3 welterweight contender and MacDonald is No. 2. Only Robbie Lawler sits between them and champion Johny Hendricks, and Lawler lost his shot at the belt in March.
So Woodley was understandably disheartened when he heard UFC president Dana White announce that the winner of Lawler's fight against Matt Brown in July would be next in line to fight Hendricks for the belt.
Woodley spoke out to an Internet site, saying if the UFC wants to gain more mainstream acceptance, it needs to award title shots in a more merit-based manner.
White responded, questioning Woodley's conditioning and whether he can hold up for three rounds, much less the five rounds of a title bout. He added that Woodley produces exciting fights or dynamic performances about half the time, referring to him as a "50-50 fighter."
Woodley, who will fight MacDonald on the UFC 174 card Saturday at Rogers Arena, used a mathematical formula to dispute White's claim.
"He's never communicated anything directly to me about being a 50-50 fighter," Woodley said. "I saw when he said that. If you do the math, though, his math is off. I've only had one fight out of four in the UFC where the performance wasn't great.
"So, if anything, I'm a 75-25 fighter."
White said the responsibility falls on Woodley and MacDonald, who has been criticized for winning boringly at times, to create demand.
"I saw that Woodley's pissed because Robbie or Matt Brown is getting the fight," White said. "Saturday night's the night both of these guys have to go out and make people want to see them fight for a title. There's still a lot of questions.
"Tyron Woodley will get pissed again when he hears this, but it is what it is. Everybody says he's too muscular. He's explosive for a round or round and a half, but then he gasses out."
Woodley, who wrestled at Missouri, isn't out to prove anything. He just wants to win and believes the rest should fall into place.
"Think about the guys he's beaten and the guys I've beaten and the way we've beaten them," Woodley said. "It should be enough. We shouldn't have to lobby. We shouldn't have to bitch and moan and cry like women about getting a chance at the title, it should be earned.
"I feel like the winner of this fight will have earned that. I don't have to jump off the cage, do the splits, pull his shorts down, kick him in the balls and take him down. I don't have to do any of that. All I have to do is what I'm capable of, which is amazing enough as it is."
MacDonald will be the highest-ranked fighter Woodley has faced. After dropping a split decision to Jake Shields in June 2013, the one fight Woodley acknowledged fell short of being exciting, he has responded with back-to-back wins over Josh Koscheck and Carlos Condit.
He's saving a little something for one special fight, though.
At 32, Woodley finally seems to be ready to fulfill the promise he showed as an undefeated prospect in Strikeforce.
"I'm at that point where my coaches, fans and everybody thought I could potentially get to, but I'm still growing. I'm still learning," he said. "I haven't completely let everything out of the cage yet. I think every fight you see more and more. This fight you'll see a little bit more, and then when I fight for the title, you'll see everything. That's the goal."
His final fight with Strikeforce might have been the one that pushed him to the next level.
He thought he was conservative and hesitant and was knocked out by Nate Marquardt in the fourth round. Woodley reminded himself going forward to avoid making a similar mistake.
Except for the Shields fight, he hasn't.
Now he just has to find a way to defeat MacDonald and prove to his boss that he deserves a title shot.
Contact reporter Adam Hill at ahill@reviewjournal.com or 702-224-5509. Follow him on Twitter: @adamhilllvrj.