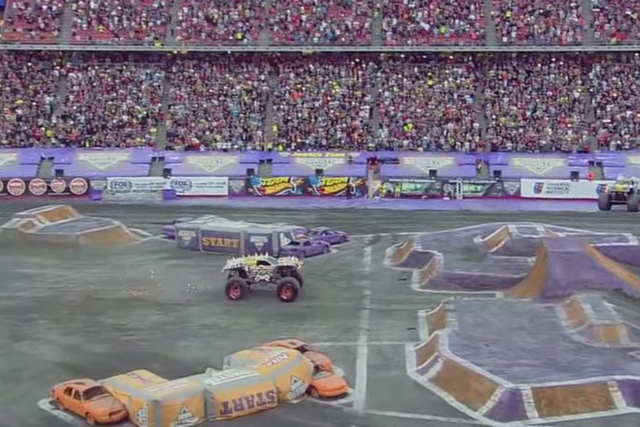 This is a video of a monster truck doing a double backflip.
It's a pretty radical double backflip, the kind that should not be attempted at home. The public address announcer goes sort of nuts. And I love the paint job of the deranged clown or genie or Superman villain — or whatever that is supposed to be — on the door of the monster truck.
But to me, the most impressive thing about this clip is the number of fans in the seats, and that this wasn't Talladega in Alabama, or some grassroots place like that. This was in Foxborough in Massachusetts, in (sort of) suburban Boston, not that from from a certain college called Harvard.
This is why I think a doubleheader featuring monster trucks and a UNLV football game probably would go over pretty well here, provided the Rebels were willing to play on dirt and circumnavigate those ramp thingies.
Las Vegas Review-Journal sports columnist Ron Kantowski can be reached at rkantowski@reviewjournal.com or 702-383-0352. Follow him on Twitter: @ronkantowski