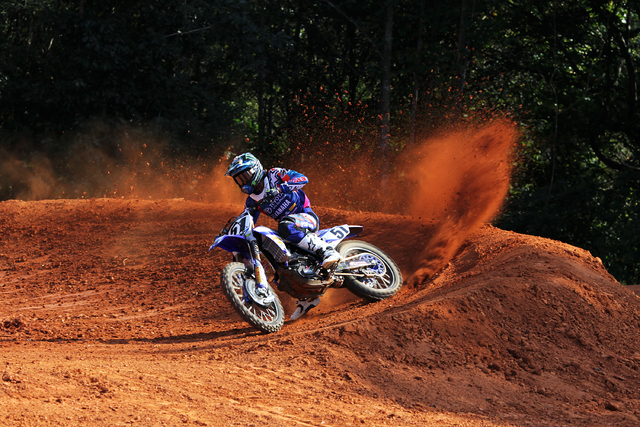 Dubbed "Frog" by his mother as a youngster after he flew off a jump and landed in a frog pond, supercross racer Justin Barcia has since earned the nicknames "Wild Child" and "Bam Bam" for his no-holds-barred style on the track.
"My riding's very aggressive," Barcia said. "That's my style."
So much so that on Barcia's website the 22-year-old writes that his bad habit is taking out his training partners.
"It's true," he said. "That's probably why I don't have any training partners right now."
Barcia — who is slated to compete in the Monster Energy Cup at 6 p.m. today at Sam Boyd Stadium — was joking about not having any training partners, but he actually doesn't have many friends, if any, among his fellow racers.
"They aren't big fans of me, I don't think, but that's OK. That's why it's racing and big competition," he said. "I talk to a lot of racers, but when it comes to getting on the track, I don't have any friends, that's for sure."
Barcia has butted heads on the track with, among others, former supercross champion Ryan Dungey, who also is scheduled to compete in Las Vegas.
"A lot of riders are not best buddies, but there's a level of respect. There's not much respect with Barcia," Dungey said. "He ain't afraid to blow you off the track. If it weren't for racing, we would get along, but when you're getting cut off on a triple 30 feet in the air doing 60 mph, that dirt ain't gonna feel too pretty when you hit it."
While Barcia definitely won't be invited to Dungey's upcoming wedding, he said he has toned down his aggressive approach a bit since making the jump to the 450 ranks from the 250s in 2012.
"When I was racing 250s, I hung it out there and didn't really care if I bumped people," Barcia said. "I've matured a lot in the past two years since I went from 250s to 450s. I'm a little smarter racer."
Barcia has at least one big fan in Joe Gibbs, the Pro Football Hall of Fame coach who recently signed him to race for his Toyota/Yamaha/JGRMX team for the 2015 and 2016 seasons.
"I got to spend quite a bit of time with Joe Gibbs. He's a great human being," said Barcia, who calls Gibbs "Coach." "He's really diehard about winning. It doesn't matter if it's winning in life or NASCAR or dirt bikes, he wants to win. He's a very passionate person."
Since guiding the Washington Redskins to three Super Bowl championships, Gibbs, as owner of Joe Gibbs Racing, has produced three NASCAR Sprint Cup Series titles and four NASCAR Nationwide Series owner titles, along with some success in NHRA drag racing.
Gibbs, 73, whose motocross team debuted in 2008, is still gunning for his first title on two wheels. Barcia, a two-time 250 champion who won the 2012 Monster Energy Cup, hopes to deliver it.
"My goal is to win championships for the team," he said. "They want to win as bad as I want to win, so I think we can do it, for sure."
Providing his surgically repaired ankle holds up, Barcia will make his debut for Gibbs' team tonight. He hasn't competed since having reconstructive ankle surgery in June. The surgery was performed by a doctor recommended by Gibbs.
Barcia only began riding again three weeks ago and didn't want to pronounce himself ready until he'd practiced at Sam Boyd on Thursday and Friday.
"My goal is to race, for sure, but we'll see how practice goes," he said. "I've actually been feeling really good. As soon as I hopped on the Joe Gibbs' bike, I felt comfortable. It's really fast, like a rocket ship."
While the supercross regular season is made up of 17 20-lap main events, the Monster Energy Cup is a unique, one-off event made up of three 10-lap races. If one rider wins all three mains, he'll leave Las Vegas $1 million richer. Ryan Villopoto accomplished the feat in 2011, the first year the event was in Las Vegas. James Stewart claimed the Cup last year, but not the $1 million prize.
One unique aspect of the Monster Energy Cup is that in each race, all riders must take the longer Joker Lane for one lap.
"That's the biggest thing. That can be tricky," Barcia said. "You've got to remember to hit that."
And, in Bam Bam's case, anything else that gets in his way.
■ NOTES — Practice and qualifying start at 12:30 p.m. today, with the main event slated for 6 (FS2, Cox Channel 219). … Tickets range from $56 to $76 and can be purchased online (UNLVtickets.com, SupercrossOnline.com), at the Sam Boyd Stadium box office or by calling 702-739-FANS.
Contact reporter Todd Dewey at tdewey@reviewjournal.com or 702-383-0354. Follow him on Twitter: @tdewey33.
PREVIEW
What: Monster Energy Cup
Where: Sam Boyd Stadium
When: 6 p.m. Saturday; practice and qualifying from 12:30 p.m. Tickets: $56-$76 (702-739-3267, unlvtickets.com)