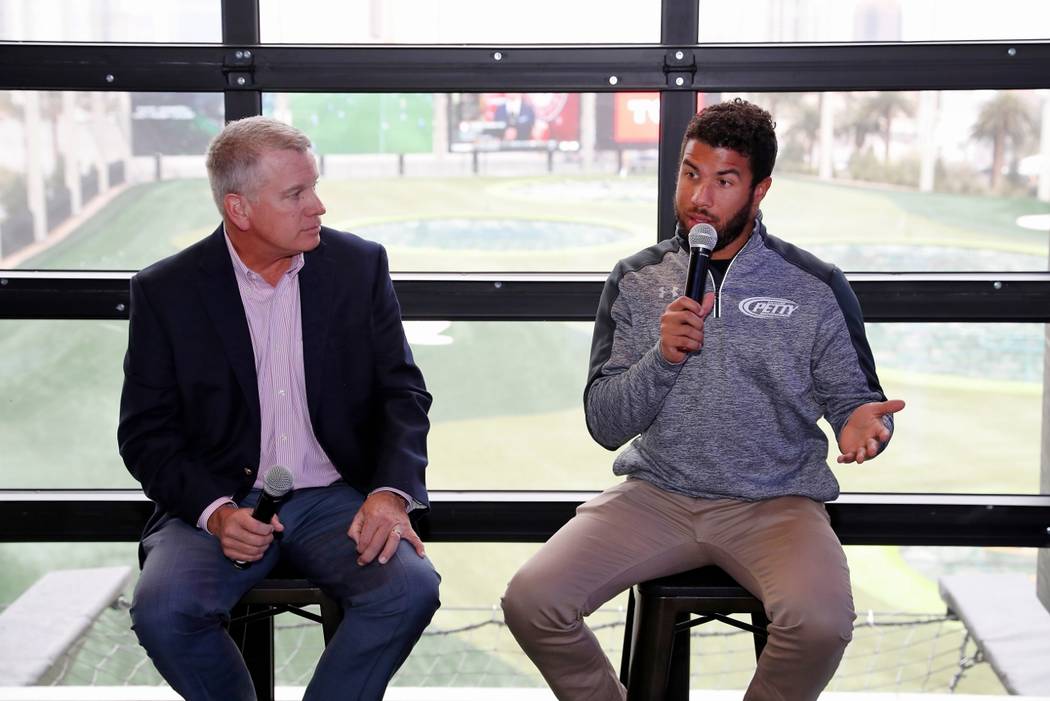 If there were two things everybody agreed upon at Topgolf Las Vegas on Monday, they were that it was almost too damp and chilly to hit golf balls, and that Bubba Wallace is more happy being the only African-American driving in NASCAR's Cup Series than the only African-American driving in Xfinity or the trucks.
"Right," said the friendly 24-year-old from Mobile, Alabama, who in October was named by Richard Petty to replace Aric Almirola as driver of the iconic No. 43 Chevrolet.
Wallace, who was in town to promote the March 4 Pennzoil 400 at Las Vegas Motor Speedway, auditioned for the ride last year when Almirola was injured. He finished 26th, 19th, 15th and 11th in four starts, and is the first black driver to have a full-time Cup Series gig since Wendell Scott in 1971.
Progress is happening in NASCAR. It's just not happening real fast.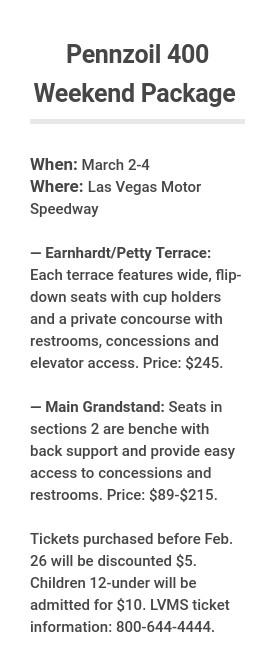 "A lot bigger platform," Wallace said about the responsibility of representing minority drivers in NASCAR's premier series. "I'm the only one, and that's something that is going to be talked about until you see (more) African-Americans and a diverse group of drivers come up."
Racing for the legendary Petty will certainly provide him with a platform. But for all the glory attached to his car owner's name, Richard Petty Motorsports is considered something of a second-tier effort. Petty drivers have won only five Cup Series races since 2000.
But Wallace said he's thrilled to be along for the ride at RPM.
"We're excited to get to the races at Atlanta and Vegas and Phoenix and see how we really shake out," he said of the early season schedule after the Daytona 500. "If we can move the program from top 15 to 20, to top 10 to 15, I think we're making steps in the right direction."
Wallace said he's already learning from Petty after serving Xfinity and Truck Series apprenticeships with Joe Gibbs Racing, Roush Fenway Racing and Kyle Busch Motorsports.
"The biggest thing he told me is to not be a hero," said Wallace, who showed lots of speed in the Trucks, winning six races in 44 starts. "That's the first thing he said during our debut at Pocono last year. If you're here, it's because you've already proved to us you can do it."
Green, white, checkered
— Here's a partial list of drivers who tentatively will be running around in circles during a NASCAR test at Las Vegas Motor Speedway Jan. 31 and Feb. 1: Brad Keselowski (Penske), Ty Dillon (Germain), Ricky Stenhouse (Roush Fenway), Erik Jones (Joe Gibbs), Paul Menard (Wood Brothers), William Byron (Hendrick), Cole Custer (Go Fas), Chris Buescher ( JTG), Kurt Busch (Stewart-Haas), Kyle Larson (Ganassi), Bubba Wallace (Petty), David Ragan (Ford), Drew Herring (Toyota).
— NASCAR's brief off-season ended this week with a Goodyear tire test at Texas Motor Speedway. You could tell it was a tire test because the biggest news to come from it was that Ryan Blaney would be getting a shave and a haircut, because Roger Penske demands his drivers be aerodynamically clean. "I will have to start looking like a professional and, you know, not a homeless person," the hirsute Blaney said.
Contact Ron Kantowski at rkantowski@reviewjournal.com or 702-383-0352. Follow @ronkantowski on Twitter.