Native son Kurt Busch enjoys Las Vegas' rise
December 1, 2016 - 11:15 pm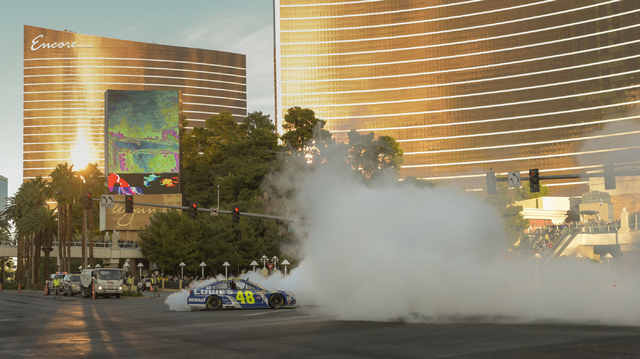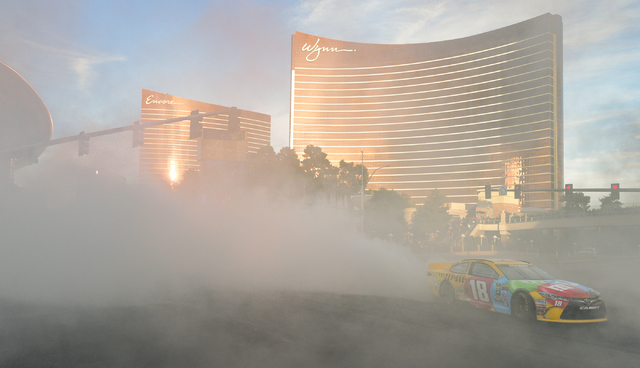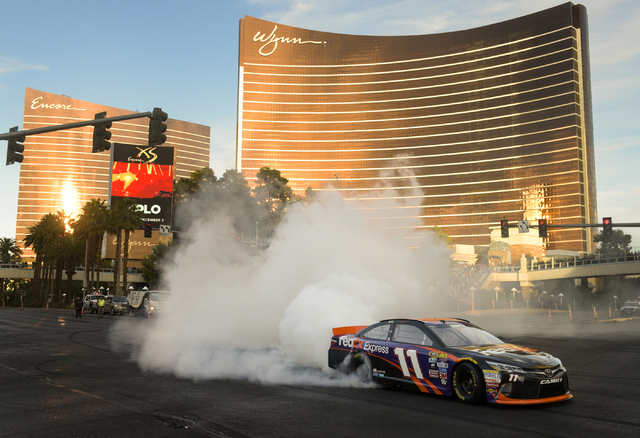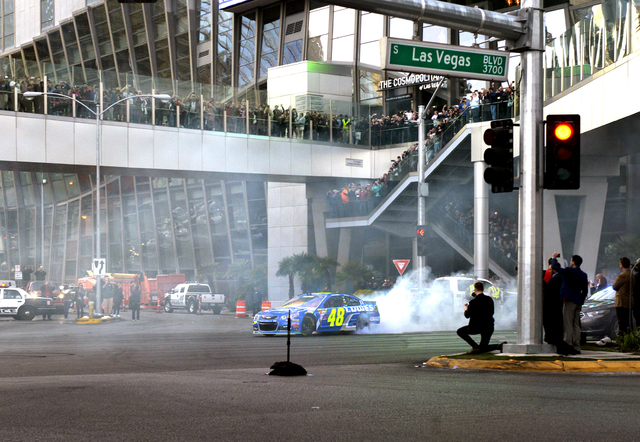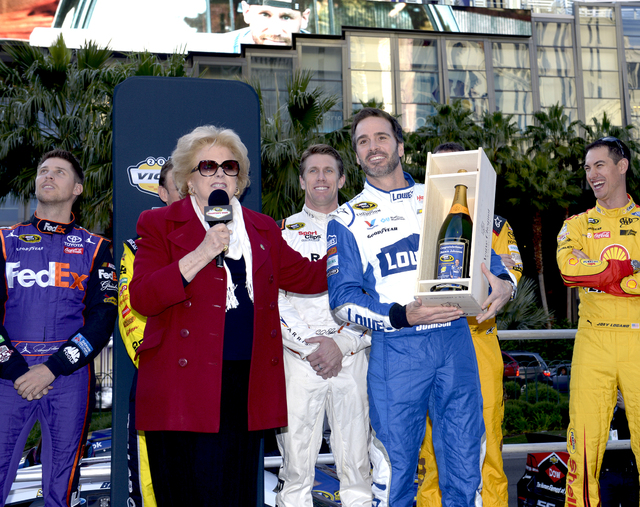 When Kurt Busch arrived at his table for the annual Myers Brothers Awards on Thursday at Wynn Las Vegas, there were lawyers on one side of the table and media members on the other.
He said he did not draw the short straw, but he must have felt he was back on NASCAR's you-know-what list.
"I wonder who's under the table," Busch said, lifting the tablecloth to make sure Jimmy Spencer or one of his other past adversaries wasn't lurking.
That was the old Kurt Busch of Las Vegas. The new one is almost always on his best behavior, and away from the track is a delight to be around.
The older Busch brother chatted about another solid season that saw him post his 28th Cup Series victory, nine top-five finishes and 21 top 10s en route to placing seventh in final points. But he mostly wanted to talk about the Vegas Golden Knights and the possibility of the Oakland Raiders moving to Las Vegas and how much he still misses In-N-Out Burger and whatever else was going on in his hometown.
"This town is a tourist town; it's built on bringing people to one entity, and that is the city of Las Vegas," the 2004 Cup Series champion said. "The Convention and Visitors (Authority) has done so much for sports, and Kyle and I were big beneficiaries of them pushing to get a NASCAR race here. So it's great to see an NHL franchise, and the possibility of the Oakland Raiders and a big stadium being built, and I think that will only help UNLV athletics continue to grow.
It's just neat to see the excitement."
BETTY JANE FRANCE HONORED
Betty Jane France was posthumously honored as the recipient of the 2016 Myers Brothers Award. The mother of NASCAR chairman and CEO Brian France and International Speedway Corporation CEO Lesa France Kennedy was recognized for her contributions to stock car racing and for her philanthropic support of children's health causes.
The award named for former NASCAR competitors Billy and Bobby Myers has been presented every year since 1958. It is considered one of NASCAR's most prestigious honors.
"My mom would be so honored by this award," Kennedy said. "She was an amazing woman. It touches my heart to think she has left such a legacy."
Betty Jane Francis died Aug. 29. Her age was not publicly known.
BURNOUTS AND BURNED OUT
The consensus among race fans was that Jimmie Johnson performed the best burnouts during the annual NASCAR Victory Lap on the Strip on Thursday — the seven-time champion even blew out one of his rear tires. It also was agreed that Kyle Larson probably deserved a trophy just for showing up.
Larson, the 21-year-old driver of the No. 42 Chip Ganassi Racing Chevrolet, looked pale as he climbed from his car. He said it had nothing to do with inhaling Johnson's tire smoke.
"I'm still feeling it from last night," said the promising Japanese-American driver, who broke through for his first Cup Series victory and 10 top-five finishes in 2016. Larson said that partly explained why his doughnuts left something to be desired.
"I don't win a lot. I've still got to figure it out," he said.
A.J. AND SMOKE
The highlight of the After The Lap Q&A and wisecracking session at the Palms was legendary A.J. Foyt making a surprise appearance to bid farewell to retiring protege Tony Stewart.
The 81-year-old four-time Indianapolis 500 champion, who crossed over to win the 1972 Daytona 500, put a bear hug on the three-time Cup Series champion. The crowd roared as Johnson and the other Chase drivers applauded.
"Jimmie, you're a badass on the track, " Stewart said in turning to the seven-time series champion. "But this is the baddest man on the planet right here."
Contact Ron Kantowski at rkantowski@reviewjournal.com or 702-383-0352. Follow @ronkantowski on Twitter.