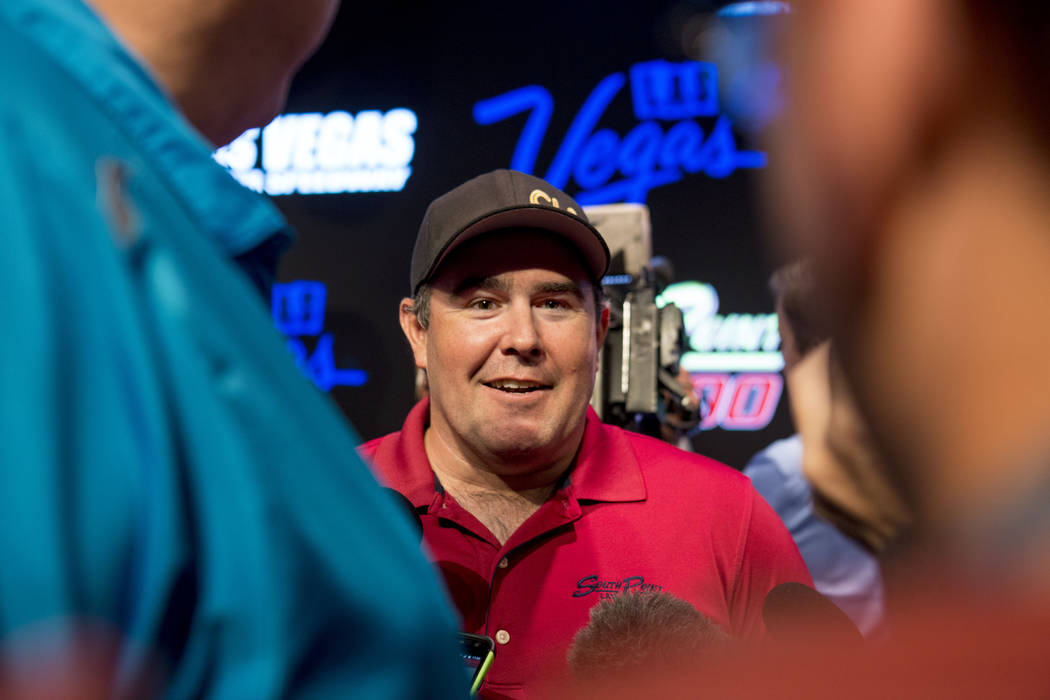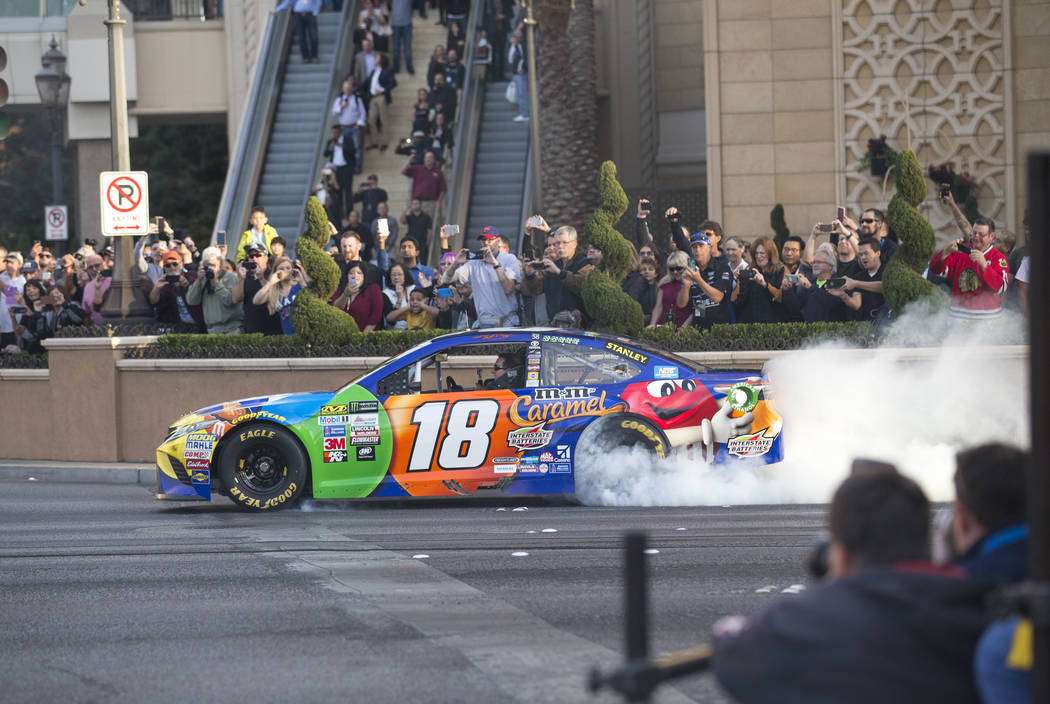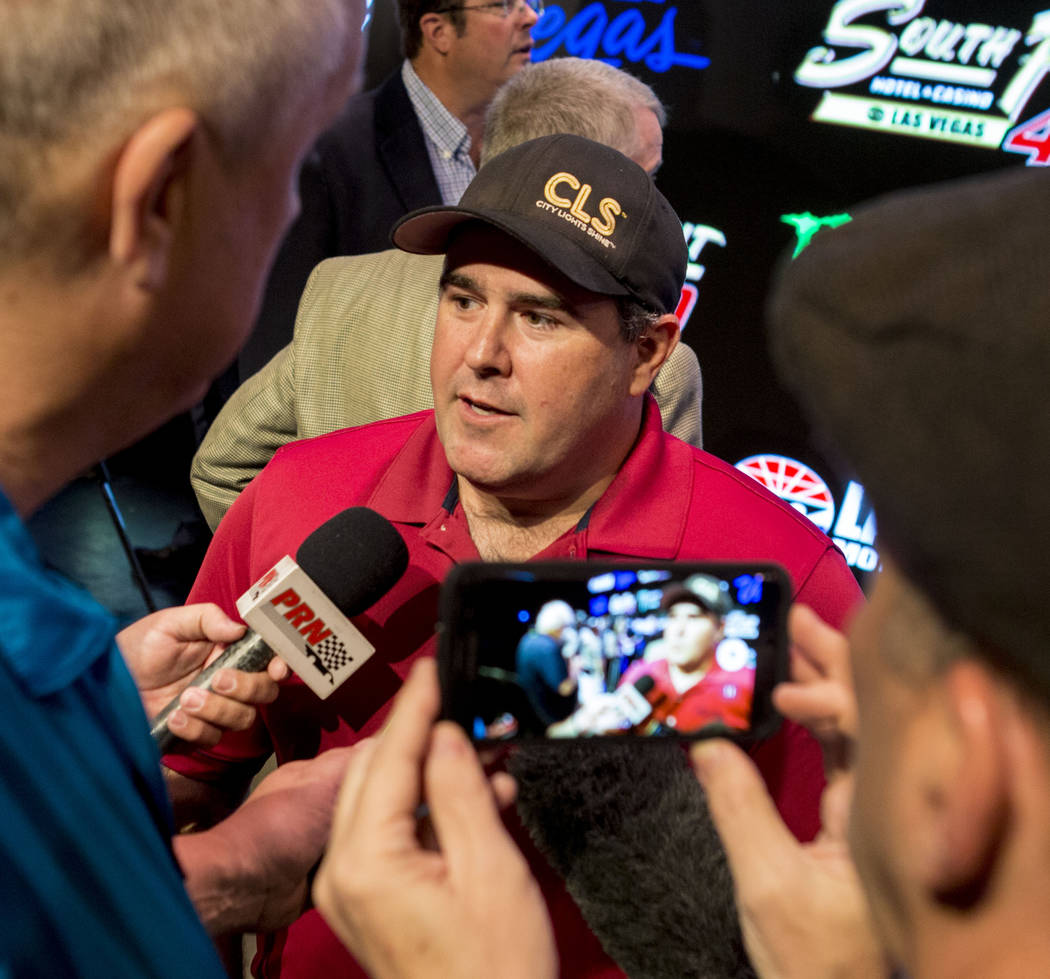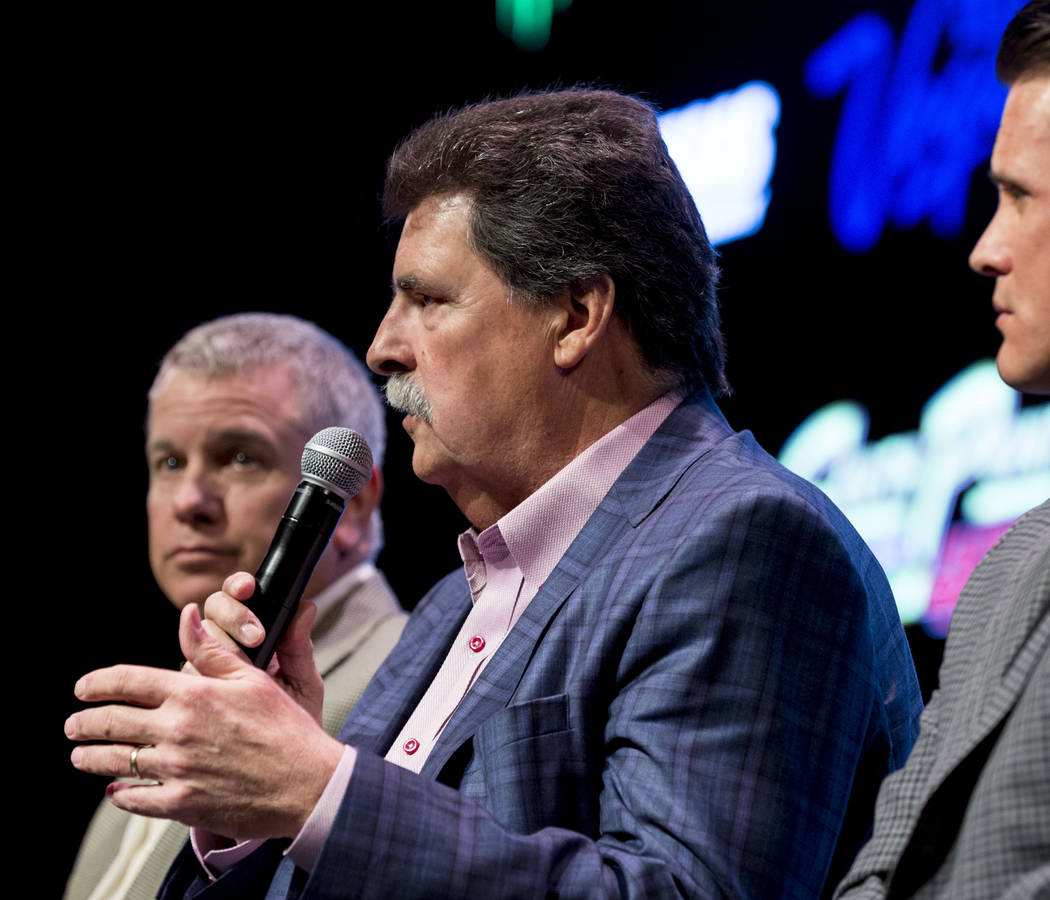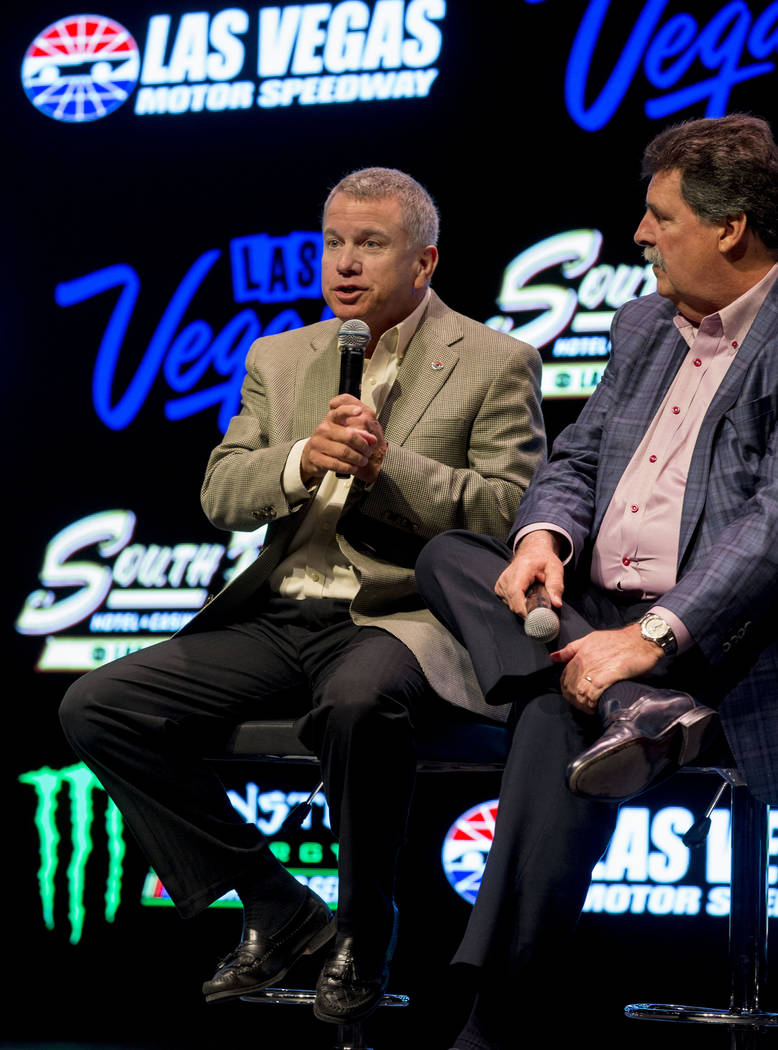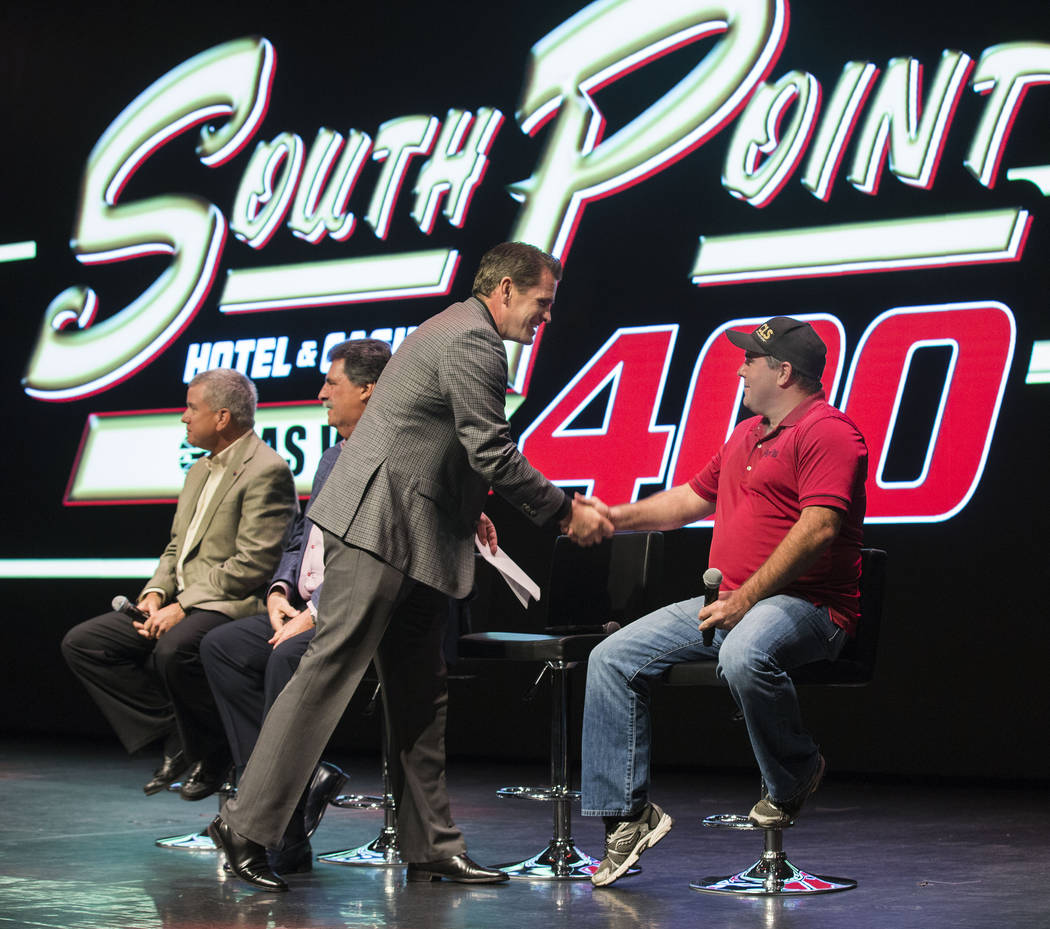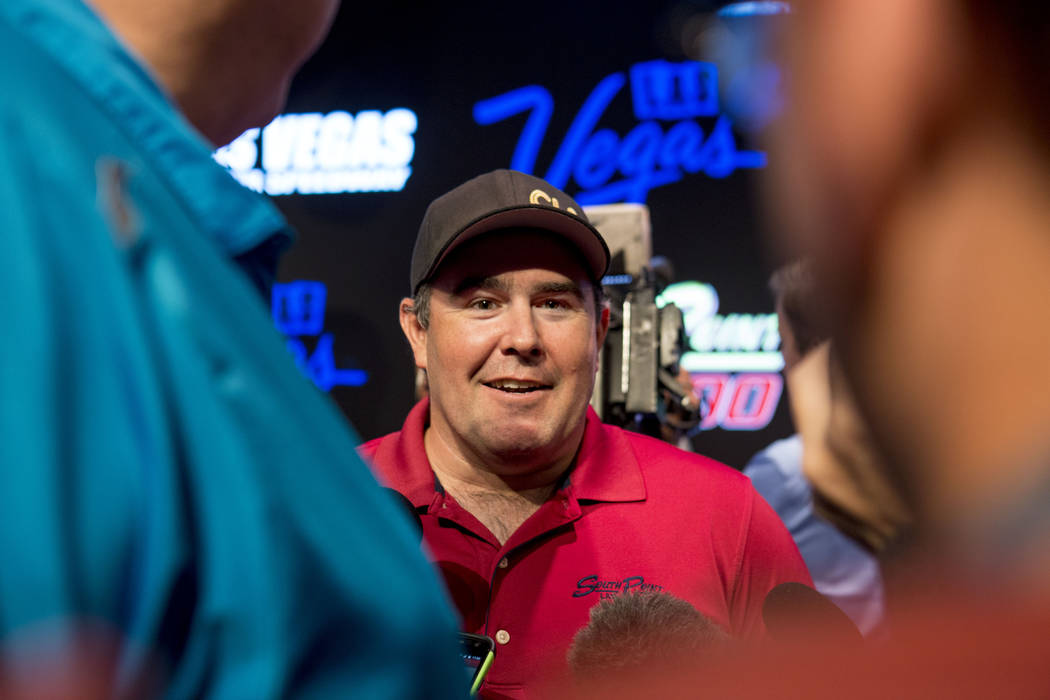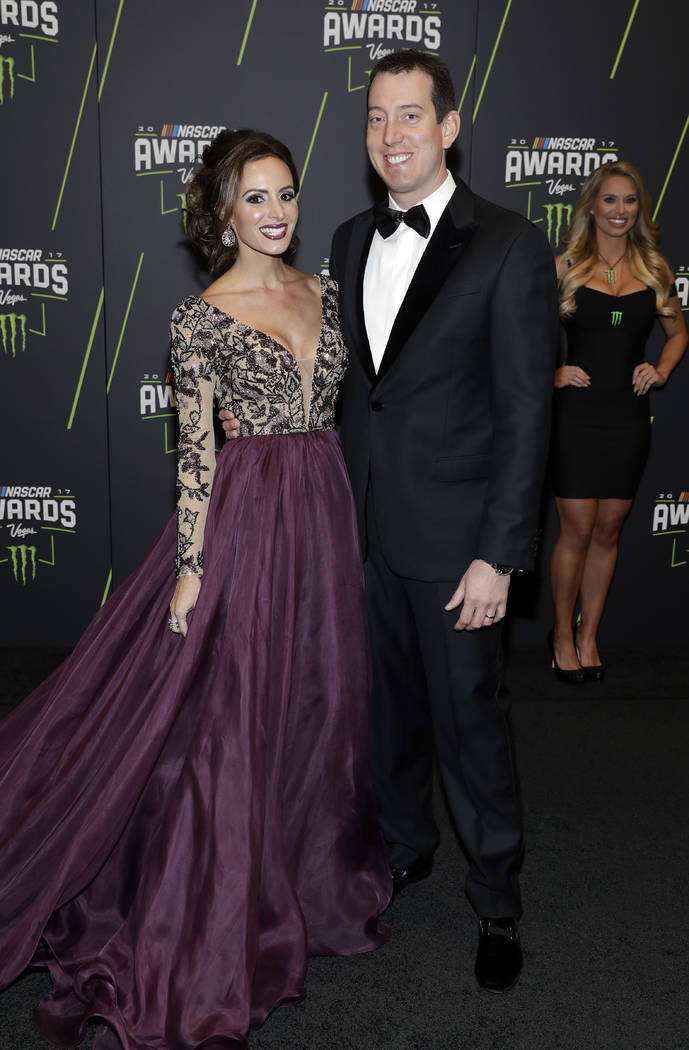 Las Vegas Motor Speedway gained a title sponsor for its second 2018 Cup Series race Thursday.
NASCAR lost a full-time Xfinity Series competitor as a result.
Based on the smiles at the news conference, everybody was happy.
With Brendan Gaughan confirming he is reducing his schedule to focus on Cup Series restrictor-plate races at Daytona and Talladega Superspeedway next season, it freed his longtime sponsor to shift its auto racing commitment.
Las Vegas Motor Speedway and South Point announced a multiyear agreement that will result in the fall Cup Series event being branded the South Point 400.
LVMS president Chris Powell said he was indebted to Brendan Gaughan's father — South Point patriarch and auto racing enthusiast Michael Gaughan — and the LVMS marketing team for making the sponsorship happen during a time when NASCAR sponsorships don't happen easily.
"A lot of people might wonder how this all came together …" Powell began his remarks on the South Point showroom stage before being interrupted by another on the dais.
"Because I retired," Brendan Gaughan said, eliciting laughter.
Gaughan, 42, clarified he is not retiring from auto racing, though he will be reducing his schedule.
"I'm just done full-time racing," said the veteran driver who has competed in all three NASCAR touring series over a career spanning 20 years. "I've got four races for Beard Motorsports, probably do a couple of Xfinity road races or something like that. Might try to show up to a couple of Cup races here or there."
Might those two Cup races be the ones at Las Vegas Motor Speedway?
Based on his telltale grin, there's a distinct possibility.
"It does have the South Point name on one of 'em, it is Vegas, I don't have to go far for that one. So I might have to try work on that. Let me do all six races," Gaughan said, alluding to bookend Truck Series, Xfinity, Cup Series tripleheaders at LVMS in 2018. "Wouldn't bother me."
Wouldn't bother Mike Helton, either. The NASCAR vice chairman said he has a long and cherished relationship with Brendan Gaughan's family and its off-road racing roots.
"I was really educated and impressed when Michael Gaughan brought Walker Evans and Jimmy Smith and a couple of other folks to Daytona to encourage (former NASCAR chairman) Bill France Jr. to organize pickup truck racing," Helton said. "And from that conversation, and the influence Mr. Gaughan had in NASCAR, the Camping World Truck Series came (about)."
Busch brothers have at it
Part of the allure of NASCAR Champion's Week in Las Vegas is drivers speaking their minds without facing reprisal from the sanctioning body. This was the cue for the Busch brothers of Las Vegas to "have at it," as NASCAR vice chairman Helton once was fond of saying, during debriefing following the traditional Victory Lap burnouts on the Strip.
— Kyle B., when asked who would be passed the baton as NASCAR's most popular driver now that Dale Earnhardt Jr. is retiring: "I think I'll be in the running."
— Kurt B., on passing former Daytona 500 winner Derrike Cope, now in his golden years as a Cup Series racer: "I swear that guy is reading a road map as he's driving."
— Kyle B., when asked what he would be getting archrival Brad Keselowski for Christmas: "He's already going to hell, so it's not like I have to buy him a trip there."
Some of you have been asking whether the post-lap driver event would be posted. Here's a video someone put on YouTube. https://t.co/XAUdKs1jzI (h/t @NASCARonReddit)

— Jeff Gluck (@jeff_gluck) November 30, 2017
Kyle's other side
Kyle B. takes a lot of grief for his comportment on the track and in the media room when he doesn't win. But there's also a side of the 2015 Cup Series champion that most of his detractors don't get to see.
While motoring from one Champion's Week function to the next, Busch surprised a female fan who was wearing a lot of his gear. My description of her reaction would not do it justice. But you can check it out here:
Surprise! 😄 pic.twitter.com/zBrhUCtYbO

— Kyle Busch (@KyleBusch) November 30, 2017
Contact Ron Kantowski at rkantowski@reviewjournal.com or 702-383-0352. Follow @ronkantowski on Twitter.
Alabama doctor named Betty France winner
Julian Maha was named winner of the NASCAR Foundation's Betty Jane France Humanitarian Award at Thursday's NASCAR Awards at Wynn Las Vegas.
The Birmingham, Alabama, physician founded an organization that works to improve the lives of autistic children. He was selected from a field of four finalists that included Las Vegan Tammy Richardson.
Richardson, a 52-year-old mother of seven whose 17-year-old daughter, Stephanie, died of an inoperable brain tumor in 2003, is a longtime volunteer for the Nevada Childhood Cancer Foundation. The NCCF will receive a $25,000 donation from NASCAR in Tammy Richardson's name.
Ron Kantowski Review-Journal