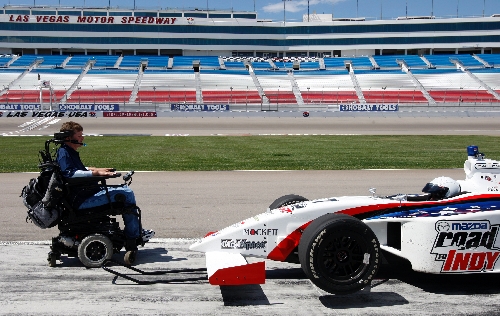 Bryan Clauson was 19 and out of a stock-car racing job when Chip Ganassi Racing folded its NASCAR Nationwide Series team after the 2008 season.
But another door opened, and the Indiana native has returned to his passion: open-wheel racing.
Clauson, who turns 22 on June 15, will compete in about 100 races this year in USAC Sprint Car and Midget series along with six races in the Firestone Indy Lights Series for a team owned by Henderson's Sam Schmidt.
Clauson turned laps at over 190 mph Wednesday at Las Vegas Motor Speedway, where he will drive for Schmidt's four-car team when the Lights series debuts at the track Oct. 16 as a prelude to that day's IndyCar World Championship.
Clauson's first Lights oval race will be May 27 at Indianapolis Motor Speedway, two days before the Indy 500.
"For a true Hoosier, the Indy 500 is the mack daddy of them all," he said.
Clauson competed in 26 Nationwide races in 2007 and 2008. He finished in the top 10 twice and won the pole for the July 2008 race at Daytona, 19 days after his 19th birthday.
Though his NASCAR career has stalled, Clauson was happy to be back on the 1.5-mile LVMS oval, where he finished 35th in the 2008 Nationwide race after being involved in an early crash.
Clauson's success last year, when he won the USAC National Midget championship for Tony Stewart Racing, provided him with a $300,000 scholarship to compete in Indy Lights. The program was created by IndyCar to attract young American racers to its series.
Lights cars are similar in appearance to Indy-style cars and produce about 420 horsepower, about 200 less than an IndyCar. At $160,000, a Lights car costs about one-third of an IndyCar.
Clauson's first time driving an Indy Lights car on a 1.5-mile oval was the fastest he has gone.
"It's been a lot of fun and a big learning experience running in packs with my teammates," he said Wednesday.
Schmidt's Lights teams have won four championships and 39 races, including Sunday's street race in Long Beach, Calif., with driver Conor Daly.
In testing, Schmidt had his four drivers — oval-track rookies at these speeds — focus on qualifying, restarts and gaining experience running three wide and in four-car packs at about 190 mph.
"What's great about Bryan is he has a tremendous amount of experience on ovals in different disciplines," said Schmidt, who won the 1999 IndyCar race at the speedway. "That will serve him well when we get to Indy."
Clauson began racing sprint cars in 2005 and that year became the youngest driver to win in the series. Two years ago, he placed second in a USAC race on the LVMS dirt track and also won a Midget feature at the speedway's Bullring.
Contact reporter Jeff Wolf at jwolf@reviewjournal.com or 702-383-0247.