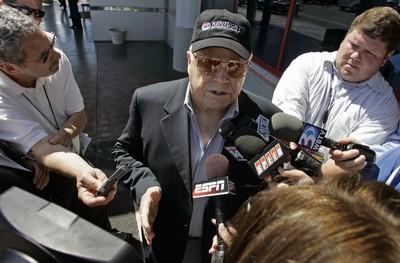 This weekend brings an early break in the NASCAR Sprint Cup Series.
Fortunately, they will be drag racing in Gainesville, Fla., so there will be some racing to watch.
Dragsters get a rare weekend to steal headlines from the Cupsters.
But not today. Not here. It's still Cup time.
The Cup series has logged four interesting races: Matt Kenseth wins the first two, Kyle Busch rallies to win at his hometown Las Vegas Motor Speedway, and brother Kurt Busch dominates at Atlanta.
And Jeff Gordon leads the points chase despite a streak of 45 points races without a victory.
It might not be the best time for NASCAR to have planned to take a week off as story lines are abundant, but there is one blessing about no NASCAR this weekend: Bruton Smith won't have control of a microphone in one of his track's media centers.
The founder and chairman of Speedway Motorsports — owner of seven tracks with Cup races, including those in Las Vegas, Hampton, Ga., and Bristol, Tenn. — said more than enough March 6 at Atlanta Motor Speedway.
I was disappointed that Smith didn't visit the media center two weeks ago when the Cup series was here, but now I'm glad he didn't so I didn't have to experience last week's rant, diatribe, politicking or whatever you want to call it.
Smith attracts media — including me — like bees to honey.
The octogenarian knows how to entertain us and masterfully tries to get us to support his causes. The man didn't become a billionaire because he's stupid; he just says dumb things sometimes.
Smith held court for about an hour March 6 and bragged about great turnouts for Cup and Nationwide races at Las Vegas, but some attempts at humor were insulting to many.
In slamming the Cup track in Homestead, Fla., for being the site of the season finale, he said: "Why have the last race of the season at some Godforsaken area just north of Cuba?" He kept referring to Homestead Miami Speedway and the city as "Home and stead."
"What's down there? There's nothing down there," he said. "You've got an oversupply of alligators."
Insulting another's track can be acceptable, but it isn't to insult a community, especially one that was rebuilt after Hurricane Andrew devastated it in 1992.
Then there's Smith's penchant for promoting politics he supports, which is every American's right. His insulting remark about our president, however, was uncalled for.
He was asked about inviting President Obama to one of his races, with the reporter certainly expecting a cutting response from the devoutly conservative Republican.
"What? I misunderstood your question," he said. "… I don't know how busy we'll be these next four years, but we've got a lot of people on the list, and I don't know that he is on the list."
Sure you do, Bruton; you know Obama isn't. It would make too much sense for a nearly pure-white sport to invite a black president to help expose it to a wider demographic.
On this year's decline in corporate ticket sales and VIP packages, Smith said, "They're afraid Obama might shoot them or something."
Maybe those corporations are just tired of being taken for granted by most tracks and being gouged on food and ticket prices.
In the land of Bruton, apparently patriotism is worthwhile only if the president and politicians belong to his party.
Smith builds wonderful racetracks and has invested about $50 million to convert Las Vegas Motor Speedway from a nice, plain facility into one of the world's best.
He just doesn't do well at building relationships with those who do not share his political and business philosophies.
And that's too bad. He's a nice guy most of the time.
Jeff Wolf's motor sports column is published Friday. He can be reached at 702-383-0247 or jwolf@reviewjournal.com. Visit Wolf's motor sports blog at lvrj.com/blogs/heavypedal/ throughout the week.