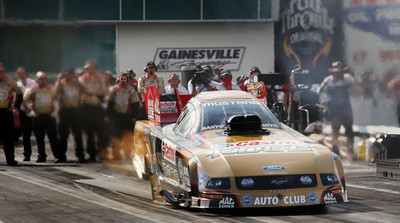 Nothing is better than seeing an outstretched hand when you're down and out.
It happens around racetracks a lot, whether it's one person offering a needed part or a team's crew jumping in to assist another team.
That seems to happen more in drag racing.
Drag racers seem to get along better than other racers. Maybe it's because they don't crash into each other like racers do on oval tracks.
That camaraderie was evident Wednesday at the ESPN Zone inside New York-New York during a news conference for the SummitRacing.com NHRA Nationals, which run today through Sunday at Las Vegas Motor Speedway.
On the dais were Ron Capps, John Force and Jack Beckman. These are Funny Car drivers who are funny guys.
If you know anything about drag racing, then you know Force is funny. Like a supercharged Henny Youngman.
Beckman is a great setup man, like Martin was to Lewis or Rowan was to that other Martin.
Capps has proved his wit and acting talent in a series of commercials with NASCAR driver Michael Waltrip for NAPA, their sponsor.
Comedy is a good thing now; it's even better when mixed with a good dose of nitromethane.
Folks won't know if you're crying because of the comedy, the nitro fumes … or, sadly, the economy.
After two years of glowing headlines about Las Vegas setting records for visitors passing through McCarran Airport and the number of houses being built, the local milestones now are for bankruptcies and foreclosures.
It didn't help a few weeks ago when President Obama criticized corporations for scheduling business functions in Las Vegas, implying the meeting here was an example of excessive spending.
So it was great news when I heard that the NASCAR Sprint Cup banquet is expected to be in Las Vegas this year (Story, Page 1C).
After getting that news, however, Rossi Ralenkotter, president of Las Vegas Convention and Visitors Authority, downplayed the "great news" a little.
He should know because he's been negotiating the deal with NASCAR for two years.
But I believe the first week of December will include the NASCAR celebration along with the start of the 10-day National Finals Rodeo.
Those events should fit as comfortably together as Dale Earnhardt Jr. in Wranglers.
News that NASCAR is seriously considering the move from New York to Las Vegas comes at a time when our city can use a lift.
Fortunately, a few hundred thousand gear-heads already have shown they still see our city as Speedtown, USA.
About 250,000 bodies entered Las Vegas Motor Speedway over three days for the annual NASCAR Weekend, which wrapped up with the March 1 Shelby 427 Cup race.
A week ago, a couple of thousand fans were drawn downtown to the Fremont Street Experience, where Mint 400 desert racing teams were on display.
Saturday night, Sam Boyd Stadium was filled with 30,000 monster truck fans.
And beginning today, the NHRA pro tour makes its first of two annual treks to the speedway's dragstrip.
The speedway, like most tracks on the NHRA Full Throttle Drag Racing Series circuit, has offered discounted tickets.
About 20,000 spectators will attend each of the three days of 300 mph racing this weekend.
Whether racers and fans come here for the magnificent racing facilities, gambling, fine dining and/or strip clubs … they're here, and we're grateful.
If you're a local drag racing fan or business owner benefiting from our speedy visitors, be sure you thank them for coming.
And if NASCAR decides to party here in December, you're encouraged to jump and cheer.
Jeff Wolf's motor sports column is published Friday. He can be reached at 702-383-0247 or jwolf@reviewjournal.com. Visit Wolf's Heavy Pedal blog at lvrj.com/motorsports throughout the week.