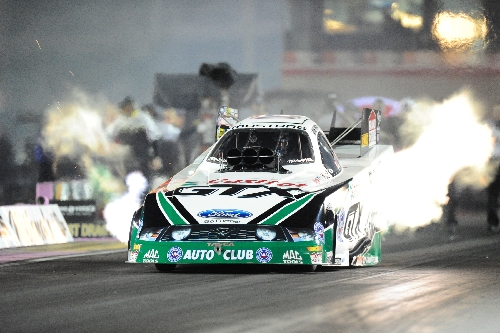 In Erica Enders' mind, there is an upside and a downside to just about any situation in life.
She has chosen to focus on the upsides.
The 29-year-old Houston native grew up in a racing family, and no one ever told her racecar driving was a sport for men. Enders hopped into a Junior Dragster for the first time at age 8, and there's been no stopping her since.
Enders took to the track Friday at Las Vegas Motor Speedway as a seasoned veteran, knowing full well there's no reason a woman cannot win a championship.
"I grew up in a positive environment," said Enders, who entered the Big O Tires NHRA Nationals third in Pro Stock points with an outside shot at the season title. "If you wanted to be a racecar driver, you could be one."
The road to success was relatively easy in the beginning.
"As an 8-year-old, you don't know the chauvinistic side of racing," said Enders, who compiled 37 Junior Dragster victories. "Growing up, I had mostly boy friends because I liked sports. As I got older, I got more of an understanding."
Enders continued to excel. In 2000 she graduated to NHRA's Super Gas and Super Comp categories. In 2003 her story was featured in the Disney Channel original movie "Right on Track." And in 2005 she turned professional.
"When I started off, I was the different one in the good-old-boys' class," she said. "So I've had to prove myself and earn respect. Now I'm friends with all the guys, and they treat me as one of them."
Enders has continued to improve her resume. Although names such as Ashley Force and Courtney Force often come up when women in drag racing are mentioned, Enders is the first female driver in the Pro Stock category since 1993.
She clearly has made her mark. Enders is the first woman to reach a final round, first to earn a No. 1 qualifying position and first to win a Pro Stock event.
Dave Connolly, who has raced against Enders, is her Cagnazzi Racing crew chief. He said the experience of working alongside a woman has been unique.
"Female personalities are different from men," Connolly said. "When I say things, I have to soften the blows a bit. But she takes it well, because you have to be strong-willed in this sport."
Enders acknowledged Connolly's comments, but only in part.
"I'm just like the men most of the time," she said, "until they start burping and stuff."
Belching might not win over many fans for Enders, who has slowly come to realize that being a woman occasionally provides advantages.
"It's definitely a double-sided sword," she said, noting that Danica Patrick has fully capitalized on being the only female driver in the NASCAR Sprint Cup Series. "From a marketing standpoint, it's beneficial. I'm going to stand out a little bit more. Even though I've been a successful driver in every class I've competed in, I'm not sure I would have gotten a call if I was a guy."
Enders, who is engaged to fellow NHRA driver Richie Stevens, is making yet another attempt to prove herself against men in her GK Motorsports Chevy Cobalt this weekend. She entered the weekend with 2,377 points, 43 behind second-place contender Jason Line and 125 behind leader Allen Johnson.
The way Enders sees things, she'll have just as good a chance as any male.
"When you put your helmet on, everything's equal," she said. "The car doesn't know who you are."
Connolly said he's clinging to hope.
"Mathematically we're still in it," he said. "We got off to a slow start, but we've tried to fight our way back. We've got a good car, and we're going to try to make the best runs we can."
During Friday's qualifying sessions, Enders recorded the seventh-quickest Pro Stock run of the day with an elapsed time of 6.644 seconds. Her speed was 208.01 mph.
Quickest in the other categories were Tony Schumacher in Top Fuel, Mike Neff in Funny Cars, Johnson in Pro Stock and Eddie Krawiec in Pro Stock motorcycles.
Today's qualifying will feature Pro Stock and Pro Stock motorcycles at 11 a.m., and Funny Car and Top Fuel dragsters at noon.
NHRA qualifying results, Page 6C