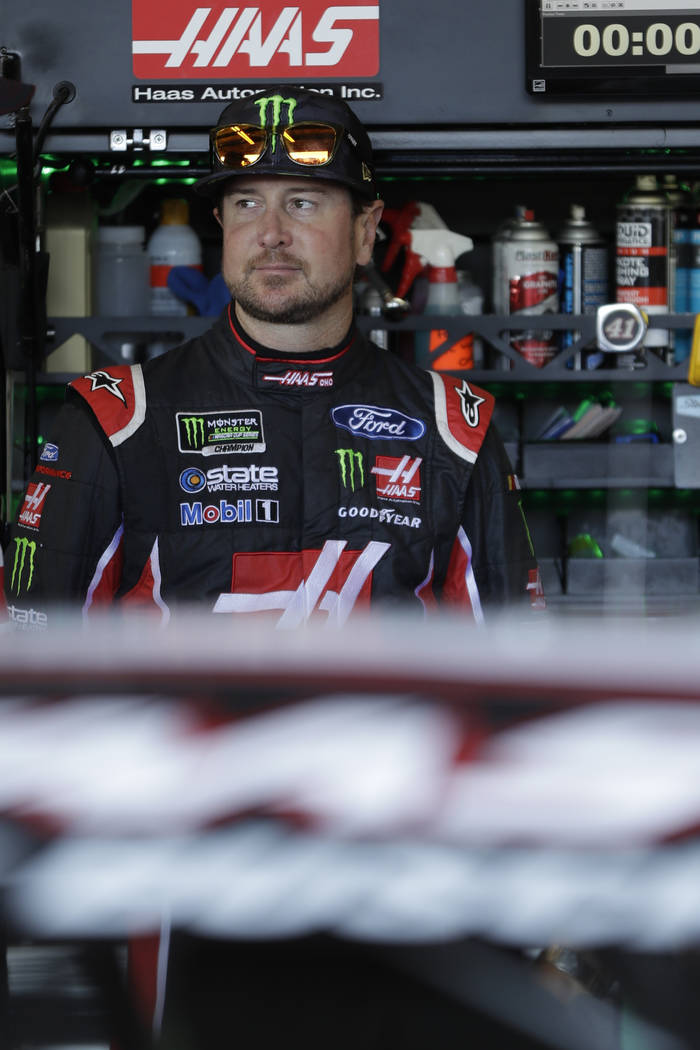 Is there another Tribe on the warpath in NASCAR?
With top-five finishes in each of the three races heading into the NASCAR playoffs that begin Sunday in the Chicago suburbs, there's a Cleveland Indians analogy to be made about the sudden turnaround of Kurt Busch and his No. 41 Stewart-Haas Racing team.
"I wouldn't exactly call us the Cleveland Indians, but we have turned a corner," the 2004 Cup Series and reigning Daytona 500 champion from Las Vegas said via telephone Thursday as NASCAR continued gearing up for its second season.
"I felt like over the years teams save different things, aerodynamic and engine upgrades, before going into the playoffs. I said, 'Let's go to try to win this marquee race' at Darlington."
Busch, who will driving in his 11th NASCAR playoffs, finished third at Darlington and was fourth at Richmond last week in the final tuneup for stock car racing's tiered playoffs. He said a lot of the top teams hold their cards close to the vest before the playoffs, but the No. 41 team was OK with laying theirs on the table.
"Let's put everything into the car now," Busch said of the mindset. "I'm very thankful to see results."
Busch is a free agent for 2018 as sponsorship negotiations continue to play out. He said that while the NASCAR playoffs often are compared to those in other pro sports, they also borrow from NCAA's March Madness with important early rounds in which there are no byes.
And unlike in the stick-and-ball playoffs in which only two teams compete at once, there are 36 teams running on the same truck for race wins within NASCAR's complicated postseason system.
"You still gotta watch out for those Appalachian States," Busch said.
Need help picking a champion? @nascarcasm is here with some hilarious explanations! #NASCARPlayoffshttps://t.co/YBPwOkkdCC pic.twitter.com/BNtyV5u6eF

— NASCAR (@NASCAR) September 14, 2017
Gragson not set yet
Kurt Busch isn't the only NASCAR driver from Las Vegas with an uncertain future, as Noah Gragson said it hasn't been determined if he'll return to Kyle Busch's Truck Series team in 2018.
Gragson, who won Saturday's Super Late Models race at the Las Vegas Motor Speedway Bullring on his off weekend, is ninth in points, but probably needs to win Friday night's race in the Chicago suburbs to make the eight-team playoffs. The 19-year-old might have to seek another Truck Series ride should Busch shutter the doors to his shop amid restrictions limiting Cup Series drivers from competing in lower divisions and sponsorship issues.
"I don't think I'm ready for the Xfinity level now," Gragson said of the steep NASCAR learning curve.
We got it done tonight pic.twitter.com/hu05T0dqds

— Noah Gragson (@NoahGragson) September 10, 2017
Two sides of Danica
Exhibit A about Danica Patrick not returning to Stewart-Haas Racing in 2018, and her auto racing legacy — if, indeed, her auto racing legacy has run the course:
She won the pole for the 2013 Daytona 500; she won an IndyCar race in 2008, she is the highest finishing female driver in Indianapolis 500 history (third in 2009); she is the only woman to lead laps in the Indy 500 and Daytona 500; she is the only woman to win a Cup Series pole. (She also made racy ads for sponsor GoDaddy that ran during the Super Bowl.)
Exhibit B: It has been said the only guy a driver truly has to beat is his (or her) teammates, something Patrick rarely did in NASCAR. She's 28th in points, whereas teammates Kevin Harvick, Kurt Busch and Clint Bowyer — running the same equipment — are sixth, 12th and 17th.
How important is Danica Patrick's fan base to NASCAR? Very important, says @JamieLittleTV. pic.twitter.com/m2PVjkVr4Q

— FOX: NASCAR (@NASCARONFOX) September 13, 2017
New driver for Schmidt
Schmidt Peterson Motorsports, the IndyCar team headed by Henderson's Sam Schmidt, will partner former Formula One team owner Didier Calmels in fielding a car for French driver Tristan Gommendy in the 2018 Indianapolis 500.
Calmels in 1990 was sentenced to six years in prison for fatally shooting his first wife. The French courts ruled it a "crime of passion" — more severe than running over an air hose in the pits, one supposes, but a sentence from which Calmels was absolved after serving two years.
"The matter is of public record, and we have been aware of it throughout our discussion," Schmidt said in a statement to IndyStar.com. "Didier has fulfilled his obligations and gone on to become a successful businessman and team owner in European motor sport."
Welcome to the SPM family, @CalmelsSport & @TGommendy!

Read more about our 2018 #Indy500 effort here:https://t.co/Ffp5n5zTMY pic.twitter.com/ODnBn7Tt4E

— Schmidt Peterson (@SPMIndyCar) September 12, 2017
Ron Kantowski's motor sports notebook appears Friday. Contact him at rkantowski@reviewjournal.com or 702-383-0352. Follow @ronkantowski on Twitter.
NASCAR playoff field
A look at the NASCAR playoff qualifiers, with betting line provided by Green Valley Ranch and commentary by Penelope Pitstop, driver of the No. 5 Compact Pussycat in the old TV cartoon series "Wacky Racers."
1. Martin Truex, Toyota, leader, 8-5
Best driver of which the average sports fan has never heard.
2. Kyle Larson, Chevrolet, -20 points, 4-1
Second-best driver of which the average sports fan has never heard.
3. Kyle Busch, Toyota, -24, 2-1
He's Peter Perfect on the track, Dick Dastardly on Twitter.
4. Brad Keselowski, Ford, -34, 10-1
Look out, Ant Hill Mob. Brad is back and driving a Bulletproof Bomb.
5. Jimmie Johnson, Chevrolet, -36 , 10-1
Remember when they counted him out around this time last year?
6. Kevin Harvick, Ford, -38, 10-1
This guy reminds me of my old rival Rufus Buzzcut. Beware the Buzzwagon.
7. Denny Hamlin, Toyota, -40, 10-1
The thinking man's driver, a la Professor Pat Pending in the Convert-a-Car.
8. Ricky Stenhouse Jr., Chevrolet, -43, 100-1
He's 100-1, but Danica Patrick is still his girlfriend.
9. Ryan Blaney, Ford, -45, 50-1
Like Dick Dastardly's sidekick Muttley, he's still learning how to wheeze and snicker.
10. Chase Elliott, Chevrolet, -47, 28-1
Had the perfect name for The Chase before they started calling it playoffs.
11. Ryan Newman, Chevrolet, -48, 80-1
Hello, Newman. Goodbye, title aspirations.
12. Kurt Busch, Ford, -48, 50-1
Remember the Slag Brothers, Rock and Gravel? He's the Gravel of the Busch Brothers.
13. Kasey Kahne, Chevrolet, -48, 80-1
This Wacky Racer won the big one at Indianapolis but got fired anyway.
14. Austin Dillon, Chevrolet, -48, 100-1
I'm told he likes to wear a big hat in victory lane. We probably won't see it in Florida.
15. Matt Kenseth, Toyota, -48, 22-1
Excellent driver, soon to be unemployed. Might be a good fit for the Crimson Haybaler or the Army Surplus Special.
16. Jamie McMurray, Chevrolet, -50, 80-1
If the Arkansas Chugabug requires a relief driver, he's the man.
NASCAR playoffs
— The top 16 drivers compete in the four-round, 10-race, elimination-style Monster Energy NASCAR Cup Series playoffs, which begin Sunday at Chicagoland Speedway.
— Playoff-eligible drivers who win a race in a round automatically advance to the next round of the postseason.
— The four drivers lowest in points who haven't won in the round are eliminated after every third race, leaving four drivers advancing to the Championship 4 on Nov. 19 at Homestead-Miami Speedway.
— The highest finisher of the remaining four drivers at Homestead wins the championship.
Ron Kantowski Review-Journal
Pro schedule
NASCAR Monster Cup
What: Tales of the Turtles 400.
When: Friday, practice, 9:30 a.m. (NBCSN), qualifying, 3:45 p.m. (NBCSN). Saturday, practice, 8:30 a.m. (CNBC), practice, 11 a.m. (NBCSN). Sunday, race, noon (NBCSN).
Where: Chicagoland Speedway (oval, 1.5 miles), Joliet, Ill.
Distance: 400.5 miles, 267 laps.
Last year: Martin Truex Jr. won in Chicago after starting sixth.
Last race: Kyle Larson picked up his second victory in four races in Richmond.
Next race: ISM Connect 300, Sept. 24, New Hampshire Motor Speedway, Loudon, N.H.
NASCAR Xfinity
What: Chicagoland 300.
When: Friday, practice, 11 a.m. (NBCSN), practice, 1 p.m. Saturday, qualifying, 9:35 a.m. (NBCSN), race, 12:30 p.m. (NBCSN).
Where: Chicagoland Speedway (oval, 1.5 miles), Joliet, Ill.
Distance: 300 miles, 200 laps.
Last year: Erik Jones held off Kyle Larson and Elliott Sadler to finish first.
Last race: Brad Keselowski won in Richmond.
Next race: Visitmyrtlebeach.com 300, Sept. 23, Kentucky Speedway, Sparta, Ky.
NASCAR Camping World Truck
What: Chicagoland 225.
When: Friday, qualifying, 2:05 p.m. (FS1), race, 5:30 (FS1).
Where: Chicagoland Speedway (oval, 1.5 miles), Joliet, Ill.
Distance: 225 miles, 150 laps.
Last year: Kyle Busch led 95 of 151 laps for the win.
Last race: Austin Cindric won in Canada from the pole for his first career victory.
Next race: UNOH 175, Sept. 23, New Hampshire Motor Speedway.
IndyCar
What: GoPro Grand Prix.
When: Friday, practice, 10 a.m., practice, 2 p.m. (NBCSN). Saturday, practice, 11 a.m., qualifying, 3:30 p.m. (NBCSN). Sunday, race, 3:50 p.m. (NBCSN).
Where: Sonoma Raceway (road, 2.385 miles), Sonoma, Calif.
Distance: 202.7 miles, 85 laps.
Last year: Simon Pagenaud won the Sonoma race, clinching the series title in emphatic fashion.
Last race: Alexander Rossi won his second career race at Watkins Glen.
Formula One
What: Singapore Grand Prix.
When: Saturday, practice, 3 a.m., qualifying, 6 a.m. Sunday, race, 5 a.m. (NBCSN).
Where: Marina Bay Street Circuit (circuit, 3.44 miles), Singapore.
Distance: 192.8 miles, 56 laps.
Last year: Nico Rosberg won his third consecutive race, leading 59 of 61 laps.
Last race: Lewis Hamilton won in Italy, his third victory in four events.
Next race: Malaysia Grand Prix, Oct. 1, Sepang International Circuit, Kuala Lumpur.
NHRA
What: Carolina Nationals.
When: Friday, qualifying, 12:30 and 3 p.m. Saturday, qualifying, 10:30 a.m. and 1 p.m. Sunday, finals, 2:17 p.m. (FS1).
Where: zMax Dragway, Concord, N.C.
Last year: Antron Brown took first outside of Charlotte.
Last race: Steve Torrence won the U.S. Nationals in Indianapolis.
Next race: Dodge NHRA Nationals, Sept. 21-24, Maple Grove Raceway, Mohnton, Pa.
The Associated Press