Kurt Busch won't race in Indianapolis 500 this year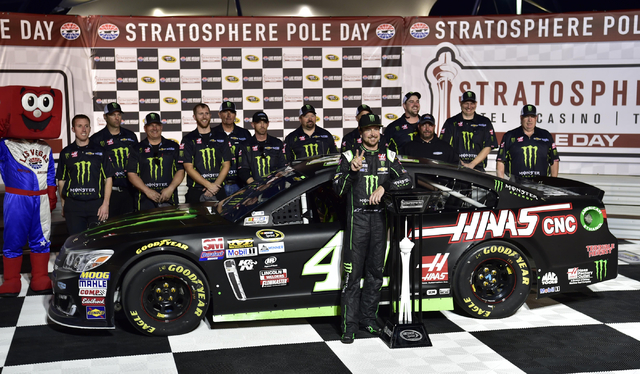 It looks as if 600 miles on Memorial Day Weekend will have to be enough for Kurt Busch this year.
The NASCAR Sprint Cup driver from Las Vegas officially put an end to rampant speculation of attempting another Indianapolis 500/Coca-Cola 600 double with a post on his website.
"After seriously contemplating making another run at 'The Double,' and in response to the many questions I receive on the subject as the month of May approaches, I wanted to state that I will not be participating in this year's 100th running of the Indianapolis 500," Busch said in the statement.
"I must say this was not an easy decision, and it does not in any way reflect upon my desire to compete again in one of the world's greatest races; it is based solely on a need to maintain the focus and momentum we have built early in this NASCAR season with our No. 41 Stewart-Haas Racing, Haas Automation/Monster Energy team — hopefully all the way to Homestead (Florida) and the championship weekend."
See how Busch still managed to get all his sponsors in there? Busch is pretty slick that way.
He's also a natural talent, one of NASCAR's best, and I believe if you put four wheels and a steering wheel on a bed mattress, Busch would put it on the outside of the second row. But sitting out Indy — even the 100th running of the renowned 500-mile race — seems like the right move.
When Busch attempted The Double two years ago, he was sort of trying to regain his footing as a NASCAR lead foot. He has it back now, and as he alluded, he's smack dab in the middle of the Sprint Cup championship chase.
What happens if he crashes at Indy again, as he did in practice two years ago? What happens if he doesn't walk away this time?
Although his little brother Kyle proved it was possible to come back from a broken leg to win a series championship last year, the risk just seems too great this late into the season.
Busch made a big splash at Indianapolis in 2014, driving one of Michael Andretti's spare cars to a sixth-place finish en route to earning Rookie of the Year honors. He then hopped on a private jet for Charlotte, North Carolina, where he came up short in the 600 with engine problems.
"My experience with Andretti Autosport and its drivers was so very positive and the way in which the IndyCar fans and media welcomed me, it is undoubtedly one of the highlights of my career, both personally and professionally," Busch said. "Fortunately, Michael and the Indianapolis Motor Speedway have left the door open for a future run, and perhaps one day I will take them up on that — it just won't be this year."
During NASCAR Weekend at Las Vegas Motor Speedway, Busch said he also had informal talks about driving for Las Vegas car owner Sam Schmidt at Indy. Schmidt said this week that another NASCAR veteran, Brian Vickers, is a long-shot possibility to drive his third car at the Brickyard.
NA$CAR goes green
Here are the top earning NASCAR Sprint Cup drivers for 2015, according to Forbes magazine:
1. Dale Earnhardt Jr., $23.5 million
2. Jimmie Johnson, $22.2 million
3. Jeff Gordon, $21.2 million
4. Kevin Harvick, $15.5 million
5. Denny Hamlin, $15.1 million
6. Kyle Busch, $15 million
7. Danica Patrick, $13.4 million
8. Tony Stewart, $12.8 million
9. Carl Edwards, $12.1 million
10. Matt Kenseth, 11.9 million
The earnings total includes salary, purse, endorsements and licensing. It does not reflect fines assessed after trips to the NASCAR hauler, which brings us to …
Green-white-checkered
■ This is what Kyle Busch said on his in-car radio after blowing a tire while leading the Xfinity Series race Saturday at Auto Club Speedway at Fontana, California, and race control not calling for the yellow flag, costing him the win: "Debris all over the racetrack, and they don't throw a yellow. I'm just so pleased with you NASCAR. Thanks. Y'all are awesome. Fixing races."
Busch also skipped the mandatory postrace news conference. I believe this is another example of what NASCAR calls "actions detrimental to stock car racing." But in the process, a less-than-courteous Kyle may have gained a new admirer.
Wrote Earnhardt on his Twitter account: "I been looking for an opportunity to defend @KyleBusch on Twitter. Today was the day. I think I've confused enough folks now. Carry on."
Busch's fine this time: $10,000, plus NASCAR probation for the next four points races.
■ Las Vegan Brendan Gaughan posted his best Infinity Series finish of the season at Fontana. He took seventh and led two laps after starting 15th.
Fellow Las Vegan Spencer Gallagher, who is splitting time between the Xfinity Series and Truck series, finished 24th in the same event.
■ The name of the Xfinity Series race at Fontana was the Treatmyclot.com 300. It was not a byproduct of the Pork The Other White Meat 400, which once was an ARCA race at Atlanta Motor Speedway.
On the other hand, it could have been.
Las Vegas Review-Journal sports columnist Ron Kantowski can be reached at rkantowski@reviewjournal.com or 702-383-0352. His motor sports notebook runs on Friday. Follow him on Twitter: @ronkantowski
RACE SCHEDULE
NASCAR SPRINT CUP
Next race: STP 500, April 3, Martinsville Speedway, Martinsville, Virginia.
Last race: Jimmie Johnson beat Kevin Harvick at Auto Club Speedway in California for Johnson's 77th career victory.
NASCAR XFINITY
Next race: O'Reilly Auto Parts 300, April 8, Texas Motor Speedway, Fort Worth, Texas.
Last race: Austin Dillon won after Kyle Busch blew a tire on the last lap at Auto Club Speedway in California. Sprint Cup drivers have won every Xfinity Series race this season.
NASCAR CAMPING WORLD TRUCK
Next race: Alpha Energy Solutions 250, April 2, Martinsville Speedway, Martinsville, Virginia.
Last race: John Hunter Nemechek won at Atlanta on Feb. 27, beating Cameron Hayley by 0.305 seconds.
INDYCAR
Next race: Phoenix Grand Prix, April 2, Phoenix International Raceway, Avondale, Arizona.
Last race: Juan Pablo Montoya won the season-opening race for the second consecutive year. Team Penske teammate Will Power was sick and did not race.
NHRA
Next race: DENSO Spark Plugs NHRA Nationals, April 1-3, Las Vegas Motor Speedway.
Last race: Brittany Force won her first Top Fuel race after making her eighth final. Robert Hight won in Funny Car to give John Force Racing a sweep.