Las Vegas' Spencer Gallagher involved in NASCAR truck series fight — sort of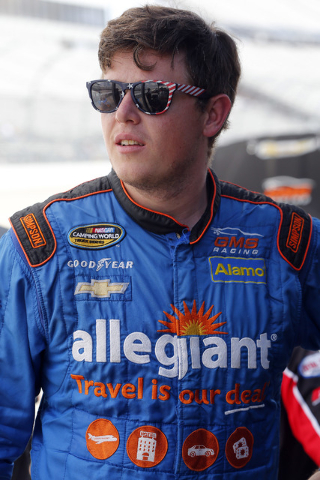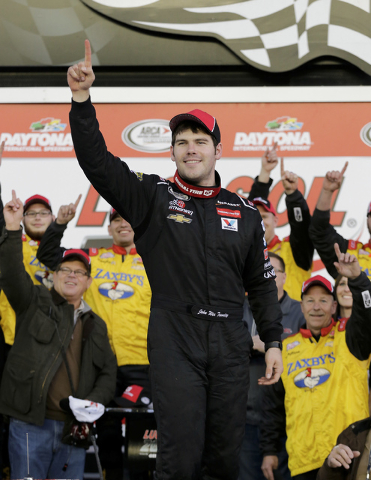 Racing fans at Gateway Motorsports Park on the Illinois side of St. Louis could have said they went to a NASCAR Camping World Truck Series race the other night and a hockey fight broke out.
But only barely.
It involved Spencer Gallagher, a truck series driver from Las Vegas.
But only barely.
Gallagher and another truck series driver named John Wes Townley had a run-in on the track and then another one afterward, during which the aforementioned pseudo-hockey fight broke out.
This display of fisticuffs would not have impressed the Hanson brothers or Ogie Ogilthorpe or even Dave "Tiger" Williams.
"Oh, and they're going at it — this is going to be good here," predicted the TV announcer.
No, it wasn't very good.
If the contretemps between the Allison brothers and Cale Yarborough after the 1979 Daytona 500 put NASCAR on the map, the disagreement between John Wes Townley and Spencer Gallagher nearly erased it from said map.
Townley was the instigator, one supposes. He wouldn't have received an extra two minutes — not even from an NHL referee having another doughnut, as per Jim Schoenfeld's suggestion to Don Koharski during the 1988 playoffs.
The drivers took turns wrestling each other to the track before Wesley managed to free his right hand and get in a couple of glancing blows.
Nobody showed any interest in breaking it up.
Townley and Gallagher showed no interest in continuing to fight, or whatever that was. They waddled around like dancing bears before walking away from each other exhausted.
Road rage? This looked like brothers trying to give each other noogies. Had mom walked in, it's doubtful they would have been grounded or sent to their room without supper.
After the film of the shenanigans was sent to the networks, NASCAR said there would be "repercussions." Townley was fined $15,000; Gallagher was docked $12,500. Both were placed on double-secret probation through Dec. 31, even though there aren't any truck series races in December.
I guess NASCAR didn't want a rematch to break out during the awards banquet. That would be an embarrassment in more ways than one.
GREEN-WHITE-CHECKERED
* They are called waterless boat races, and they are so awesome that were "Gilligan's Island" to be brought back and updated, it wouldn't come as a surprise if waterless boat races were used to explain the fate of the S.S. Minnow. Waterless boat races highlight Saturday's annual Night of Fire at the Las Vegas Motor Speedway Bullring — gates open at 5 p.m., opening ceremonies at 6:55, 76-lap feature for Super Late Models sometime after that, waterless boat racing after that. Followed by fireworks. Plus $2 hot dogs and $3 Budweiser. Call 702-644-4444 for tickets — they're a little cheaper if you call in advance.
* While his IndyCar team was making a return to the picturesque Road America circuit in verdant Elkhart Lake, Wisconsin, team owner Sam Schmidt was running up the side of a mountain — a very famous mountain. There was an Instagram greeting the Schmidt Peterson Motorsports team sent to its fearless leader before his fearless pursuit up Pikes Peak last weekend. The two guys doing the talking were Mikhail Aleshin and James Hinchcliffe, Schmidt's drivers from Russia and Canada. Aleshin is the one who sounds like Boris Badenov from "Rocky and Bullwinkle."
* Kerry Tharp, the nicest of guys who runs the NASCAR end of the media center on NASCAR weekend at Las Vegas Motor Speedway, has been named president of Darlington Raceway, effective July 18. Tharp would always identify you by name during questions and answers with the NASCAR drivers, so if you asked Tony Stewart a dumb question, he could call you out in a more personal fashion. Tharp also would always ask how the UNLV basketball team was doing — before he got into NASCAR, he was media relations director at South Carolina for 20 years. While it has been said that Darlington is the "Track Too Tough to Tame," I have a feeling Kerry Tharp will give it his best shot.
Las Vegas Review-Journal sports columnist Ron Kantowski can be reached at rkantowski@reviewjournal.com or 702-383-0352. His motor sports notebook runs on Friday. Follow him on Twitter: @ronkantowski