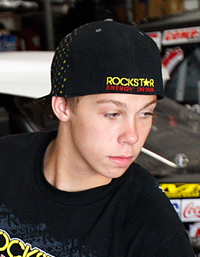 Unlike most 15-year-olds, Dylan Kwasniewski isn't worried about getting a driver's license. He has proven in the past 11 years that he can drive a variety of high-powered, four-wheel vehicles.
But Kwasniewski will be taking a driving test of sorts Saturday in Roseville, Calif., when he makes NASCAR history.
The Las Vegan, who turns 16 next month, expects to start his first NASCAR regional race in the K&N Pro Series West at All American Speedway, a one-third mile oval in northern California.
Kwasniewski would be the first driver under 16 to race in the West region of the 58-year-old series. NASCAR in February lowered the minimum age for its regional series from 16 to 15.
"I realize this is a huge step for me, and I need to take advantage of this opportunity," Kwasniewski said. "It's awesome that NASCAR lowered their age limit so early in the year."
Chase Elliott, son of former NASCAR Cup Series champion Bill Elliott, became the first 15-year-old to race under the rule two weeks ago when he finished fourth in the series' East Coast version.
Kwasniewski was old enough to race in the K&N opener in February at Phoenix International Raceway, but NASCAR would not approve him to debut on a track as long as PIR's one-mile oval.
He will complete the season driving for Gene Price Motorsports in the series that includes a June 11 race at Las Vegas Motor Speedway's half-mile Bullring.
Also entered in the Roseville race is Las Vegas resident Spencer Gallagher, who placed 27th at Phoenix while driving for Clark-Diederich Racing.
Two weeks ago, Kwasniewski added a "youngest ever" milestone to his resume when he won a NASCAR Super Late Models race at the Bullring under NASCAR's revised age policy.
"It seems like I'm always the young guy," Kwasniewski said. "You just have to go out there and be confident."