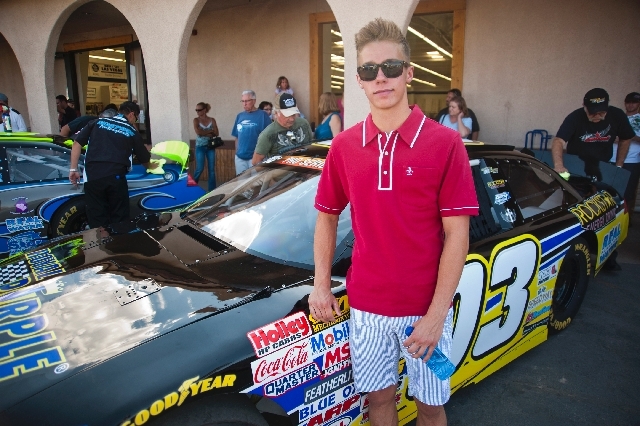 Dylan Kwasniewski graduates from Faith Lutheran High School on June 7, obviously a landmark day in a young person's life.
So is the day someone turns 18, and for Kwasniewski that day is May 31.
It is then that Kwasniewski, considered a potential future star driver, will be eligible to compete in a NASCAR Nationwide or Camping World Truck series race.
He will finish the season in the NASCAR K&N Pro Series East but will look to possibly run in one of those other series during breaks in the schedule.
"I'm confident we'll have some Truck or some Nationwide or some combination of both," said Chris Newman, president of Spire Sports & Entertainment, which represents Kwasniewski.
Newman said Kwasniewski could make his debut in either of those series in Sparta, Ky., at the Truck race June 27 or Nationwide race June 28.
Kwasniewski drives for Turner Scott Motorsports, which owns three full-time Truck and three full-time Nationwide teams. Turner Scott could provide Kwasniewski with a fourth seat for either or both races, but Newman said the team would need at least three or four weeks to put it together.
Kwasniewski considered running in the ARCA race June 14 in Brooklyn, Mich., but time is too tight to make that event.
Though hopeful of competing in one of NASCAR's elite series, Kwasniewski made clear he is focused on the K&N East Series. He is fourth in the points standings and is trying to work out of a stretch in which he has finished no higher than seventh in the past three races, including twice out of the top 10.
Kwasniewski gets back on the track June 1 in Winston-Salem, N.C., and fortunately for him, he is only 16 points out of the lead.
"There's no doubt we'll bounce back," he said. "We slumped at this time last year and bounced back. We need to bounce back. We definitely have the team to do it."
Kwasniewski won the K&N Pro Series West last season.
He was in Charlotte, N.C., on Thursday on the way to his team's garage. Competing in the East Series has meant constant coast-to-coast travel, but Kwasniewski said he has adjusted to the hectic schedule.
"I'm definitely racking up the frequent-flier miles," Kwasniewski said. "I have missed a lot of school. It's something I'm not used to. I've had more work to catch back up on with school."
He stayed home last weekend, competing at the Las Vegas Motor Speedway Bullring on Saturday, winning the Lucas Oil Modified race.
Kurt and Kyle Busch also ran their share of races at the Bullring, and it's been widely assumed Kwasniewski would follow them into NASCAR's big leagues as Las Vegas' next great driver.
He is beginning to establish a national presence with a 15-second commercial that has run on Fox, ESPN and Speed TV. That TV spot is part of an online advertising campaign called "Outperformer Series" by Royal Purple Synthetic Oil.
"People come up to me all the time because they see me on TV," Kwasniewski said.
His mother, Jennifer, said she'll be watching TV and see "my kid, and that's pretty cool."
Maybe, perhaps even soon, she'll see him compete in a Truck or Nationwide race and think that's pretty cool, too.
Kwasniewski hopes he soon will be on that kind of stage but didn't seem overly concerned.
"We've been talking but no plans," he said. "There's a lot of stuff that has to happen. Who knows? We'll see where we go."
Contact reporter Mark Anderson at manderson@reviewjournal.com or 702-387-2914. Follow him on Twitter: @markanderson65.