Nevadan at Work: Dream Racing co-owner helps put clients in fast company
November 18, 2012 - 2:02 am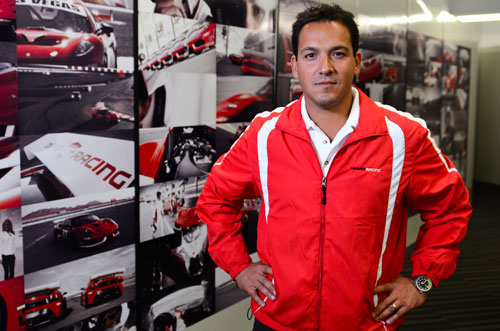 Deep inside the Las Vegas Motor Speedway, a slice of Italian life is unfolding.
Inside the red and white lounge at Dream Racing, espressos are flowing. If strong Italian coffee isn't your thing, don't worry. There's plenty of Acqua Panna or Pellegrino to go around.
Beyond the beverages, there are the Ferraris and of course, the Italian race car drivers, including co-owner Ado De Micheli, who only moved to the U.S. less than two years ago.
While walking through his Dream Racing complex at the Speedway, De Micheli exhibits a confidence and sense of pride that seem to come from showing off his business. This is the first venture for De Micheli, a race car driver and instructor. He co-owns the business with fellow Italian race car driver Enrico Bertaggia.
When explaining how the two decided to come to Las Vegas – they were in Brazil, Bertaggia suggested Vegas but neither had been – De Micheli interrupts himself and talks briefly to an employee in Italian. These short bursts of Italian conversation happen throughout the day, while talking about many topics, including how he switched from bike racing to cars.
De Micheli's mother, Rosalba, was afraid for him to race bikes. So, she suggested he switch to cars and even went so far as to find him sponsors, as long as he sold his bike. Three years later, De Micheli was in the Italian Championship earning "good money." He started to work at the Ferrari School, too, in 1999, and continued to work for the company until he moved to Las Vegas to open Dream Racing.
"You feel like a superstar when you're a race car driver," De Micheli said. "And that's the idea behind Dream Racing."
With Ferrari, De Micheli traveled the world, visiting China, the Middle East and Russia. In Las Vegas, 80 percent of his customers are tourists, and many of them are international. So in a way, he's still connected to the traveling life he once knew.
Question: Since opening, what has the public response been to Dream Racing?
Answer: From corporate companies doing their events, that's been great. The main reason is that the companies come here and do a site inspection before the event, where they bring 200 people. Once they come here they realize the value of our product and it's very easy to sell. With tourists and other people it's growing every day, but it's certainly a lot of competition and the chance to explain your product is limited.
Question: Why did you choose Las Vegas for Dream Racing?
Answer: The reason why we chose Vegas is literally after exploring locations worldwide, it turned out to be the best choice, the best location for the amount of tourists. It's great weather, obviously. We can drive our cars in rain conditions, but it's not as fun with slick tires. And with noise issues, there's Nellis Air Force Base, so we don't have to shut down often during the year. And the U.S. attitude of doing fun things, that's probably the biggest reason.
Question: What do you think of Las Vegas thus far?
Answer: I love it. I believe it's beautiful. It was a great surprise to see how life is outside of the Strip.
Question: How did you get into racing?
Answer: I was always passionate about engines, especially motorbikes. When I was a kid my older brother had motorbikes, so when I was 11 or 12 I started stealing his bikes and driving like crazy. When I was 18 I had this bike and I went on a track finally. I did well, meaning that I didn't do bad, but nothing special. I went back home with a, how you say, fat head? And I went to my mom (and said), "I want to race motorbikes."
Question: What's one of your favorite destinations to which you've traveled?
Answer: I enjoyed the most seeing different cultural environments. Thailand or Japan or China are different cultures. Being Italian, coming to the U.S., we are familiar with the way of living. It's not that different. Middle East is really very different.
Question: Since you've been open, what demographics have been attracted to Dream Racing?
Answer: People that are pretty knowledgeable about cars and enthusiasts. A lot of international people. Our big markets are Europe, Canada, Brazil, Mexico.
Question: What has been most enjoyable about running this business?
Answer: It's every day when we see people. It's a passion, first of all. We have a passion and when you can share a passion with somebody else, well then that makes you kind of happy. It happens everyday to us and we feel fortunate for that. We see lots of people walking away smiling, trying something that otherwise they couldn't have tried.
Question: What's been the most challenging?
Answer: If you ask me to drive a car or you ask me to coach, I've been doing that for my entire life. If you ask me about marketing, advertising or other things involved with business – accounting – obviously I didn't have great experience. But it was twice challenging because it was in a foreign country, so we had to start everything from scratch.
Question: Who has helped you the most so far?
Answer: The Speedway has given us amazing support from the beginning. We started as clients and I feel like we are now really partners. I can tell you for sure they've been the most supportive so far.
Contact reporter Laura Carroll at lcarroll@reviewjournal.com or 702-380-4588.
VITAL STATISTICS
Name: Ado De Micheli
Position: co-owner, Dream Racing
Age: 27
Family: Wife, Thea; daughter, Cateriana, 2
Quote: "You feel like a superstar when you're a racecar driver."
Education: classical studies courses, studied pharmacy for two years at Pharmacy of Genova, two years of economics studies in Italy
Work history: began racing at 18, which he did until 30. Simultaneously worked at the Ferrari School in Italy before opening Dream Racing
Hobbies: I love the beach. Everything I can do there.
Favorite book: "Bel Ami" by Guy de Maupassant
Favorite movie: I don't have an answer for that. I like a lot of movies.
Hometown: Genoa, Italy
In Las Vegas since: 2010
Business address and contact number 7000 Las Vegas Blvd N., Las Vegas, NV 89115 702-674-6647