Peters roars out of restart to win LVMS trucks race
September 29, 2013 - 10:06 am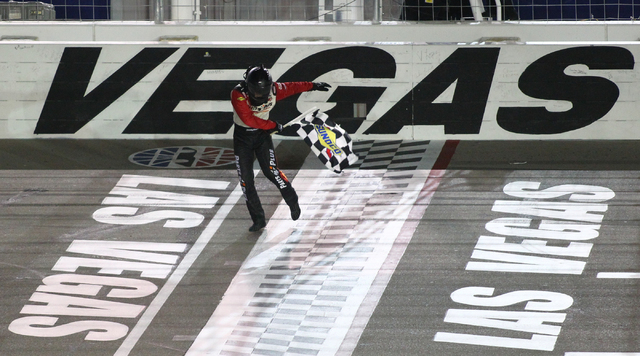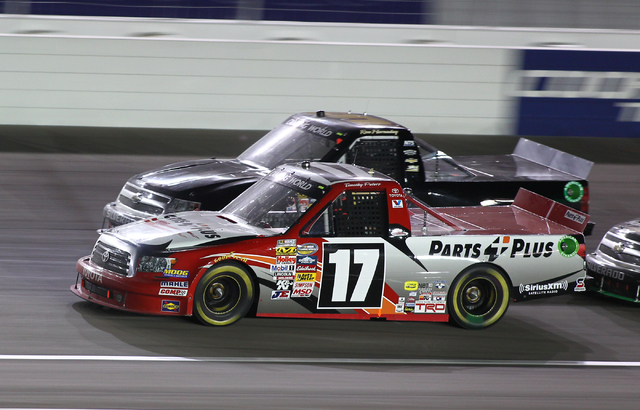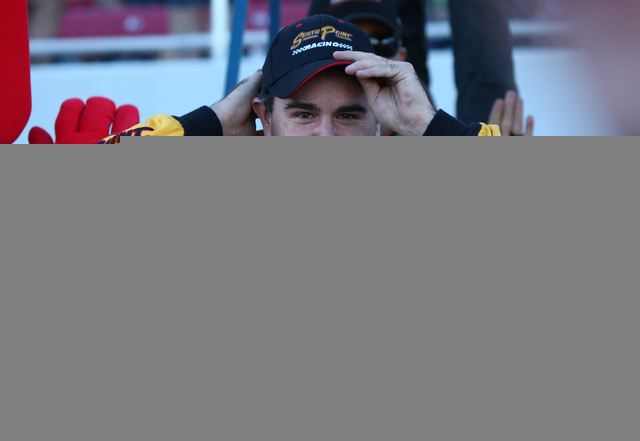 It was clear early on Saturday that Timothy Peters had a strong truck, but few realized just how good it was until the race was nearly over.
Peters took his first lead out of a restart with two laps to go, passing Ron Hornaday Jr. and surging ahead to win the NASCAR Camping World Truck Series Smith's 350 at Las Vegas Motor Speedway.
Johnny Sauter finished second, with Miguel Paludo, Ty Dillon and Darrell Wallace, Jr. rounding out the top five.
Though Peters was surprised by the late-race opportunity, he knew throughout the night he had a truck capable of winning.
"We knew we were good as soon as we unloaded off the hauler," said Peters, whose victory was his first at LVMS and second of the season. "We knew if we could get into position, we'd strike when it counted."
Peters, who started from the 12th position in his No. 17 Parts Plus Toyota and spent most of the night in the top 10, got the break he needed when Jennifer Jo Cobb's right-front tire blew on lap 139, sending her truck into the wall and bringing out a caution flag.
Hornaday, who appeared to have the race in hand, sputtered out of the caution, and Peters took advantage.
"I was really thankful for that last caution so we could get a good restart," said Peters, who won his seventh career race, but his first on a 1½-mile track.
Sauter tried to explain how he and Peters were able to make their late moves.
"That was a pretty crazy restart," Sauter said. "Ron (Hornaday) maybe spun his tires a bit. I saw a hole there and figured I'd try it."
Both trucks made it through, and Hornaday faded to sixth.
Peters' late run capped a race in which no driver seemed to be able to hold the lead. Seven of the race's nine caution flags were brought out by wrecks on turn 4.
"In turn 4, I would just get tight all of a sudden," Paludo said. "Then all of a sudden it would just snap loose out of nowhere."
Peters had the same problem, which was why he knew he had to gain ground in the pits.
"Track position was so important," Peters said. "You had to get all you could on those restarts."
Sauter agreed. "It was a crazy race, pit-strategywise," he said. "At one point I was up to fifth, and the next thing I knew I was back to 15th."
Ty Dillon set the pace during the early laps, but Las Vegan Brendan Gaughan used pit strategy to take control 15 laps into the race. Gaughan's team twice elected not to pit during cautions and as a result led 15 laps. He faded, late, however, and finished eighth.
Series points leader Matt Crafton picked his way through the field and passed Wallace on lap 106 to take the lead. But Crafton had trouble down the stretch, and Hornaday drove to the front with 13 laps to go.
Hornaday's truck appeared dominant, but the late caution eventually doomed his chances while extending his 42-race winless streak.
The race was not a memorable one for several of the series' points leaders. But Crafton, who thought he had a shot at a victory in the late laps, maintained the top spot in the standings.
"All of a sudden we just went dead," said Crafton, who left Las Vegas with a 41-point lead over second-place James Buescher. "It was just undrivable. But all in all, it was not a bad day because we didn't lose many points."
Crafton's 11th-place finish ended his 16-race streak of top-10 finishes.
Buescher finished ninth, and Dillon held onto third in the points standings by finishing fourth. Peters is sixth in points.