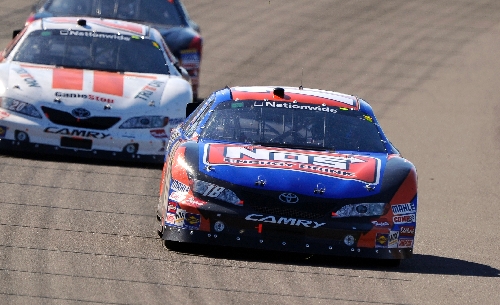 FONTANA, Calif. — Kyle Busch thanked his crew members after his record-extending 12th Nationwide Series victory of the year.
Kevin Harvick might be ready to fire all of his.
Busch took advantage of two bumbling stops by Harvick's crew and rallied from a pit-road miscue of his own Saturday to win for the fourth time in his last five starts at Auto Club Speedway.
"These guys did an awesome job for me," Busch said. "Pit road probably won this race."
The pole sitter for the third time this season, Busch had the best car on restarts, pulling away from the field when he was up front, racing around them when he wasn't. He just didn't have anything for Harvick on the long runs in the 300-mile race and was passed by his fellow Sprint Cup driver three times.
Harvick's slow-motion pit crew was all the advantage Busch needed.
Twice in the last half of the race Harvick entered the pits with the lead, only to exit in sixth after his crew fumbled away tire changes. Harvick led a race-high 86 laps but spent most of the day yelling at his crew on the radio.
"Our cars are tremendously better than what they had been — we've taken that next step," said Harvick, who finished third. "Obviously, we've got to take that next step on pit road because they're just doing a terrible job. That's not what our operation is all about. If they can't stand the pressure, they better find something else to do."
Busch wasn't perfect in the pits, though of no fault to his crew; he was hit with a speeding penalty driving onto pit road midway through the race and dropped to 15th.
It didn't matter. He quickly worked his way to the front and pulled away in a final five-lap dash after a wreck took out Danica Patrick.
Brad Keselowski was second, extending his season lead to a tough-to-catch 384 points.
This one was determined, in large part, in the pits, starting with the second caution midway through the race.
Busch, who was running second, had a good stop but was dropped to the back of the first-lap group for driving too fast into pit road. Joey Logano, third at the time, came out 10th because of a problem changing a tire.
Harvick had a tire-changing problem as well after a crewman got gas in his eyes, dropping him from first to sixth.
"Come on guys, can we win a damn race?" Harvick said through his radio after the sluggish stop.
By the next pit stop, Harvick took a swipe at his crew as he entered.
"I'm terrified to come down pit road," he said on the radio.
■ NHRA — At Mohnton, Pa., Matt Hagan officially certified his 4.011-second run from Friday as an NHRA national record, powering his Dodge Charger to a 4.046-second run in the final qualifying session in the Toyo Tires NHRA Nationals at Maple Grove Raceway.
Hagan, second in the season standings behind John Force, needed a run at 4.051 seconds or quicker this weekend to certify the performance. Hagan broke his own mark of 4.022 seconds.
Larry Dixon (Top Fuel), Allen Johnson (Pro Stock) and Hector Arana (Pro Stock Motorcycle) topped their divisions at the fourth of six playoff races in the NHRA Full Throttle Drag Racing Series Countdown to the Championship.