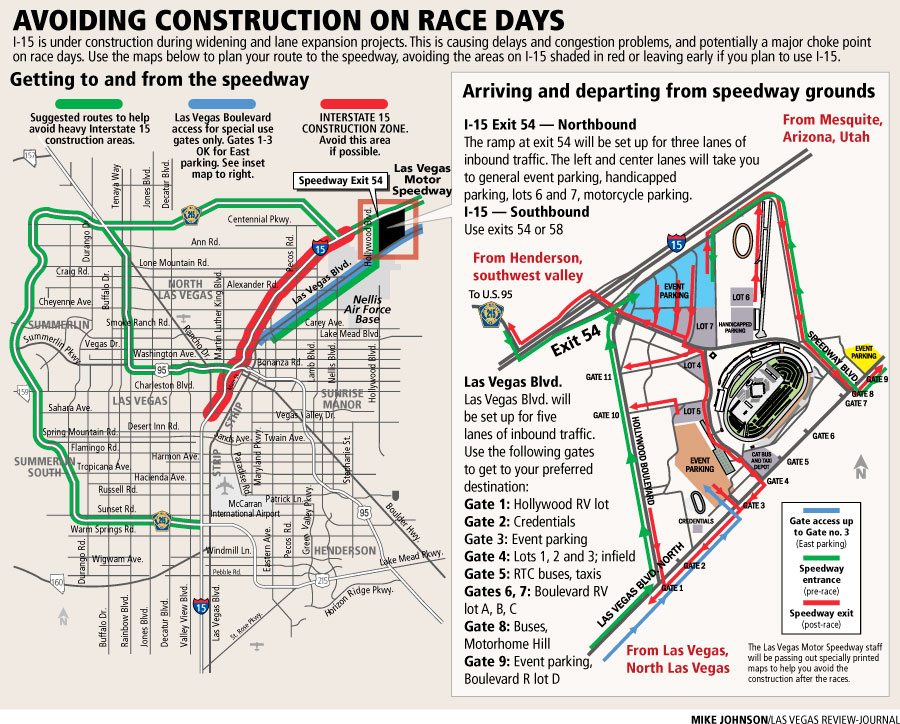 Three years after Las Vegas Motor Speedway invested millions to improve the quality of racing on its 1.5-mile tri-oval, the Nevada Department of Transportation is spending to alleviate congestion on Interstate 15 north of downtown.
The wider portion of the freeway will be good news for next year's Sprint Cup race at Las Vegas, but this year the artery will be clogged.
The simple solution is to leave by midmorning Sunday for the 1:30 p.m. Shelby 427, then take a nap after the race before leaving the parking lots.
The speedway and Nevada Highway Patrol encourage fans to use expanded bus service provided by Coach America — which replaces Citizens Area Transit service — and avoid I-15 by using alternative routes. (See maps on Page 6CC.)
Coach America bus service will have shuttle service desks open from 7 a.m. to 5 p.m. today through Saturday and 7 a.m. to noon Sunday at the Tropicana, Treasure Island, Riviera and Four Queens.
Round-trip passes cost $30 Friday, $30 Saturday, $40 Sunday and $75 for all days.
For bus information: nascar.coachamerica.com or (702) 948-7360.
• COOKIN' — Sprint Cup Raybestos Rookie contender Scott Speed will be challenged by drivers Max Papis, John Wes Townley, Justin Allgaier and Scott Lagasse Jr. in a cooking competition at 2 p.m. today at ESPN Zone in New York New York. The free event is open to the public, and the judges will be youths from the Boys and Girls Clubs of Las Vegas.
• STEWART CLEANS UP — Tony Stewart will join students and faculty from Coronado High School in Henderson from 2 to 4 p.m. today to wash cars and raise money for the school's Super Late Model stock-car team, managed by teacher and race car driver Billy Mitchell.
• DRIVER AUCTION — NASCAR drivers Greg Biffle, Elliott Sadler, Casey Mears, Aric Almirola and Kyle Petty will participate in the Speedway Children's Charities NASCAR Driver Auction at Sam's Town Live, starting at 6 p.m. today.
Fans can bid on a ride around the speedway with their favorite racer during driver introductions for the Sam's Town 300 on Saturday and the Shelby 427 on Sunday. The event also includes a silent auction for a variety of racing and non-racing items.
Last year's event raised more than $150,000 for Southern Nevada youth charities. Auction tickets are $35. For information: (702) 450-8300 or (702) 632-8242.
• CHARITY WALK — Country music performer and last year's "The Biggest Loser" contestant Dan Evans will join Sunday's second annual Speedway Children's Charities Track Walk.
The Walk begins 9 a.m. and is open to any race ticket holder. For information: SpeedwayCharities.org or trackwalk@lvms.com.