Rookie's wreck hands Wheldon Indy 500 win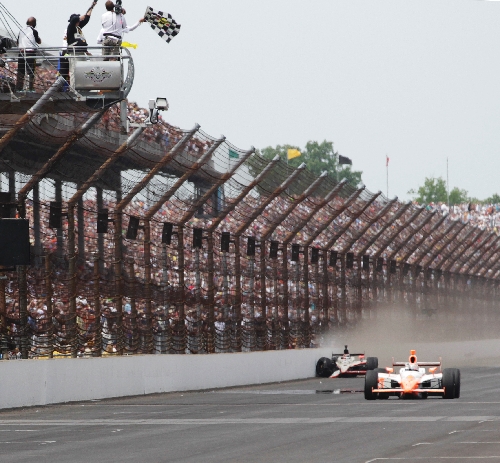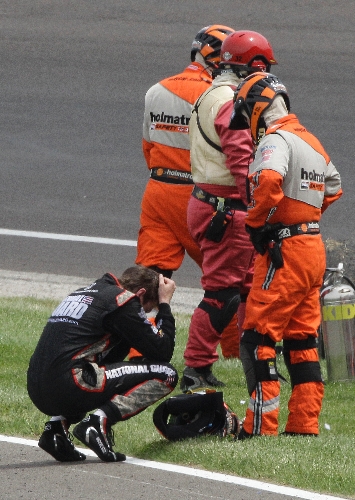 INDIANAPOLIS — Dan Wheldon was zipping toward the final corner of Sunday's Indianapolis 500, surely figuring the best he could do was another runner-up finish.
Then he came upon JR Hildebrand's crumpled car, all smashed up and sliding along the wall.
The rookie had made the ultimate mistake with his very last turn of the wheel, and Wheldon, not Hildebrand, made an improbable turn into Victory Lane.
"It's obviously unfortunate, but that's Indianapolis," said Wheldon, who won Indy in 2005 and finished second the last two years. "That's why it's the greatest spectacle in racing. You never know what's going to happen."
This might have been the whackiest one ever.
In his first event of the year, Wheldon captured the ultimate IndyCar prize. But the 100th anniversary of the "Greatest Spectacle in Racing" will be remembered more for the guy who let it slip away with the checkered flag in sight.
Leading by almost 4 seconds and needing to make it around the 2½-mile track just one more time, Hildebrand cruised through the first three turns with no problem.
The fourth one got him. He went too high, lost control and slammed into the outside wall. Wheldon sped past, while Hildebrand's battered machine skidded across the line 2.1 seconds behind, still hugging the concrete barrier.
"It's a helpless feeling," Hildebrand said.
The 23-year-old Californian got into trouble when he came up on another rookie, Charlie Kimball, going much slower as they approached the last corner. Instead of backing off, the leader moved to the outside to make the pass — a decision that sent him slamming into the wall to a collective gasp from the crowd of 250,000.
"I caught him in the wrong piece of track," Hildebrand said. "I got up in the marbles and that was it."
While Wheldon celebrated, series officials reviewed the video to see if Wheldon passed the wrecked machine before the caution lights went on. He clearly did, and Hildebrand's team said it wouldn't protest the result.
That gave the Brit another spot on the Borg-Warner Trophy. Not bad, considering he doesn't even have a full-time job.
"I just felt a lot of relief. It's an incredible feeling," Wheldon said. "I never gave up."
He took the traditional swig of milk and headed off on a triumphant lap around the speedway — a lap that Hildebrand should have been taking.
Instead, the youngster stopped by the garage to get a look at his mangled car, which was hauled through Gasoline Alley instead of being wheeled into Victory Lane.
"I'm just frustrated. It's not because we came in here with the expectation of winning and we didn't," Hildebrand said. "I felt like I just made a mistake and it cost our boys. I guess that's why rookies don't win the Indianapolis 500 a whole lot, and we'll be back next year, I guess."
After losing his ride from last season — with Hildebrand's team, no less — Wheldon had plenty of time to hang out with his wife and two young children, while also dealing with the burden of his mother being diagnosed with Alzheimer's.
Wheldon longed to get back behind the wheel, and this month he made a one-off deal with former driver Bryan Herta's fledgling team to drive a car leased (minus the engine) from Sam Schmidt of Henderson.
Though Schmidt's cars driven by pole-sitter Alex Tagliani and Townsend Bell didn't finish because of collisions, the car owner was able to share in Wheldon's victory. Schmidt provided some engineering support to Herta, a former Las Vegas resident now living in Los Angeles.
In an interview with the Las Vegas Review-Journal, Schmidt said he will receive a percentage of the winner's purse and an Indy 500 championship ring.
Wheldon's victory could lead to a bigger gig. But for now, there are no guarantees — even for the Indy 500 champion.
"I think my contract expires at midnight," he said, managing a smile.
The 200-lap race was dominated much of the day by Chip Ganassi's top two drivers, defending champ Dario Franchitti and 2008 winner Scott Dixon.
But after a series of late pit stops, things really got interesting. Third-place finisher Graham Rahal spent some time up front. Danica Patrick took the lead but had to stop for fuel with nine laps left. Belgium driver Bertrand Baguette had already passed Patrick, but he didn't have enough fuel, either.
When Baguette went to the pits with three laps to go, the lead belonged to Hildebrand. All he had to do was make it to the end. He came up just short.
Wheldon never led until the last lap, the first time that's happened since Joe Dawson won the second Indy 500 in 1912.
It was the second time a driver lost the lead on the last lap — it happened to another rookie, Marco Andretti, in 2006 — and it's something Hildebrand always will remember.
"Is it a move I would do again?" Hildebrand said. "No."
Wheldon has 16 career wins and finished in the top 10 of the series standings seven years in a row, capturing the title in 2005. But in the peculiar world of auto racing, which runs on sponsorship dollars and not necessarily credentials, Wheldon was squeezed out of his ride.
He sat out the first four races this year, but no way was he going without a ride at Indy. He's had too much success here.
"Dan Wheldon, he's a great winner," said Patrick, who finished 10th. "And what a great story. He hasn't run this year. … That's really cool."
Tagliani ran strong for the first half of the race, but began having problems with handling. Finally on lap 147, he lost it coming out of the fourth turn and smacked the wall for a disappointing end to an otherwise fine month for Schmidt, who watched from a wheelchair in the pits.
Bell, another one-off driver, started from the inside of the second row in Schmidt's other car. Bell ran in the top 10 much of the day until he collided with Ryan Briscoe on lap 158.
For a while, Tagliani, Bell and Wheldon were all running in the top five.
"We had a brilliant first 100 laps, but they don't wave the checkered flag after 100 laps," Schmidt told the Review-Journal. "We can't complain too much. We had a great couple of weeks."