Sam Schmidt's team makes huge splash at Long Beach
April 13, 2017 - 10:38 am
Updated April 13, 2017 - 7:42 pm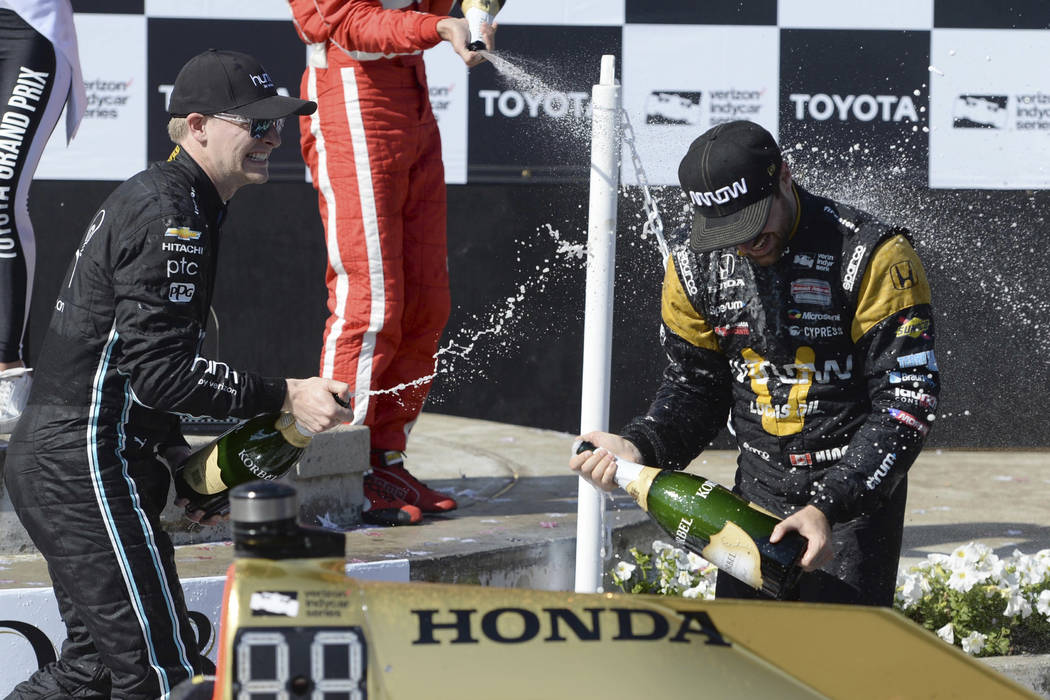 If the Indianapolis 500 is the Super Bowl of American open wheel racing, then the Long Beach Grand Prix is its World Series.
Car owner Sam Schmidt of Henderson and his driver, James Hinchcliffe of Canada, won it last weekend —and it didn't take seven games and a timely rain delay to do it.
Hinchcliffe, who almost lost his life in a 2015 practice crash at Indianapolis driving for Schmidt, led the final 25 laps around the iconic seaside street course and was never seriously challenged over the closing laps.
.@Hinchtown wins the @ToyotaGPLB! #INDYCAR #TGPLB https://t.co/1I2Xejdij6 pic.twitter.com/3ghsFf4DjF

— IndyCar Series (@IndyCar) April 9, 2017
"What a great weekend," Schmidt said in a telephone interview. "Next to the Indy 500, there's no bigger race in our series" than Long Beach.
It was Hinchliffe's second victory since joining Schmidt Peterson Motorsports after driver Simon Pagenaud was lured away by vaunted car owner Roger Penske's deep pockets and other resources. This one was more impressive than a strategy run on a rainy track at New Orleans in 2015.
"This was more straight up," Schmidt said. "We ran every practice session in the top five, qualified in the top five, he went from fourth to second at the start. We just ran our pace, the guys did their jobs in the pits and then he drove away.
"It was very performance-based. It was great execution, and we didn't get caught out by some irrelevant yellow flag."
Schmidt was referring to the season opener in St. Petersburg, Florida — another race Hinchcliffe led handily before pit stop strategy and the untimely caution period Schmidt mentioned set him back. Hinchcliffe started third and settled for ninth at St. Pete after pacing 21 laps.
The veteran car owner was asked if the first two races stamped his modestly financed team as a championship contender. "Absolutely. We've never been this fast out of the box. We really did our homework over the winter."
Schmidt vs. Mario
It also was announced during Long Beach weekend that Schmidt will line up against Mario Andretti in a special match race of semiautonomous cars on May 13 during the run-up to the Grand Prix of Indianapolis at Indianapolis Motor Speedway.
Schmidt, who was paralyzed during a practice crash in 2001, and Andretti will drive cars steered by head sensors and a mouth throttle. Schmidt said it's going to be a big thrill, because the two never raced against each other before his crash. The original Super Mario even has proposed a side bet.
"He wants to drive for me in the 2018 Indy 500," the Henderson car owner said. "I said it would be like a boxing match — we'd have to get the age restriction lifted."
Schmidt is 52; Andretti is a youthful 77.
It's official! Sam will race @MarioAndretti at @IMS ahead of the #INDYCAR Grand Prix on May 13! https://t.co/rPZ4Q6fXPi…s-motor-speedway/ pic.twitter.com/FO0gfPyj1z

— Schmidt Peterson (@SPMIndyCar) April 8, 2017
Bullish at Bullring
Aaron McMorran won twin 25-lap features on Hometown Heroes Night at The Bullring honoring Southern Nevada policemen, firemen and other first responders.
Justin Johnson and Peyton Saxton (Super Late Models), Ed Hohman (Thunder Cars), Amilleo Thomson (Bandolero Bandits), Camden Larsen (Bandolero Outlaws), Mason Sargent (Super Stocks) and Tyler Fabozzi (Legends) were other class winners.
White flag
Larry the Cable Guy has been named grand marshal of NASCAR's Go Bowling 400 at Kansas Speedway May 13, which may or may not say something about the state of today's Cup Series.
Smart money is on "may."
KS Speedway needed a Grand Marshall for the Go Bowling 400. Larry The Cable Guy will "Git-R-Done"! @GitRDoneLarry @kansasspeedway #NASCAR pic.twitter.com/35bnEwyiQw

— Jason Lamb (@jasonlambkc) April 11, 2017
Contact Ron Kantowski at rkantowski@reviewjournal.com or 702-383-0352. Follow @ronkantowski on Twitter.
Schedule
NASCAR Monster Energy Cup
Last race: Jimmie Johnson won in Martinsville after starting 24th for his 81st career victory.
Next race: Food City 500, April 23, Bristol Motor Speedway, Bristol, Tennessee.
NASCAR Xfinity
Last race: Erik Jones grabbed his first win of 2017 and seventh overall in the series.
Next race: Fitzgerald Glider Kits 300, April 22, Bristol Motor Speedway, Bristol, Tennessee.
NASCAR Camping World Truck
Last race: Chase Elliott became the third consecutive pole winner to win the race at Martinsville on April 1.
Next race: Toyota Tundra 250, May 12, Kansas Motor Speedway, Kansas City, Kansas.
IndyCar
Last race: James Hinchcliffe took first in Long Beach, the second surprise winner in two races to open 2017.
Next race: Honda Indy Grand Prix of Alabama, April 23, Barber Motorsports Park, Birmingham, Alabama.
Formula One
What: Bahrain Grand Prix.
When: Friday, practice, 4 a.m. and 8 a.m. Saturday, practice, 5 a.m., qualifying, 8 a.m. Sunday, race, 8 a.m.
Where: Bahrain International Circuit (circuit, 3.36 miles), Bahrain.
Distance: 191.5 miles (57 laps).
Last year: Nico Rosberg won the second of four straight races to open his 2016 championship season.
Last race: Series favorite Lewis Hamilton won from the pole in Shanghai.
Next race: Russian Grand Prix, April 30, Sochi Autodrom, Sochi, Russia.
NHRA Mello Yello Drag Racing
Last week: Antron Brown took first in Top Fuel on April 2 at Las Vegas Motor Speedway.
Next race: NHRA Springnationals, Royal Purple Raceway, April 21-23, Baytown, Texas.
— The Associated Press