Sam Schmidt's top car, driver won't run in Indy 500
Updated May 24, 2018 - 7:14 pm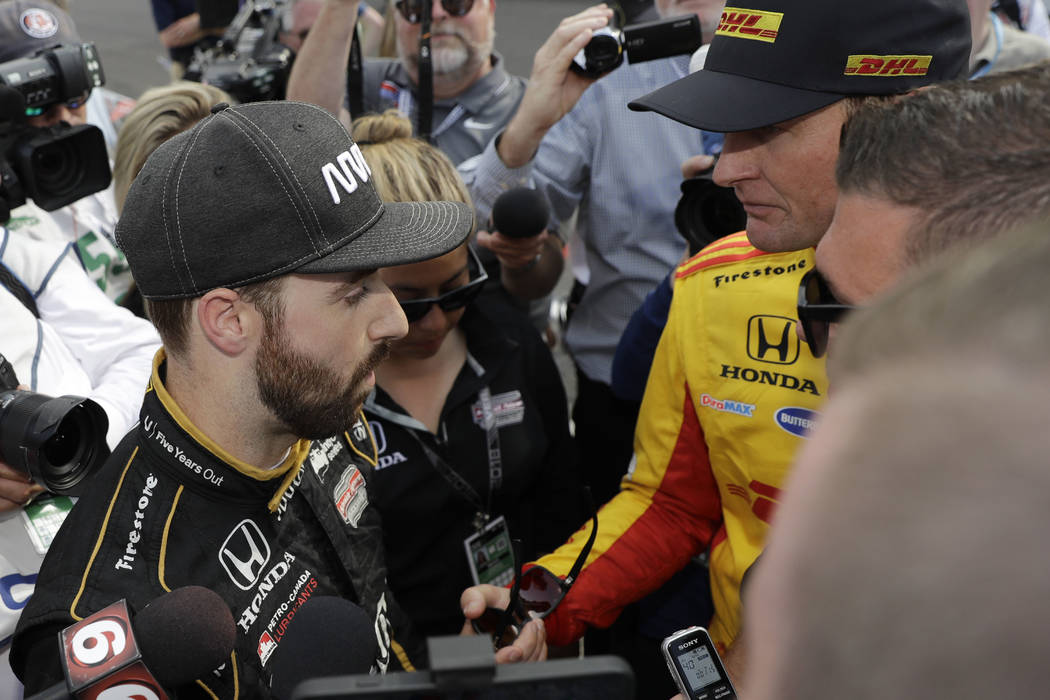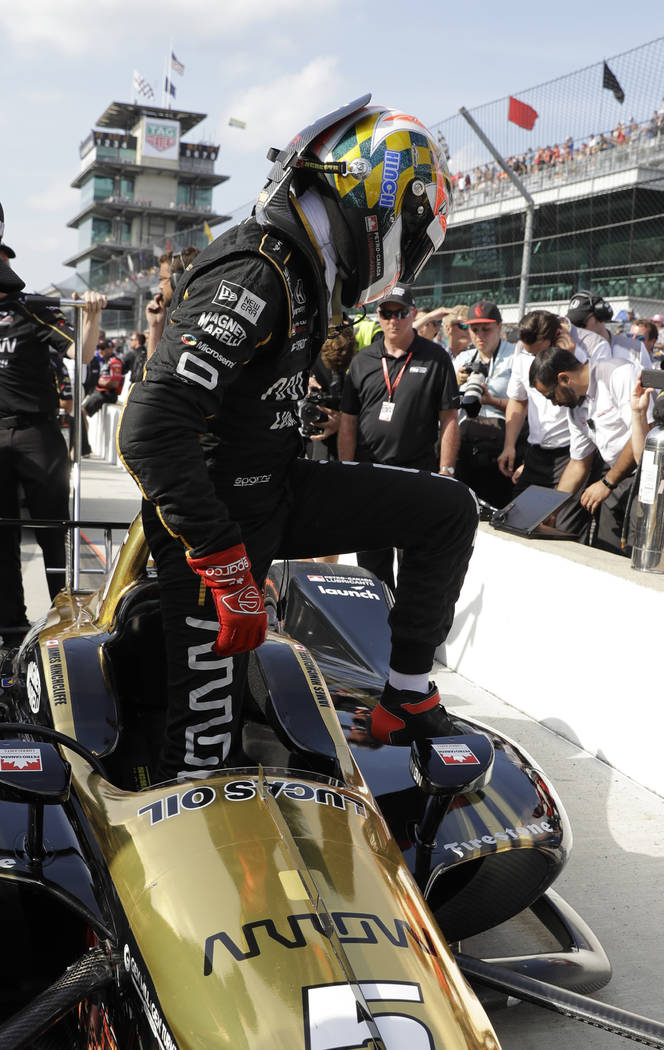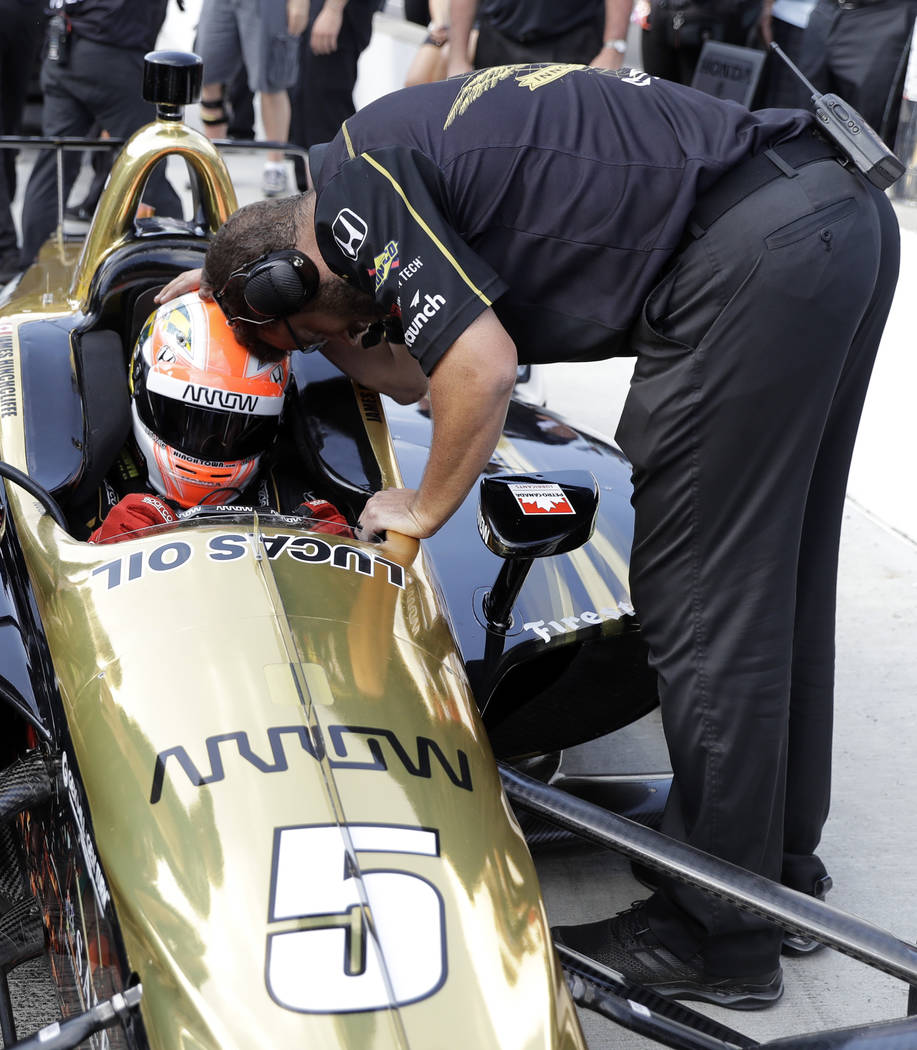 Henderson car owner Sam Schmidt and his No. 1 driver, James Hinchcliffe of Canada, again became a major story of Indianapolis 500 qualifications weekend.
For the second time, it wasn't in the way either had hoped.
Hinchcliffe was expected to be among the contenders in Sunday's 102nd running of the race. But he won't be competing at Indianapolis Motor Speedway after his qualifying speed did not hold up and he was bumped from the 33-car field.
As devastating as that seemed and may still seem, it was a minor hiccup compared to a practice crash at the peril-fraught Brickyard in 2015 that almost ended Hinchcliffe's life.
He made a triumphant return the following year, qualifying Schmidt's car on the pole position before finishing seventh in the 100th running of the iconic race.
"This track, believe it or not, has done worse to me in the past and we came back swinging, so we'll be fine," said the charismatic Hinchcliffe, a former runner-up in ABC's "Dancing with the Stars."
Car owner Schmidt offered a similar perspective.
"After such a good start to the season, this is a pretty big (disappointment), but it's not the worst thing in life," said Schmidt, who was rendered a quadriplegic as a result of an IndyCar testing crash in 2000.
The quest for immortality, by @jimclash, @Hinchtown & @Forbes #indycar #indy500 https://t.co/EFODNzoLCj

— Cathy Kightlinger (@CKightlinger) May 23, 2018
No ride buy
The Schmidt Peterson team has two other cars in the race and is a partner on a third entry. There was speculation that Hinchcliffe — a national spokesman for IndyCar engine supplier Honda — would slide into one of those seats. Or that a driver of another car might step aside if the money was right.
But Hinchcliffe on Wednesday confirmed he will remain on the sidelines when the race gets the green flag.
"Barring unforeseen circumstances, I will not be racing in the Indy 500 this year," he wrote on his Twitter account.
"The decision was made to stop pursuing options to get us in the race. There really aren't words to describe how missing this race feels. At the end of the day, we simply didn't get the job done. No excuses."
— James Hinchcliffe (@Hinchtown) May 23, 2018
Only 600 miles to go
A couple of hours after the gentlemen and Danica Patrick are done running 500 miles in Indianapolis, NASCAR will fire engines for its longest race of the season.
Las Vegan Kyle Busch says one of the keys to running the Coca-Cola 600 is not letting one's foot fall asleep on the gas pedal.
"I like running the 600 miles," Busch said. "I think it brings a different aspect to our sport — its longevity. People will say, 'It's too long. It's boring. Whatever.' Well, it's a part of the product and the history that we've had on Memorial Day weekend for a long time that you run that extra hundred miles."
Much like the Indy 500, the Coke 600 also can be an ultimate test of man and machine, Busch says.
"Will your car make it? Will your engine last? Are the drivers able to be competitive throughout the whole race? You'll have fatigue, sometimes, even at a 500-mile race," said the NASCAR points leader, who has never won a points race at Charlotte Motor Speedway. "(But) if you don't show signs of weakness, you should be pretty good."
He's never won a points race in Charlotte. Will Kyle Busch finally get it done this weekend?#RaceHub pic.twitter.com/EcxVCngoJ4

— FOX: NASCAR (@NASCARONFOX) May 22, 2018
Contact Ron Kantowski at rkantowski@reviewjournal.com or 702-383-0352. Follow @ronkantowski on Twitter.
Schedule
NASCAR Monster Energy Cup
What: Coca-Cola 600.
When: Thursday, qualifying, Kyle Busch (191.836 mph) wins pole. Sunday, race, 3 p.m. (KVVU-5).
Where: Charlotte Motor Speedway, Concord, N.C.
Defending champion: Austin Dillon.
NASCAR Xfinity Series
What: ALSCO 300.
When: Saturday, qualifying, 7:10 a.m. (FS1); race, 10 a.m. (FS1).
Where: Charlotte Motor Speedway, Concord, N.C.
Defending champion: Ryan Blaney.
Verizon IndyCar
What: Indianapolis 500.
When: Sunday, race, 9 a.m. (KTNV-13).
Where: Indianapolis Motor Speedway.
Defending champion: Takuma Sato.
Formula One
What: Monaco Grand Prix.
When: Saturday, qualifying, 6 a.m. (ESPN2). Sunday, race, 6:10 a.m. (ESPN).
Where: Monaco Circuit, Monte Carlo, Monaco.
Defending champion: Sebastian Vettel.