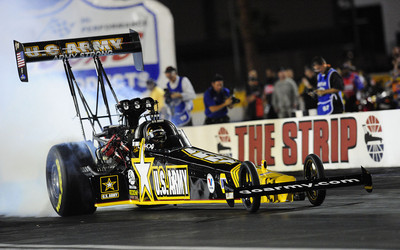 Tony Schumacher clinched his fifth consecutive and sixth overall NHRA Top Fuel championship Saturday, and he didn't coast to get there.
Schumacher wrapped up the title entering today's championship rounds of the ACDelco Las Vegas NHRA Nationals at Las Vegas Motor Speedway.
He did it by posting his quickest run of 3.781 seconds on Friday night, then closed Saturday's qualifying with the fastest run (318.92 mph) since the NHRA shortened races by 320 feet to 1,000 feet in Top Fuel and Funny Car.
"It's very gratifying after the whole season being as great as it was," Schumacher said of the championship that paid a $500,000 bonus to his father's Don Schumacher Racing team.
He and crew chief Alan Johnson have produced the best year ever by a Top Fuel team, and they still have today and the season finale left in two weeks in Pomona, Calif.
They enter today's elimination rounds with an astounding 71-8 record this season.
His string of consecutive and overall titles brings his total of NHRA Top Fuel records for the year to eight.
Three of the four pro pole winners earned their top seeds Friday night.
Robert Hight knocked his team owner, John Force, off the top spot in Saturday night's final session.
Jeg Coughlin won his third pole this season in Pro Stock, and three-time Pro Stock Motorcycle rider Angelle Sampey won her first of the season.
Coughlin said he thinks having his father, Jeg Coughlin Sr., at the event is a good omen as he goes for a second straight and fourth overall championship.
"He's more than just another set of eyes. I have more confidence when he's at the track," the younger Coughlin said of his 70-year-old father, who was one of the country's top drag racers in the 1960s and '70s.
Sampey captured her first pole of the season and badly wants to win for the first time this year to continue her streak of at least one victory each year since she began racing in 1996.
• FULLER'S HOT RUN — Rod Fuller, who won this event a year ago, qualified third in Top Fuel with a run of 3.816 seconds at 318.39 mph, which was the fastest since NHRA shortened the race distance until Schumacher's run.
• SPORTSMAN — A rain delay and minor crash early Saturday night forced the NHRA to postpone Sportsman eliminations until 8 a.m. today. The first round of pro eliminations will start at 11.
• MORE NEWS — Visit LVRJ.com/blogs/heavypedal for more race news.
Contact reporter Jeff Wolf at jwolf@ reviewjournal.com or 702-383-0247.