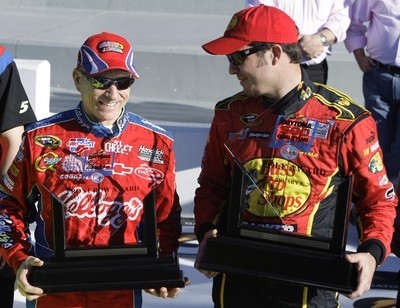 It's time for a race — a real race.
No more crazy Sprint Cup invitational Budweiser Shootout or Gatorade Duels qualifying races that complicate a simple sport.
The Duels on Thursday set the field for Sunday's Daytona 500, which will be filled with compelling stories.
An improbable front row of pole winner Martin Truex Jr. and Mark Martin is symbolic of how chaotic the offseason has been with driver changes and ownership mergers.
Truex is driving for a team that comprises Dale Earnhardt Inc. and Chip Ganassi Racing, which traded its Dodges for Chevrolets.
The ever-popular Martin moved from driving part time for DEI the past two years to replace Casey Mears at Hendrick Motorsports. No one expected him to start on the front row let alone qualify better than teammates Jimmie Johnson, Jeff Gordon and Dale Earnhardt Jr.
Martin is driving the No. 5 Kellogg's Chevrolet, and at age 50, he probably should be pitching one of the cereal-maker's high-fiber brands.
It's just good to have him back with a team that gives him a chance to win his first 500 in 25 tries, not to mention his first series championship.
A new owner also is on the prowl. Tony Stewart has taken over the underachieving Haas Racing team. He might be a 50-50 owner of Stewart-Haas Racing on paper, but he's running the show.
Don't count him and teammate Ryan Newman out of the mix to contend for race wins this year. Stewart will invest whatever it takes in time, money and motivation to get titles for his team. He showed potential by finishing third in Saturday's Shootout in his new No. 14 Chevrolet and was 10th quickest in Sunday's qualifying; Newman, driving a No. 39 Chevy, was third best.
The feel-good story at Daytona International Speedway thus far has been 53-year-old Bill Elliott in the legendary Wood Brothers' No. 21 Ford, which was fifth best in qualifying.
Fans of all ages will have plenty to follow Sunday. Thanks to Martin and Elliott, the over-50 crowd will have peers to cheer for when the 500 begins at 11 a.m.
But the 500 will do little to forecast the rest of the 36-race season.
A year ago, Newman won Daytona while driving a Dodge for Penske Racing but finished in the top five only one more time and faltered to 17th in the final standings. Johnson won the race in 2006 and went on to win the championship, but he is the only one to do so since Gordon in 1997.
Sunday also won't be the day to judge how many teams and spectators will show up for the rest of the season's races.
Fifty-seven Cup cars contested for the 43-car starting field.
Several low-budget teams were at Daytona just hoping to make the field and earn at least $256,000, which is what last place paid a year ago. That possibly would be enough to enter the next race in Fontana, Calif., and two weeks later in Las Vegas.
Car counts won't be a concern for Fontana or Las Vegas, but reaching the coveted total of 43 will be a challenge after those two races.
Attendance looked abysmal for the Shootout on Saturday at Daytona, and despite discount ticket offers for the 500, the race is unlikely to sell out.
Word in the pits is that advance ticket sales for the Fontana race are at an all-time low. That's saying something considering how poorly attended its races have been the past few years.
Although many expect the Las Vegas Cup race to be down by about 10 percent, it still will draw more than 140,000 fans. This could be the best year to travel to Las Vegas for a Cup race because many Southern Nevada hotels are reducing room rates.
Deals in Las Vegas this year might not be at the speedway, but they aren't limited to green-felt tables on the Strip.
Jeff Wolf's motor sports column is published Friday in the Las Vegas Review-Journal. He can be reached at 702-383-0247 or jwolf@reviewjournal.com. Visit Wolf's motor sports blog at lvrj.com/blogs/heavypedal/ throughout the week.