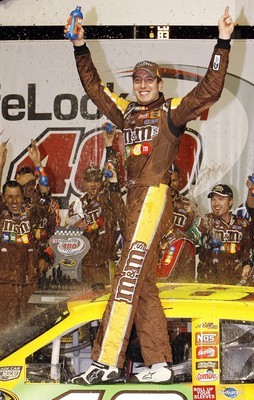 JOLIET, Ill. — Kyle Busch passed Jimmie Johnson after a restart on the next-to-last lap Saturday night to win his seventh NASCAR Sprint Cup Series race of the season.
Johnson had gone by the Las Vegas native with 17 laps left in the LifeLock.com 400. But on the restart after the ninth caution, Busch went high on the track at Chicagoland Speedway and got by Johnson and held on for yet another win.
Busch has 14 victories this season, spanning NASCAR's three series. He won a Nationwide Series race on the same track Friday night.
And the 23-year-old Busch showed again why he leads the Sprint Cup points race with great driving at the end.
"It didn't matter which way he was going to go, I was going the opposite way," Busch said of the pulsating finish. "I pushed Jimmie Johnson to go and was like, 'Let's go, man, here we go.' I just had to go to the outside because he was going to block the bottom in Turn 1 and 2."
But without the final yellow, Busch said he would have lost.
"Without that caution the race was over. Jimmie was going to lead us to the checkered flag," said Busch, who started on the pole and led 165 of 267 laps.
Busch's biggest problem came after the race when he got stuck in the mud as he tried to do a celebratory drive through the infield grass.
Johnson, the two-time defending Sprint Cup champion, took second, and Kevin Harvick, who entered the race 13th in points, was third.
"I thought I had such a good car. I thought I'd get away from him on the restart," Johnson said. "He got a great start and was right there with me and just broke past that bumper plane through the center of 1 and 2. And that was it."
Greg Biffle, who led for 43 laps, finished fourth. Tony Stewart, still looking for his first win this season, was fifth.
• IRL — At Gladeville, Tenn., Scott Dixon grabbed the lead on lap 149 and had enough fuel to stay there until rain ended the Firestone Indy 200 with 29 laps left, giving him his third consecutive victory at Nashville Superspeedway and his fourth win this season.
Indy Racing League officials hoped to squeeze in at least 101 laps to make the race official with rain on the radar. This race was washed out a year ago and run on Sunday with lots of empty seats.
Dixon's teammate, Dan Wheldon, finished second. Pole sitter Helio Castroneves was third, followed by Tony Kanaan and Danica Patrick.
On the undercard race, Ana Beatriz of Brazil became the first woman to win on the Firestone Indy Lights Series, taking the Sunbelt Rentals 100.
Beatriz is one of five women who have taken part in the series that started in 2002 to help develop drivers for the IRL's IndyCar series.
• NHRA — At Morrison, Colo., Cory McClenathan kept the No. 1 qualifying position in Top Fuel at the Mopar Mile-High NHRA Nationals at Bandimere Speedway.
Tony Pedregon (Funny Car), Greg Anderson (Pro Stock) and Eddie Krawiec (Pro Stock Motorcycle) led their respective divisions for today's elimination rounds.
McClenathan's run of 3.929 seconds at a top speed of 308.07 mph from Friday was fast enough to keep him on top.