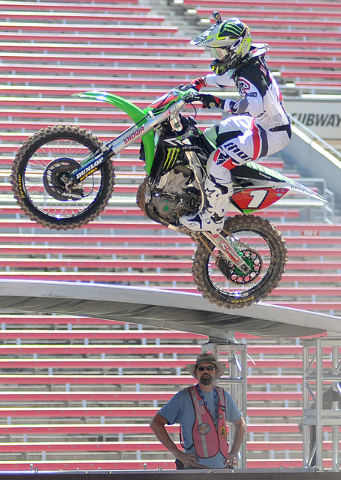 Even in a year that didn't begin as well as he would have hoped, Ryan Villopoto finishes a season tonight that many other racers would dream of putting together.
And whether it's even his best season is open for debate, which shows how much Villopoto has dominated AMA Supercross.
He enters the race at 7 p.m. today having clinched his fourth consecutive championship, doing so last Saturday in East Rutherford, N.J., to match Jeremy McGrath's record set from 1993 to 1996.
"It was a really big deal," Villopoto said. "Like I've said a couple of times before, you don't have really a whole lot of time to reflect on what I have done just because I ended up wrapping it up a race early, and now we're now here at Vegas one week later. Even then, I think the only time you'll really be able to sit back and look back at it is when I am retired and some time has gone by to really put it all in perspective of what I have done in my career."
Tonight's race at Sam Boyd Stadium will take place in front of a new 21-foot by 48-foot video board. The $400,000 board is double the width of the previous one that had been in place since 1999.
Villopoto, 25, doesn't need a makeover when it comes to his career, but that doesn't mean changes aren't in order.
His contract with Monster Energy Kawasaki expires after next season, and Villopoto could seek other challenges. He is intrigued by the idea of driving trucks in short-course races.
If Villopoto wins again next season and breaks McGrath's record, that could provide the perfect jumping-off point to another venture. Villopoto said, however, he is far from thinking that far out and never has been consumed with chasing McGrath.
"To break that record or even matching it this year wasn't my goal," Villopoto said. "My goal was just to try to win another one for myself. It wasn't to make it four in a row. I've never said one time that I want to make it four in a row or to make it five in a row."
Villopoto, who is from Poulsbo, Wash., began the season a little slow. Though he won one of his first three races, he finished fourth and fifth in the others.
Not terrible, but not the kind of start a championship rider wants if he is going to add another title.
"I just wasn't riding like myself," Villopoto said. "Midseason, we made some small changes, and it seems like now toward the end of the season, those small changes that we did make … I'm a lot more comfortable with the bike, and the bike is working underneath me a lot better."
Villopoto has won six races, but more amazingly than that has been his consistency. He hasn't finished worse than sixth in any race, and most riders can usually count on at least one event that is a complete failure.
Whether this has been his best Supercross season, though, is debatable.
Topping 2012 would be difficult. Not only did Villopoto win nine times, but he also clinched the championship with four races left. Last season, he made it first across the finish line 10 times.
If other series are taken into account, 2011 would be tough to beat. Villopoto not only won the Supercross title, but also took the AMA Motocross Championship, Motocross of Nations Championship and the Monster Energy Cup Million.
Any rider would take any of those seasons.
The fact Villopoto is responsible for all of them speaks to his greatness.
Now the challenge is to keep it going.
"Obviously, everybody expects you to win," he said. "There are a lot people that are waiting for that next guy to knock you off the top, whoever that is. For myself, the pressure builds every year that you do keep on winning."
Contact reporter Mark Anderson at manderson@reviewjournal.com or 702-387-2914. Follow him on Twitter @markanderson65.