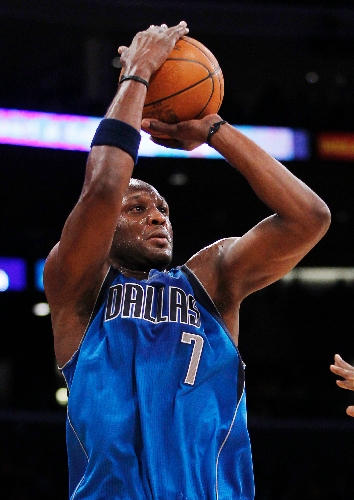 DALLAS — The Dallas Mavericks and Lamar Odom are done with each other.
The NBA's reigning Sixth Man of the Year and the defending NBA champions who are trying to make sure they get back to the playoffs made it clear Monday that the partnership is over after an underwhelming 50-game stint.
"We've got to be able to look down that bench and count on folks to be consistent," general manager Donnie Nelson said. "Unfortunately with (Odom) in his state right now, he's just not capable of doing that. I say that with his best interest in mind. He's going through a very, very tough personal time. We certainly understand that. But we're in the thick of it in the West, and we've got to win games."
Odom will be on the inactive list and not play again for the Mavericks, who are seventh in the Western Conference standings with nine games left in the regular season.
Even when wife and reality TV co-star Khloe Kardashian was in the stands near the Mavericks bench, Odom never seemed happy or comfortable in Dallas. His averages of 6.6 points, 4.2 rebounds and 20.5 minutes were career lows, and he was booed by the home crowd as the sluggish performances multiplied.
Odom agreed with Nelson that it was a mutual decision for him to step away from the team.
"I'm sorry that things didn't work out better for both of us," Odom told ESPN.com.
Odom was traded from the Los Angeles Lakers to Dallas in a deal just before the lockout-shortened season.
The Lakers seemed compelled to move the 6-foot-10-inch forward after trying to send him to New Orleans in a Chris Paul deal that was nixed by the league. For the Mavericks, it was considered a low-risk move to use the trade exception from a deal that sent Tyson Chandler to the New York Knicks.
The ending in Dallas came almost as abruptly.
"These things never come at the best of times, so we felt with the playoff push coming up, it was probably in everyone's best interest," Nelson said. "Look, it's been a frustrating situation. Lamar hasn't performed like he wants to perform, is capable of performing. … We just need to move on."
Nelson said the decision wasn't made sooner because there was hope at some point "the light goes on" for Odom. But that never happened, even after being away from the team for four games around the All-Star break for personal reasons.
During the lockout last summer, Odom's 24-year-old cousin was murdered. Days later, Odom was involved in a car accident that killed a teen pedestrian after the car Odom was riding in as a passenger collided with a motorcycle.
Odom played only four minutes in a 94-89 loss at Memphis on Saturday night, his last game with Dallas. Asked afterward about the situation, Odom simply shrugged his shoulders. Mavericks star Dirk Nowitzki, who defended Odom all season, simply said "I'm done talking about that," after the game.
AROUND THE LEAGUE
■ LAKERS GET BY WITHOUT KOBE — At New Orleans, Pau Gasol had 25 points and nine rebounds, and the Los Angeles Lakers overcame Kobe Bryant's absence to beat the Hornets, 93-91. Bryant missed his second straight game with a sore left shin, but Ramon Sessions helped pick up the slack with 17 points. Andrew Bynum added 18 points and 11 rebounds.
■ OTHER GASOL LIFTS GRIZZLIES — At Memphis, Tenn., Marc Gasol scored 18 points, and the Grizzlies held on to beat the Los Angeles Clippers, 94-85. Memphis won for the eighth time in 10 games and moved one-half game behind the Clippers for the fourth seed in the Western Conference. Chris Paul led Los Angeles with 21 points.
■ HARRIS, JAZZ COOL OFF SPURS — At Salt Lake City, Devin Harris scored 25 points, including 11 straight in the fourth quarter, and Utah halted San Antonio's 11-game winning streak and boosted its own playoff hopes with a 91-84 victory. The Spurs left healthy stars Tim Duncan, Tony Parker and Manu Ginobili home to rest.
■ THUNDER WIN TESTY GAME — At Milwaukee, Russell Westbrook scored 26 points as Oklahoma City won its second straight, defeating Milwaukee 109-89 in a game that featured seven technical fouls and an ejection.