Nelson fakes spike, throws TD pass for dramatic BYU win
December 31, 2011 - 2:00 am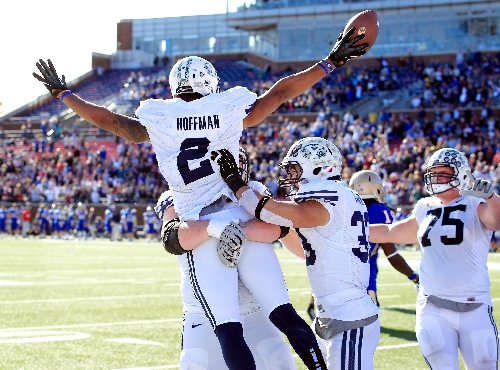 DALLAS — Riley Nelson hurriedly led Brigham Young to the 2-yard line with a call from the sideline to spike the ball and stop the clock.
Instead, Nelson faked the spike and threw his third touchdown pass to Cody Hoffman with 11 seconds left to give the Cougars a 24-21 victory over Tulsa on Friday in the Armed Forces Bowl and another 10-win season.
"There is a play we have, red alert, that he called on his own, which is a fake spike and then throw a touchdown, or you better throw a touchdown," BYU coach Bronco Mendenhall said, smiling. "To have a quarterback in that situation fake spike it on his own and throw a touchdown and be on the same page with the receiver, that's the kind of magic of the guys that I get to coach."
The Cougars (10-3) wrapped up their season of independence by winning 10 games for the fifth time in Mendenhall's seven years. They won nine of their last 10 games after consecutive losses in September.
BYU needed 12 plays to go 48 yards on its last drive. Nelson converted a fourth-and-9 with a 14-yard scramble and later ran 8 yards on third-and-5.
Out of timeouts at the 2 with the clock running, Nelson decided to go with a play that the Cougars hadn't practiced in about two months. And one he remembered seeing Dan Marino pull off when he was watching the NFL as a kid.
"As our guys hustled to the ball, their guys kind of stood up because we were yelling 'Clock it!' " Riley said.
Tulsa defensive back Dexter McCoil, who had two interceptions and a third nullified by a penalty, admitted that "they caught us by surprise. They caught everybody by surprise."
Hoffman stood upright on the far right side waiting for the snap, then took a few steps into the end zone and turned around to make his third TD catch.
"We really had faith in one another," said Hoffman, who had eight catches for 122 yards.
During the recent frenzy of conference realignment, BYU opted to become a football independent after its departure from the Mountain West. There are no immediate plans to get back in another league.
G.J. Kinne threw three touchdown passes for Tulsa (8-5), including a 30-yarder to Bryan Burnham with 10:42 left for a 21-17 lead.
Tulsa, whose other four losses came against top-10 teams, failed to take advantage when BYU was penalized for running into the punter on fourth down from the 10 with about 6 minutes left. But the Golden Hurricane punted four plays later, setting up the winning drive for the Cougars.
Hoffman got his first touchdown just before halftime after an impressive block gave Nelson time to throw the ball.
Nelson was scrambling to his left to avoid pressure and threw back toward the middle of the field after 305-pound offensive tackle Matt Reynolds, having lost his helmet on the play, retreated for a crushing block that flattened pursuing 275-pound defensive end Cory Dorris.
Hoffman made the catch, then lunged forward with the ball in his outstretched hand for the 17-yard score that cut Tulsa's lead to 14-10.
Long snapper Reed Hornung set up that score with a hustle play on special teams. The 249-pound Hornung scampered down the field to hit J.D. Ratliff at the end of a 41-yard punt, forcing a fumble that was recovered by BYU's David Foote.
Kinne, whose 81 career touchdown passes fell two short of the school record, was 17 for 31 for 214 yards. The Golden Hurricane were held to a season-low 272 yards, and lost their second consecutive game after a seven-game winning streak.
"We had a lot of adversity early in the season," Kinne said. "For us to rattle off some big wins, get to a bowl I think was a great accomplishment. There's definitely positives. It was tough to end this way."
Tulsa had won three consecutive bowl games since losing 25-13 to Utah in the Armed Forces Bowl five years ago.
Nelson, who became BYU's starting quarterback after leading a comeback win at Utah State three months ago, finished 17 of 40 for 250 yards with two interceptions. He was also sacked three times and hit many other times.
"Riley battled, and nothing came easy for him today," Mendenhall said. "Tulsa was able to get good pressure on him, they hit him a lot. … There were a number of errant throws, yet when it came down to driving the team to win the game, including the instructions to down the ball, he just wasn't going to be denied in helping our team win."
The Cougars went in front for the first time on Hoffman's 30-yard touchdown with 1:41 left in the third quarter. Hoffman helped set up his score when he reached up in traffic for a 20-yard catch on third-and-10 during the nine-play, 71-yard drive.
BRIGHAM YOUNG — 24
TULSA — 21
KEY: Riley Nelson threw a 2-yard pass to Cody Hoffman with 11 seconds left for Hoffman's third TD.