Nevada fishing report, Jan. 14, 2015
January 13, 2016 - 7:17 pm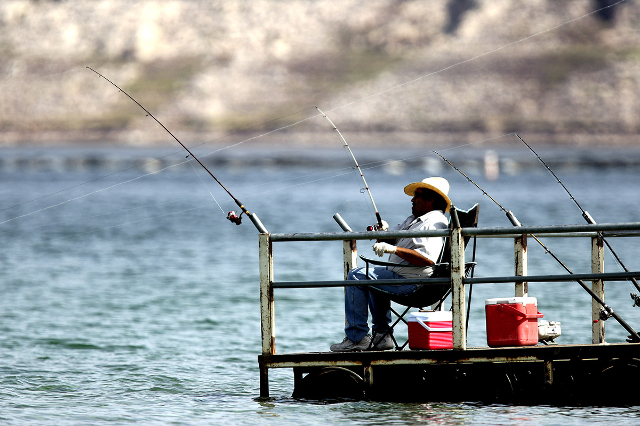 • LAKE MEAD — Striped bass are feeding on shad outside Las Vegas Wash. Most fish weigh around 2 pounds. Shad have been hard to find, but those who find them also have had success for stripers. The best fishing has been out in the deeper waters, at 100-150 feet. Shore fishing has been slow. Clearer skies and warmer weather should make for a good fishing weekend.
• LAKE MOHAVE — Striper fishing is slow on the river. Rusty's Riviera had an angler bring in an 8.26-pound striper taken from shore using a lure with a trout pattern. Best spots reported are near the dam and above the power lines.
• LAUGHLIN — Anglers continue to find good action for stocked rainbow trout. Since striped bass feed on trout, they are not far away. Anchovies and lures are working to catch the bigger fish. Shore fishing has been the best. The river elevation has been somewhat variable.
• LAS VEGAS URBAN PONDS — Fishing has been a challenge despite recent trout plants. Due to poor road conditions, the Nevada Department of Wildlife moved the plant scheduled for the week of Jan. 4 to this week. Most anglers have been catching fish with PowerBait or Power Eggs in yellow or orange, while some fishermen have found success at Floyd Lamb Park with small lures. They also have been catching bass and bluegill. Those having difficulty catching fish might want to try using size-10 or smaller hooks, or small spinning lures or spoons no larger than ¼ ounce.
• KIRCH WILDLIFE MANAGEMENT AREA — The reservoirs are frozen, but due to warm water springs, there are thin patches in places, so the NDOW recommends using caution when venturing out on the ice. Trout have been responding to lures jigged off the bottom, night crawlers and PowerBait.
• EAGLE VALLEY RESERVOIR — Ice conditions are excellent throughout the reservoir. The ice ranges between 10 and 20 inches thick. Anglers are finding success using night crawlers with a bit of marshmallow. Mealworms also have been bringing in fish. Park management encourages everyone venturing out on the ice to use caution as ice conditions can change rapidly.
• ECHO CANYON RESERVOIR — Ice conditions are good, but there are thin areas at the upper end where the stream comes in. Anglers have been seen on the ice, but there is no current report on fishing success. Use caution on the ice.