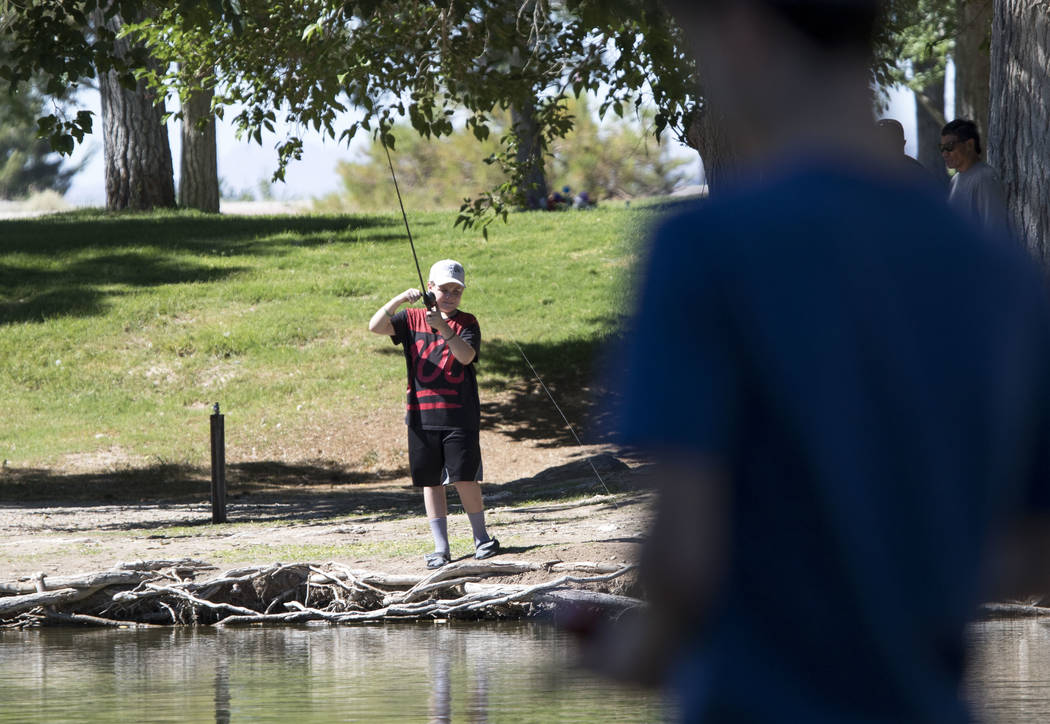 LAKE MEAD — With nighttime air temperatures holding in the 90-degree range, anglers have found the best action at sunrise and then again in the evening. This is the time when many fishermen fish under lights. Whether fishing during the day or night, go prepared with plenty of water and salty snacks. Boaters have found success while trolling for striped bass with gizzard or threadfin shad. Shore anglers have been catching striped and largemouth bass. If you are looking for largemouth or smallmouth bass, don't overlook coves around Echo Bay in the Overton Arm.
LAKE MOHAVE — Boaters are catching stripers with anchovies as well as top-water lures and swimbaits. Willow Beach is giving up double-digit stripers. Largemouth and smallmouth bass are hitting crankbaits and plastics. Catfish are biting between Cottonwood Cove and Katherine Landing.
LAUGHLIN — Striped bass in the 1- to 3-pound range are schooling below Davis Dam. Catfish and stripers are biting on anchovies. Fishermen are catching catfish below Casino Row and above Big Bend. Night crawlers will catch the catfish as well as holdover rainbow trout. As with other Southern Nevada waters, anglers here are hitting the water at sunrise and after sunset to avoid the highest daytime temperatures.
LAS VEGAS URBAN PONDS — Action has been sluggish, though some anglers have caught bluegill. Mealworms are fooling the fish. Early morning is the best time to try your luck while avoiding the high afternoon temperatures. Largemouth bass will be in deeper water near structure. For catfish, work the bottom with night crawlers or something smelly, such as a commercial stink bait or chicken liver. Hot dog slices also will catch the fish.
KIRCH WILDLIFE MANAGEMENT AREA — Midday winds have made things difficult for anglers. Though the trout action has been slow, determined anglers have found the best fishing early in the morning and just before dark. One lucky angler caught and then released a 6-pound largemouth bass. Special bass regulations are in place on area reservoirs until June 30. Aquatic vegetation is accumulating along the dam and in the vicinity of boat launch areas.
EAGLE VALLEY RESERVOIR — Action has been good throughout the reservoir and has been the best in the mornings. Trout fishing slows during the afternoon, while bass and crappie have been hitting well on lures and jigs. PowerBait in orange, green or rainbow remains the ticket for trout. Small lures such as Mepp's spinners, Rooster Tails and Panther Martins also will catch the fish.
ECHO CANYON RESERVOIR — Trout action has slowed over the past week. The arrival of warmer air temperatures isn't helping, but bass and crappie still are biting throughout the day. Lures have been working better than baits for most anglers, with brown colorations working best.
UPCOMING FISHING EVENTS — A free family fishing clinic is scheduled for Lorenzi Park pond at 9 a.m. Saturday. Instruction will focus on catching sunfish with children. The clinic will cover various ways of catching the fish, including baits, lures and flies. Contact Ivy Santee at 702-486-5127, extension 3503, or see the "Las Vegas Family Fishing Club" on Facebook for more information.