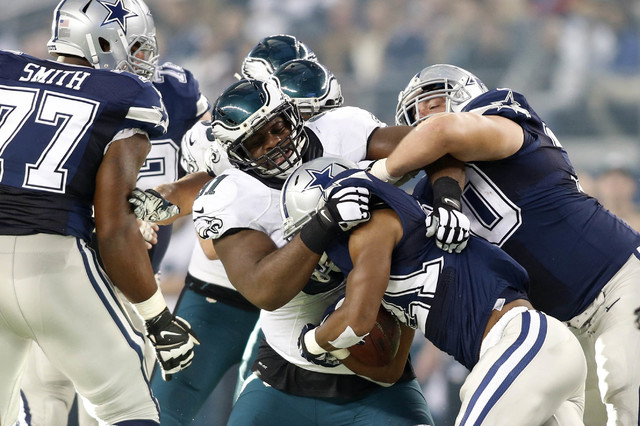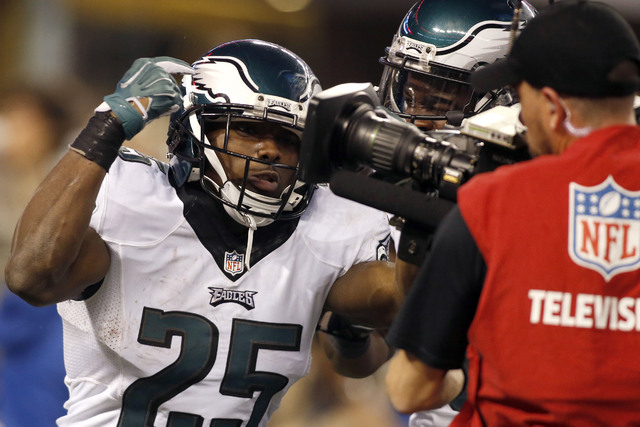 Every time the Philadelphia Eagles play the Dallas Cowboys, we're reminded of "Silver Linings Playbook," the 2012 movie starring Bradley Cooper, Jennifer Lawrence and Robert DeNiro.
While the Oscar-nominated film focuses mostly on the relationship between Cooper and Lawrence's characters, the Eagles also play a part. DeNiro plays a bookie who bets a life-changing parlay that his beloved Eagles will beat the Cowboys and that his son (Cooper) and his partner (Lawrence) will average a certain score in a dance contest taking place the same day.
We won't give away the ending, but if Sunday's game between the NFC East rivals is half as entertaining as the movie, you won't want to miss it.
The Philadelphia-Dallas duel (5:20 p.m., NBC (3)) is one of three key division showdowns on the NFL Sunday slate, along with an AFC West battle between the Denver Broncos and San Diego Chargers (1 p.m., CBS (8)) and an NFC West clash between the Seattle Seahawks and San Francisco 49ers (1 p.m., Fox (5)).
The Eagles (9-4) crushed the Cowboys (9-4) 33-10 in Dallas on Thanksgiving behind 159 yards rushing by LeSean McCoy and a strong defense that sacked Tony Romo four times and limited NFL rushing leader DeMarco Murray to a season-low 73 yards. But the Cowboys have won four of five meetings at Lincoln Financial Field and are the league's only unbeaten team on the road (6-0).
The Broncos (10-3) can clinch their fourth straight division title with a win over the Chargers (8-5), who are trying to stay alive in a crowded playoff picture.
Peyton Manning's stretch of 51 straight games with a touchdown pass ended in Sunday's 24-17 win over the Buffalo Bills. It was only the 11th time in 253 regular-season starts that Manning attempted 20 or fewer passes. The expected return of tight end Julius Thomas could help Manning, who is 4-1 against San Diego since joining Denver in 2012, including a 35-21 win in Week 8.
The Chargers had their three-game winning streak snapped in Sunday's 23-14 home loss to the New England Patriots. San Diego was held to 216 yards in its second-lowest total of the season.
The Seahawks (9-4) appear to be rounding back into championship form and could all but end the playoff hopes of the reeling 49ers (7-6) in their second meeting in 18 days. In a rematch of last season's NFC Championship game on Thanksgiving, Seattle dominated San Francisco in a 19-3 victory and followed that up Sunday with a 24-14 win over the Eagles.
The 49ers are coming off a 24-13 loss to the lowly Oakland Raiders (2-11) in which they were held to 17 points or less for the sixth time in seven games.
TODAY
Los Angeles Lakers at San Antonio Spurs (6:30 p.m., ESPN (30)) — It'll be interesting to see how Kobe Bryant's teammates respond after the Lakers star ripped them in profane fashion during a heated scrimmage in Thursday's practice.
"You (expletives) are soft like Charmin in this (expletive)," he said. "(Expletive), is this the type of (expletive) that's going on in these practices? Now I see why we've lost 20 (expletive) games. We're soft like Charmin. We're soft like (expletive)."
Leaving the court after practice, Bryant gave general manager Mitch Kupchak an earful as well, saying "I'm supposed to practice and get better, Mitch. These (expletives) ain't doing (expletive) for me."
For the record, the Spurs are 16-6 and the (expletive) Lakers are 6-16.
BEST OF REST — Portland Trail Blazers at Chicago Bulls (4 p.m., ESPN (30)); Los Angeles Clippers at Washington Wizards (4 p.m., FSW (49)).
SATURDAY
No. 21 North Carolina at No. 1 Kentucky (9 a.m., CBS (8)) — The Tar Heels (6-2) and Wildcats (10-0) have won a combined 13 national titles and advanced to 34 Final Fours. 'Nuff said.
BEST OF REST — No. 13 Utah vs. No. 10 Kansas (12:15 p.m., ESPN (30)); No. 9 Gonzaga vs. UCLA (7 p.m., ESPN2 (31)); (Football) Army vs. Navy (Noon, CBS (8)); National Finals Rodeo (7 p.m., CBSSN (333)).
SUNDAY
BEST OF REST — Cincinnati Bengals at Cleveland Browns (10 a.m., Fox (5)); Los Angeles Kings at Toronto Maple Leafs (2 p.m., FSW (49)).
Contact reporter Todd Dewey at tdewey@reviewjournal.com or 702-383-0354. Follow him on Twitter: @tdewey33.