Broadcaster Vin Scully done watching NFL games due to anthem protests
November 6, 2017 - 9:46 am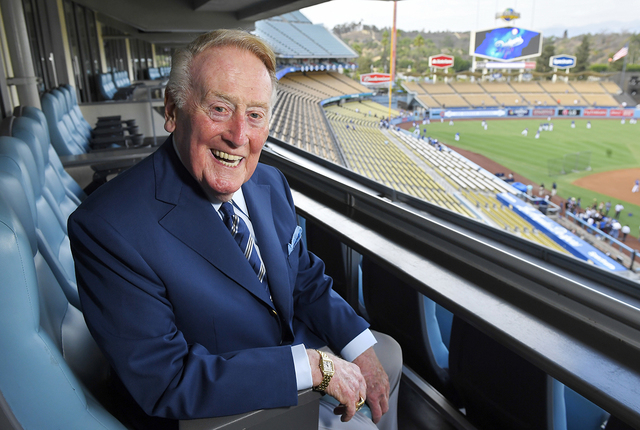 Legendary baseball broadcaster Vin Scully says he will "never watch another NFL game" in response to the protests by players during the national anthem.
The Los Angeles Dodgers' Hall of Fame broadcaster was speaking Saturday night at "An Evening with Vin Scully" at the Pasadena (Calif.) Civic Auditorium.
Scully was asked during a question and answer session after his speech about the response from NFL owners, players and commissioner Roger Goodell to the demonstrations.
"I have only one personal thought, really. And I am so disappointed," Scully said, according to videos posted on social media. "I used to love, during the fall and winter, to watch the NFL on Sunday.
"And it's not that I'm some great patriot. I was in the Navy for a year. Didn't go anywhere. Didn't do anything. But I have overwhelming respect and admiration for anyone who puts on a uniform and goes to war. So the only thing I can do in my little way is not to preach. I will never watch another NFL game."
His comments were greeted by lengthy applause and cheers.
Scully, who will celebrate his 90th birthday later this month, retired last year after 67 seasons as a broadcaster for the Dodgers. He also contributed to NFL and PGA Tour broadcasts on CBS from 1975 to 1982.
Former San Francisco 49ers quarterback Colin Kaepernick started the movement in the NFL since he first sat and then knelt during the national anthem before games in the 2016 season as a protest to denounce police brutality against African-Americans, social injustice and racial inequality.
A number of players followed Kaepernick's lead by taking a knee during the anthem last year and this season. The movement turned into league-wide protests earlier this season after President Donald Trump made multiple critical comments of players who don't stand for the national anthem.
Trump said during a political rally in Huntsville, Ala., on Sept. 22 that NFL owners should fire the players who knelt during the anthem.
"We're proud of our country. We respect our flag," Trump said to loud applause at the campaign event in Alabama. "Wouldn't you love to see one of these NFL owners, when somebody disrespects our flag, to say, 'Get that son of a bitch off the field right now. Out. He's fired! He's fired!'"
NFL players who have demonstrated during the national anthem have said they are protesting racial inequality, but not the flag or the anthem itself.