NHL's Bettman to Las Vegas: 'I have no promises to make today'
February 10, 2015 - 11:02 pm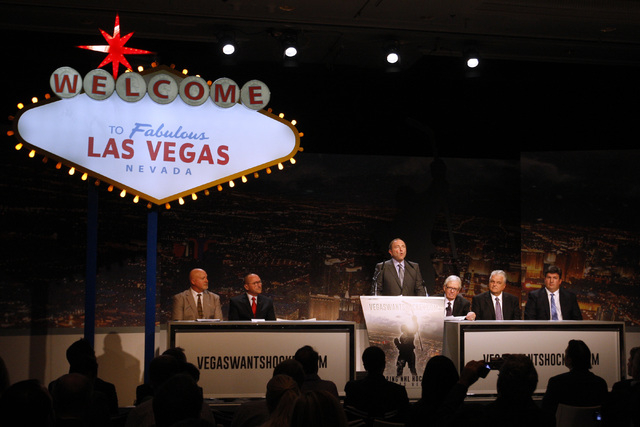 Gary Bettman usually isn't seen in Las Vegas until late June, when the NHL holds its annual awards show.
But with the cold weather gripping the East Coast and a chance to get out of snowy and chilly New York City, the NHL commissioner decided to take prospective owner Bill Foley up on his offer and attend Tuesday's kickoff of the season-ticket drive that Foley hopes will yield commitments for more than 10,000 tickets and convince the league to add Las Vegas to the current 30-team NHL family.
"I have no promises to make today. But I wish Bill and Las Vegas good luck in this endeavor," said Bettman, who received a nice ovation at the news conference at the MGM Grand, including from members of the Founding 75 group that Foley has formed.
Ever since the league gave its approval to Foley and his group, which includes the Maloof family, to test the town's appetite for the NHL, Bettman also has given that approval with an important caveat — that nothing is guaranteed, that the NHL is curious to see what Las Vegas has to offer as a potential market and that this is simply another step in what amounts to a long vetting process.
"The board is aware of the various expressions of interest, but there is no formal plan to expand at the moment," Bettman said. "This is another step in a series of steps."
Bettman often has said that when the NHL looks at a potential market, it looks for three things: One, is it a market that supports hockey? Two, is there a solid ownership group in place to run the potential franchise? Three, is there a building suitable for games?
Las Vegas meets the criteria on two of the three concerns. The $375 million arena under construction behind New York-New York being privately built by the MGM and Anschutz Entertainment Group will seat 17,500 for hockey and have 44 suites and additional club seating.
The arena is on schedule to be completed in April 2016 and would be ready to have a team as an anchor tenant that fall. Foley has said he would like to see a team compete in 2016-17.
"Without two key factors, we wouldn't be having this discussion at all," Bettman said. "One is the fact there is a new arena coming out of the ground. Two, Bill Foley."
Bettman said the league has done some of its due diligence on the potential Las Vegas ownership group and is satisfied they meet the criteria for ownership. In other words, don't expect a John Spano situation.
Spano had managed to buy the New York Islanders in 1996 despite the fact he didn't have the funding in place. He eventually would be relieved of control of the team and go to prison after being charged with bank fraud, forgery and wire fraud.
"In looking at Bill, we see somewhere with vast business experience, someone with substantial resources who is respected in the industry," Bettman said. "He went to West Point, and I have at least one owner who went to West Point, and he's someone who has always given back to the community and someone who is worthy of respect.
"Have we gone through the full vetting process? Not yet. But that's premature at this point. We haven't begun the expansion process yet. That doesn't mean at some point we will be, and it doesn't mean at some point we won't be."
So that leaves the third criterion — local interest. Foley said he'll know early on whether there's enough traction to support his dream, and NHL deputy commissioner Bill Daly said the same thing last week during a TV interview. Foley has targeted the drive to last seven weeks, ending by the end of March.
Bettman, who has used the term "unique" numerous times in discussing Las Vegas as a potential NHL market, said he is taking a wait-and-see attitude before declaring whether the city is considered an NHL market.
"The structure of the market, the business engine that drives this market (gaming) and the fact there are so many tourists and so many people working unusual business hours here," Bettman said. "Bill is in pursuit of bringing professional sports here, and we have no objection to him testing the waters. We're kind of curious as well."
Contact reporter Steve Carp at scarp@reviewjournal.com or 702-387-2913. Follow him on Twitter: @stevecarprj.