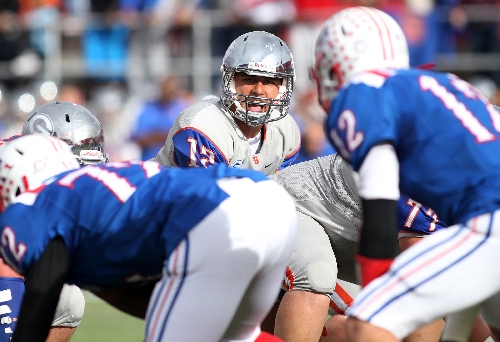 When Jarrett Solomon first stepped onto Bishop Gorman's football field a little more than three years ago, he wasn't sure he could be a varsity quarterback.
"I barely even played quarterback," Solomon said. "It was my second year. All I did was work out every Sunday with my private coach."
Then first-year Gaels coach Tony Sanchez made the decision to start Solomon at quarterback as a freshman.
Four state championships, 138 touchdowns and more than 10,000 yards later, Sanchez might have made the smartest decision anywhere.
Solomon threw for 201 yards and four touchdowns Saturday, leading Gorman to its fourth straight state championship in a 63-10 rout of Liberty at Sam Boyd Stadium.
"When he came in, physically he was able to compete," Sanchez said. "We had so many good guys around him, we felt like it was something we could manage. We knew we had something special.
"He just kept evolving. He's been the best quarterback in the history of the state."
Solomon, a 6-foot-1-inch, 200-pound senior who has committed to the University of Arizona, started all but one of Gorman's 60 games in four seasons. The Gaels were 57-3, with all three losses coming to out-of-state teams.
"As a freshman, I didn't even know what a state championship was," Solomon said. "I never thought I would be as successful as I am right now."
His career numbers are beyond eyebrow-raising.
Solomon finished 532 of 838 for 10,113 yards, the only quarterback in state history to surpass the 10,000-yard mark. He threw 138 touchdowns and only 17 interceptions. He averaged 12 yards per attempted pass and attempted only 14 passes per game, often because he threw sparingly, if at all, in the second half of games.
"If you look at his stats, they could have been so much better if we would have come out throwing the ball every play," Sanchez said. "He understood the team concept. He did a great job managing the offense, being able to audible."
Solomon misfired on his first three pass attempts Saturday, including one interception. He then went 7-for-8 and eclipsed 10,000 yards on a 78-yard touchdown pass to tight end Alize Jones with 59 seconds left in the first half.
Two of Solomon's touchdown passes went to wide receiver Ryan Smith, who was one of the quarterback's favorite targets all four years.
"We had a little bit of a bond," Smith said. "In practice, I'll get on him a little bit. In games, we're out there and we just play our best. I wish we could play together in college."
Solomon, Smith and senior wide receiver Jamir Tillman left the game together to a standing ovation during a timeout with 8:24 to go, leaving behind a level of success that might never be matched.
"Before I called that timeout, I walked up to those guys and said I'm going to put you guys out there and I'm going to call a timeout and pull you off," Sanchez said. "I couldn't get through the conversation without crying. I had to walk away. I've been tough on him. It hasn't always been easy, but I love him to death."
Contact reporter Bartt Davis at bdavis@reviewjournal.com or 702-387-5230.
In-depth high school sports coverage