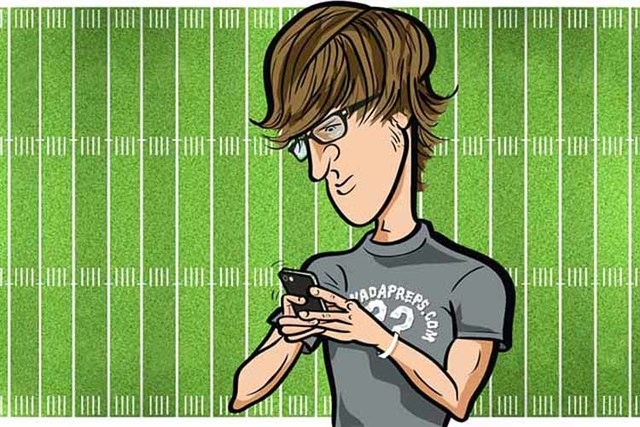 The prep football schedule is so good the weekend before Thanksgiving, it has its own name.
Yep, "Championship Week" is here. (Sorry, ESPN. I didn't notice a trademark, and yours is for college basketball anyway.)
Five title games take place in Southern Nevada on Friday and Saturday. We have the game most people expected in the Division I Sunset Region championship, and the game hardly anyone expected in the Sunrise Region final. Plus, the state title games for Division I-A, Division III and Division IV are happening at Bishop Gorman and The Meadows.
And that, dear reader, is why it's called "Championship Week." See, I'm full of useful nuggets.
Mom found out I was using my sister to pick games and put an end to "prep football baby." Let's see if I can keep up my run of success without any outside help this week.
■ Bishop Gorman at Arbor View — Of the three out-of-state teams that stayed within three points of Gorman this season, only one — Bingham (Utah) — did so by chewing up the clock and keeping the ball away from Tate Martell and Co., which is what the Aggies will try to do. Of course, Bingham used three successful fake punts to help sustain drives, so Arbor View might want to add that to its arsenal.
When these teams met in the Sunset semifinals last year, I wrote that Arbor View's best hope for an upset would be to dominate time of possession with its double-wing offense. The score ended up 52-7 Gorman. At least this year should be closer. … Gorman by 21.
■ Basic at Liberty — The surprising Wolves (6-5) put together a fantastic offensive game plan last week, keeping Las Vegas off balance with an array of formations and shifts to reach their first region final since 2009. It will be much tougher to move the ball against a Liberty defense that shut down the Wolves in Week 1.
The Patriots are shooting for their fifth consecutive Sunrise Region title, a feat that hasn't been pulled off since Las Vegas won six straight from 2003 to 2008. See, let's not forget the lil ol' public schools produce significant achievements, too. Congratulate, don't hate. … Liberty by 10.
■ Desert Pines vs. Moapa Valley — It's the rematch of the year, the Sunrise League championship game and the Division I-A state final. That's three of my favorite things all rolled into one, kind of like a bacon, avocado and Jessica Alba sandwich.
The Pirates rallied from a 22-20 third-quarter deficit to win 43-30 at Desert Pines on Sept. 13. I know both teams have come a long way since then, and this game actually could be decided by which team makes its 2-point conversions. … Moapa Valley by 2.
■ The Meadows vs. Yerington — This is the Mustangs' first trip to the Division III state final since 2009, when they won their second straight title, and they are riding a 10-game winning streak. The Meadows also has a defense that allows only 13 points per game.
The Lions walloped Pershing County on the road in October. That result alone makes Yerington the favorite. Well, that and the fact it's the defending state champ. … Yerington by 7.
■ Spring Mountain vs. Pahranagat Valley — This is the third straight year these teams have met in the Division IV state final, and not much has changed except the number in the Panthers' winning streak. It's up to 80 now, in case you were wondering.
There's some weird symmetry at work here. Last season, the Golden Eagles lost to Pahranagat Valley 54-22 in the regular season and 36-8 in the final. This season, Spring Mountain lost to the Panthers 54-22. So, that means … Pahranagat Valley by 27½ (36-8, get it?).
Last week: 4-2, 4-2 (with points)
Season: 62-31, 55-36-1 (with points)
Contact Fielder at Fielder@nevadapreps.com. Follow @FielderNVP on Twitter.