Olekaibe, Fresno knocked out of WAC Tournament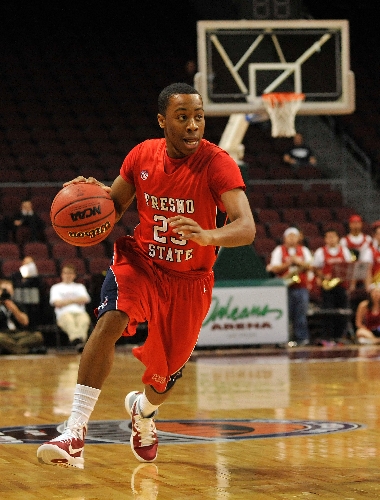 Kevin Olekaibe usually wastes no time altering the tempo of a basketball game with his explosive offensive arsenal.
His impact came much too late for Fresno State on Wednesday, and before the game ended he was in the Orleans Arena locker room, sick to his stomach.
The seventh-seeded Bulldogs were ousted in the first round of the Western Athletic Conference tournament, suffering a 90-80 loss to sixth-seeded UNR.
Olekaibe, a 6-foot-3-inch freshman guard who prepped at Cimarron-Memorial High, scored 14 points in only 17 minutes. But the Bulldogs were already 18 points down in the first half before their season scoring leader got rolling.
It was a bittersweet homecoming. Hoping to display his improved game in front of family, friends and former teammates, Olekaibe and the Bulldogs instead struggled to get out of first gear.
When Fresno State made a belated comeback attempt after trailing by 28, Olekaibe wasn't on the court. With 5:47 to play, he collided with two UNR players trying to corral a loose ball and took the brunt of the impact. Trainer Brad Floy said Olekaibe had the wind knocked out of him and became nauseous.
Olekaibe spent the rest of the game in the locker room and was not available for comment afterward.
Without him, the Bulldogs (14-17) got as close as 84-76 with 1:17 to play. UNR (13-18) held on, with guard Malik Story scoring a career-high 34 points.
Story made all six of his 3-point attempts and the Wolf Pack hit 12 of 18 to advance to a quarterfinal matchup against fourth-seeded New Mexico State (15-16) at 2:30 p.m. today.
Olekaibe's head-butt brought an inglorious end to a season in which he made steady progress, Fresno State's sub-.500 record notwithstanding. He led the team with an 11.9-point average and made noticeable strides during the WAC season, boosting his shooting percentages from the field, foul line and 3-point arc.
"(During recruiting) I told our staff we needed to find people who can shoot the ball," Bulldogs coach Steve Cleveland said. "He was a volume shooter in high school with a lot of freedom. That doesn't always translate at the college level. But Kevin has a great stroke and he has a tremendous work ethic. He's got a great future and will be a star in this league."
Prior to his return home, Olekaibe said he has been trying to make himself a complete basketball player.
"It's a lot faster and more physical at this level," he said. "But I've been patient and bided my time. Coach Cleveland didn't try to change me. He allowed me to play my game.
"As the season went on, I saw my hard work was paying off. I was shooting it better and taking better shots. My defense was better. I was more comfortable with my teammates. It helped my confidence and it definitely will give me something to work on in the offseason."
■ San Jose State 75, Hawaii 74 — The eighth-seeded Spartans advanced on Adrian Oliver's 20-foot jumper with 5.2 seconds left, but only after a tip-in by Bill Amis of the fifth-seeded Warriors was ruled to have come after the buzzer.
Oliver, whose 24.3 scoring average is third in the nation, scored 29 to lead San Jose State to its first WAC tournament win since 2008. The Spartans (16-14) play third-seeded Idaho (18-12) at noon today.
Amis had 23 points for Hawaii (18-12).
Contact reporter Steve Carp at scarp@reviewjournal.com or at 702-387-2913. Follow him on Twitter: @stevecarprj.