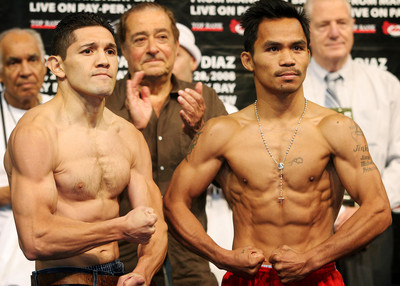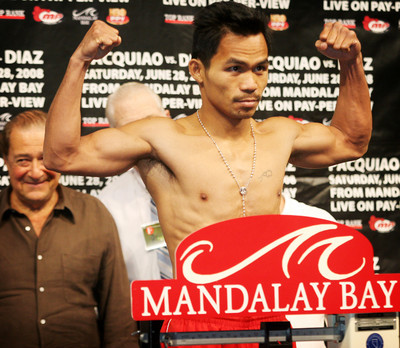 Manny Pacquiao chases history tonight at Mandalay Bay Events Center when he tries to become the first Asian boxer to win world titles in four weight classes.
But if Pacquiao beats David Diaz and takes his WBC lightweight championship belt, he also might be accorded another title, one that's unofficial and based strictly on opinion — the world's best pound-for-pound fighter.
With Floyd Mayweather Jr. retired, the door is open for Pacquiao, the pride of the Philippines, to lay claim to the pound-for-pound honor. Already, many boxing experts have him at or near the top of their lists.
Pacquiao can control what he does in the ring, but not the opinions of others. So he doesn't worry about the pound-for-pound talk.
"All I'm trying to do is make people happy with my performance," he said. "Not only inside the ring, but as a champion outside the ring. That's what I want to do the most.
"Whether I am the best pound-for-pound fighter, that is for other people to decide. My goal is to give a good fight in every fight and to show the people that I am a good boxer."
Pacquiao is far more interested in the tangible goal, to become a world champion in four weight classes. He has won WBC titles at flyweight (1998) and super featherweight (2008) and the IBF junior featherweight title (2001). Adding a fourth belt has been a big part of his motivation for tonight's fight.
"It's a very big honor to me and my country to put my name in boxing history," Pacquiao said. "It's really for the Filipino people."
Pacquiao said he respects Diaz and will not take him lightly. Both fighters appeared in great shape at Friday's weigh-in, in which Pacquiao (46-3-2, 34 knockouts) came in at 1341/2 pounds and Diaz (34-1-1, 17 KOs) at 135.
Pacquiao, 29, said he can't afford to take a step backward at this point of his career.
"I take every fight as my most important fight, because if I lose, I go back to square one," he said. "So if it's a world title fight, if it's somebody who has a good record, it has to be the same preparation because losing is the same for everybody."
Even though Pacquiao is the challenger, he is a 51/2-1 favorite. Diaz said he never has taken a fight as seriously as this one for the simple reason it is the biggest challenge in his career.
"It wasn't tough training for Pacquiao," said Diaz, who will make $850,000, his largest payday, while Pacquiao will get $2.7 million. "If he ran, I was going to run longer. If he hit the bag, I hit the bag more. If he sparred 10 rounds, I sparred 12.
"I know I'm in good condition. I know it's going to be a great fight. If I come out on the short end of the stick, so be it. But it won't be because I didn't give it my best."
Diaz, 32, would like to make a little history himself. Pacquiao has gotten the best of every Mexican fighter he has faced — including Erik Morales, Marco Antonio Barrera and Juan Manuel Marquez — and has been nicknamed "The Mexicutioner." Diaz, a Mexican-American, wants to win for Mexico and put a stop to Pacquiao's streak.
"Manny's been beating up on a lot of my countrymen," Diaz said. "So I want to give this fight to Mexico."
Two other titles will be at stake tonight. Steven Luevano will defend his WBO featherweight crown against Mario Santiago, and the interim WBC super featherweight championship is at stake between Humberto Soto and Francisco Lorenzo.
Contact reporter Steve Carp at scarp@ reviewjournal.com or 702-387-2913.
FIGHT NIGHT
WHO: Manny Pacquiao (46-3-2, 34 KOs) vs. David Diaz (34-1-1, 17 KOs)
WHAT: 12 rounds for Diaz's WBC lightweight title
WHEN: Card begins at 6 p.m. today
WHERE: Mandalay Bay Events Center
ODDS: Pacquiao -550; Diaz +400 (MGM Mirage Properties)
TV: HBO Pay-Per-View (Cable 501 and 701)