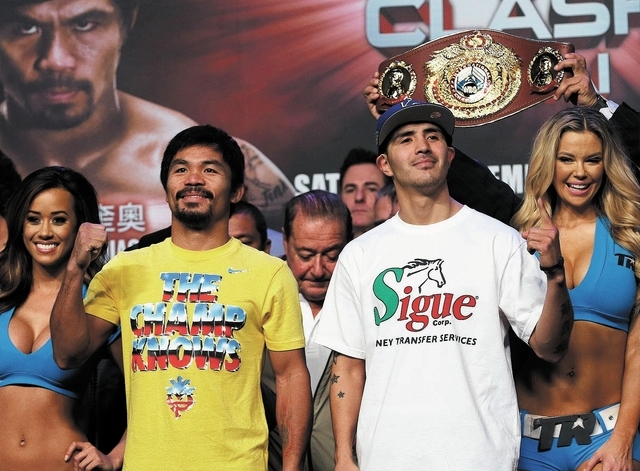 At some point, Manny Pacquiao is going to walk away from boxing and concentrate on his political future in his native Philippines.
The question is, will tonight be the night it ends for the eight-time world champion? Will Brandon Rios be the man who sends Pacquiao into retirement?
Pacquiao admits that a loss to Rios in their 12-round welterweight bout in Macau could be the impetus to hang up his gloves.
"If I feel in my body that I'm not the same as before, I have to think about retirement," Pacquiao, 34, said Friday before the weigh-in at the Venetian Macau's Cotai Arena, where Pacquiao weighed 145 pounds and Rios 146½.
"But I feel fast, and I feel strong. I had a good training camp in the Philippines, and Rios is dreaming if he thinks he's retiring me."
Pacquiao (54-5-2, 38 knockouts) is coming off back-to-back losses at the MGM Grand Garden — a controversial split decision with Timothy Bradley in June 2012 and a devastating sixth-round knockout by Juan Manuel Marquez in December.
Pacquiao, whose purse is a guaranteed $18 million, knows he must prove the Marquez loss is behind him and that it didn't take much out of him.
"I saw the replay, and that's boxing," Pacquiao said. "Sometimes you win, and sometimes you lose. But I am not going to complain or worry about what happened. That is in the past. My focus is only on Brandon Rios."
Neither fighter seemed concerned about Wednesday's fracas between the camps. Pacquiao's trainer, Freddie Roach, confronted Rios' trainer, Robert Garcia, and after they exchanged words, things turned physical.
"It's all good," Rios said. "They're not going to throw me off my game."
Said Pacquiao: "I talked to Freddie and told him to relax."
From Rios' perspective, tonight is about claiming a bigger stake in the sport. The 27-year-old is 31-1-1 with 22 knockouts, and while he has beaten some quality fighters, none has been in Pacquiao's class.
"It's the biggest fight for me, and winning would change my life a lot," said Rios, who will make $4 million. "It would make me a superstar and give me even more financial stability. But at the end of the day, it's two guys in the ring trying to beat each other, so I don't want to make it bigger than it already is."
Rios said it would be a mistake to underestimate his boxing skills.
"I have to fight the way I always fight," he said. "I just have to be smart in doing it. When I beat (Anthony) Peterson, I boxed him. I don't have to brawl to win."
Pacquiao said he hopes Rios tries to overpower him and brawl.
"That's what I want — his style of fighting," Pacquiao said. "He likes to come inside, and I like that style. I don't like to chase, and I'm pretty sure I won't have to chase him."
Roach said it won't matter what style Rios chooses.
"The more I look at Rios, the easier I think this fight will be for Manny," Roach said. "Manny's going to outbox Rios and beat him with ease.
"Manny's doing good. He had a great camp. He's definitely put the Marquez knockout behind him, and I expect big things from Manny in this fight. Rios is a tough guy, but tough guys don't win fights."
And as far as Pacquiao is concerned, tough guys don't send other fighters into retirement. "Only God can retire me," he said, "and (Rios) is not God."
The pay-per-view telecast on HBO begins at 6 p.m. PST. The Venetian Las Vegas is offering the fight on closed-circuit TV; tickets are $50.
Contact reporter Steve Carp at scarp@reviewjournal.com or 702-387-2913. Follow him on Twitter: @stevecarprj.