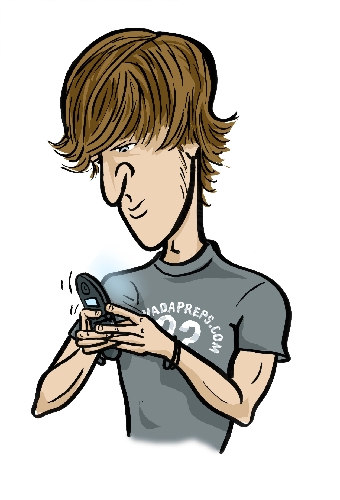 OK, so I wasn't perfect last week.
Come on, how long was it gonna last?
Still, 11-3 against the spread and 13-1 straight up is a good percentage. And it's waaaay better than I'm doing in chemistry class.
No excuses for the Pahrump-Desert Oasis pick. I blew it. Give props to the D'Backs. Nice first win, boys. Didn't see it coming. Make it two this week.
Thanks to the people who send me comments … even if you rip me. It's all good. Except for that 70-year-old guy. He needs a sense of humor and some new socks.
Now on to the picks:
• Palo Verde (2-0) at Del Sol (2-0): How can you not be excited about two teams that have woodshedded their opponents so far?
Don't be fooled by Palo "only" putting up 35 points last week. Two running teams meant a running clock and not as much time to score. Paid attention in math class … once.
Del Sol isn't strictly a running team. The Cowboys let Saei Huihui throw every now and then. Love that name.
Del Sol will need to Huihui up to catch the Panthers.
Too much speed. And speed kills. Palo Verde by 9.
• Silverado (2-0) at Centennial (2-0): If you're not going to Del Sol, go to Centennial for the "other" matchup of 2-0 teams.
Silverado had a huge game from Michael Wadsworth in Week 1 and then got three scores on only six carries — that's like almost every other one — from Terran Madu-Jules last week in a thrashing of Mojave.
Centennial has played two great defensive first halves so far. All the points the Bulldogs have allowed have been in the second half of games.
Maybe Centennial can get its band to end the game by not leaving the field after halftime. That tuba player is tough, but aren't all tuba players? Silverado by 3.
• Green Valley (1-1) at Arbor View (2-0): The Gators and all of us still are in shock after the injury to LaQuan Phillips last week.
The good news is LaQuan appears to be doing better. Get well quick, man.
Arbor View punished its poor cheerleaders last week by making them do 234 pushups. I volunteered to give massages. No one wanted one.
Gabe Toney had three touchdowns in the first quarter last week for the Aggies. This week the cheerleaders get a break. Not as many points, but I'll still give massages.
The inspiration factor is too much. Gators by 7.
• Clark (0-2) at Legacy (2-0): The undefeated Longhorns (wow, that sounds weird to say) and the winless Chargers (um, yeah, not so weird).
Fielder's rule No. 28: Never bet against a team that has a power back named Prince … in this case Prince Oroke.
Prince. Fielder. Think about it.
I like Legacy's O-line. They're opening up Swiss cheese-like holes in the defense. Even I could run through one, and I'm nowhere near as quick as Deshae Edwards. He can fly.
Think 2-0 Legacy sounds wild? Try 3-0 Legacy. Hook 'em, 'Horns. Legacy by 6.
• Durango (0-2) at Liberty (1-1): Which Liberty team shows up for this one … the one that gave up 14 points in the opener or the one that got toasted for 48 last week at Valley?
IDK, but speaking of toast, Durango has given up 95 in two weeks. Points, not yards.
Gotta love the Patriots' offense. From what I've heard, it's either a wishbone or a double wing that Sage Nua and the boys are running, but either way it's part of a chicken.
Toast. Chicken. Swiss cheese. Now I'm hungry. Time for a Patriot's Day feast. Liberty by 10.
• Pahrump Valley (1-1) at Faith Lutheran (2-0): All I heard last week when I stopped by the nevadapreps.com office is David Sperry, David Sperry, David Sperry.
He didn't even play last week, and Faith still won.
Now all I hear is Joe Portaro and Don Pearson.
Those are the guys Pahrump will be chasing tonight — all the way to the end zone. Faith Lutheran by 12.
• Chadwick School (0-0) at The Meadows (1-1): All this time I never knew Eric's friend Chad Wick had a school.
It's in California. And they have water polo there. Cool. I like horses, especially ones that can swim.
I'd like to take The Meadows to beat this Wick guy, but quarterback Gerard Martinez will need to have a huge game, and Doug Rogers and the Mustang defense need to bring it.
The Meadows seems to be stuck on 20 points each game. Not enough. Mr. Wick by 8.
• Mountain View (0-2) at Foothills Christian: Can't help but feel sorry for Mountain View having to make two trips to California in six days.
There's only so much you can get away with on a bus. Trust me. I've tried.
Have no idea where El Cajon, Calif., is, but I do like Cajun food. Maybe Alex Watson and his teammates can bring some back for me.
And I don't like to have to say this, but … Foothills by 9.
Last week: 4-3 (spread), 6-1 (straight up).
Season: 11-3 (spread), 13-1 (straight up).
NevadaPreps.comIn-depth high school sports coverage