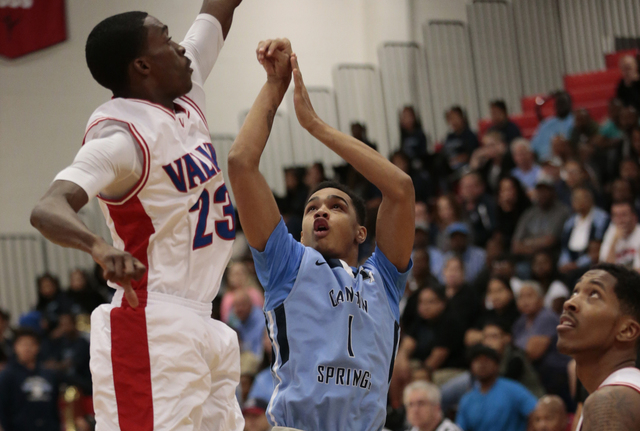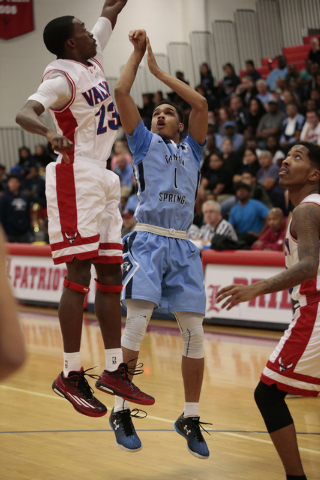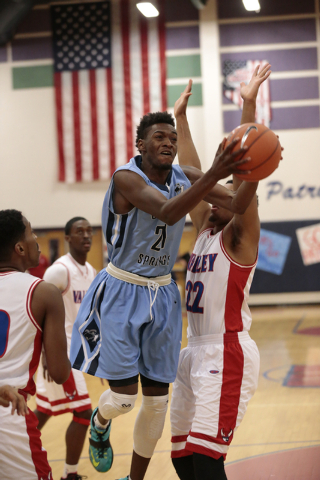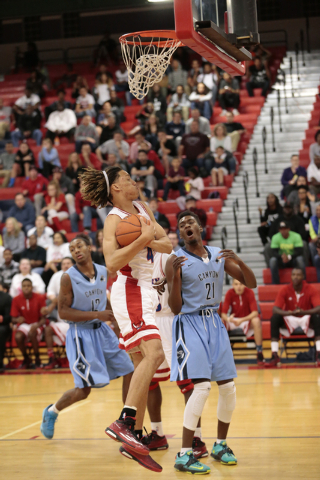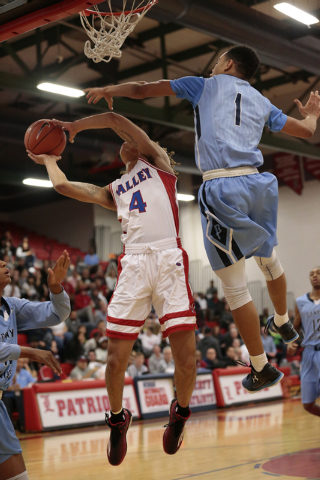 Canyon Springs boys basketball coach Freddie Banks never runs into the locker room at halftime.
But when the buzzer sounded to end the second quarter Friday, Banks sprinted off the floor to get to his players as soon as possible.
"I ran in there because I was mad," Banks said. "I just had to get into them and let them know, 'Look you guys are not playing basketball, and if you don't hurry up and play ball, you're going to end up getting beat by 20.'
"So, they listened to me again tonight."
Jordan Davis finished with 33 points and pulled off a Reggie Miller moment at the end of the first half, and Canyon Springs outlasted Valley 65-63 in triple overtime in the championship game of the Division I Sunrise Region tournament at Liberty.
D'Quan Crockett had 11 points, and Channel Banks added 10 points for the Pioneers (19-10), who claimed their third straight region title and advance to the Division I state tournament starting Thursday at Orleans Arena.
Valley (26-4) faces Sunset Region runner-up Palo Verde (19-9) in the state play-in game at 7 p.m. Monday at Chaparral.
"It means the world to us," said Davis, who added nine rebounds, five assists and four steals. "We struggled in the first half. We were playing individually, but we came back in the second half and got the 'W.' ''
Davis scored Canyon Springs' first eight points in the third overtime, including two free throws with 44 seconds left to give the Pioneers a 64-63 lead. Valley's Nick Brannon drove the lane, but his leaner with seven seconds to play didn't fall, and 5-foot-9-inch Antonio Longmyers snagged the rebound.
Longmyers was fouled and hit 1 of 2 free throws with five seconds left, and Cameron Burton's desperation heave from midcourt for Valley was well off.
"Our fight is the seniors on this team did not want to give up," Davis said. "They don't want to end their senior year, and that's what we did."
Shea Garland led Valley with 18 points, and Burton finished with 17. Taveon Jackson had 14 points and eight rebounds, while Brannon scored 10 as the Vikings' starters played nearly the entire game until Brannon and Darrion Daniels fouled out in the third overtime.
Canyon Springs, having trailed by 16 in the first half, led 52-42 midway through the fourth quarter before Burton's three-point play with 44 seconds left capped a 12-2 run and tied the game at 54.
The Pioneers nearly won at the end of regulation after a wild sequence, but Kajuan Casey's short-range shot rolled out. Valley held the ball for almost all of the first overtime but could only muster Daniels' 10-foot jumper that missed with 15 seconds left.
In the second overtime, Davis' short jumper gave Canyon Springs a 56-54 lead before Jackson's two free throws tied it with 47 seconds remaining. Canyon Springs held the ball for the final shot, but after a timeout with nine seconds, Davis couldn't get it off in time.
Valley led 31-15 late in the second quarter, but similar to Miller's eight points in 11 seconds for the Indiana Pacers against the New York Knicks in 1995, Davis scored six points in the final four seconds of the half to cut the Vikings' lead to 31-23.
"I felt like that did give us a spark," Davis said. "It woke us up."
Canyon Springs opened the third quarter on a 19-6 run as Channel Banks' 3-pointer put the Pioneers on top 42-37 with 1:25 left in the quarter.
SUNSET REGION
Bishop Gorman got the ball inside to Chase Jeter early and often, and the 6-11 senior was dominant, finishing with 35 points and 15 rebounds as the Gaels beat Palo Verde 82-46 at Arbor View for the Sunset Region title.
The Gaels (25-6) advance to next week's state tournament.
"Against teams like this, we've got to take advantage of our size and our athletic ability," Jeter said. "So going into this game, that was our mindset from the start."
Jeter scored 11 points in the opening 4:13 and finished the first quarter with 17 as the Gaels led 25-12.
"My teammates, they took care of me and I took care of them today," Jeter said. "It was just good chemistry all around. And we need to really take this into next week and play with the same mentality and same goal."
Jeter shot 14-for-20 from the field and 7-for-7 from the free-throw line.
"We changed it up a little bit," Gaels coach Grant Rice said. "We tried to find a few different ways to get the ball to the short corner and get the ball to the high post, and then obviously Chase Jeter pretty much clogged up the middle and dominated the game."
Gorman consistently got the ball to one of its other big men in the high post and worked a high-low game to Jeter inside. Stephen Zimmerman, a 7-foot senior, had seven rebounds and six assists, and 6-11 junior Zach Collins added seven rebounds and three assists.
"We really focused in the second half on working that high-low," Rice said. "Zim and Zach are such great passers from the high post and then Chase finishes around the rim. It's almost a perfect combination when you get someone like Zim or Zach Collins in the high post who can pass or shoot the ball."
Palo Verde closed to within 28-20 on a 3-pointer by Ja Morgan with 3:58 left in the first half. But that was as close as the Panthers would get, and Gorman extended its lead to 62-37 after three quarters.
Gorman held Palo Verde to 8-for-30 shooting (26.7 percent) in the second half as the Gaels got great movement in their 2-3 zone to cut off open looks.
Nick Blair added 15 points and five rebounds for Gorman, and Richie Thornton had nine assists. The Sunset title was the seventh straight for Gorman.
"We knew Palo was going to come at us," Jeter said. "They're a tough team, so going out here and getting this win the way we did tonight was very special for us, and a good win heading into next week."
Grant Dressler led Palo Verde with 17 points, but shot only 1-for-6 from the field in the second half. Morgan added 11 points, six rebounds and five assists for the Panthers.