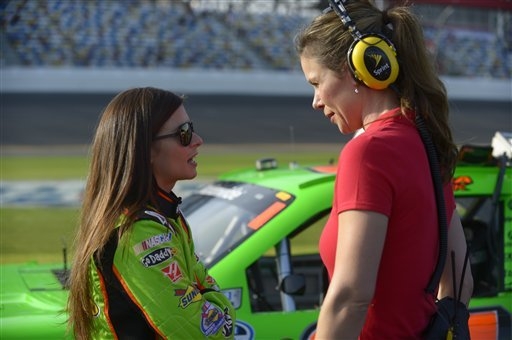 As ESPN/ABC enters its final season covering NASCAR, pit road reporter Jamie Little has mixed emotions.
The Las Vegas resident loves motor sports and is excited for another season to begin. She also is sad ESPN/ABC will not cover NASCAR after this season.
ESPN/ABC has offered to bring her back next year to cover five IndyCar races, including the Indianapolis 500, and other sports. She also could find herself covering NASCAR and other events for Fox or NBC.
"It's been really cool just to talk to other people and know there is interest from other parties," Little said. "I never knew that before because I've always been loyal to ESPN. So after this year I have nothing assigned, but I do have some opportunities, so I'm pretty hopeful and optimistic that I will be covering racing after this year."
Little, 35, offered her thoughts on the NASCAR Sprint Cup and Nationwide series seasons. The first race, an exhibition, is Saturday's Sprint Unlimited at Daytona Beach, Fla.
Then the season begins for real next week at Daytona. Four Las Vegans — brothers Kurt and Kyle Busch, Brendan Gaughan and Dylan Kwasniewski — will compete in the top two series.
What Little is most excited about seeing this season:
"Dylan Kwasniewski, our own local boy. He has moved to Charlotte (N.C.) now. He's going to be in the Nationwide Series, so we get to see him race at Daytona in a week and a half. I'm excited to see how he does. I hope very well. I think he's going to be a great story for us at ESPN for the whole season.
"I'm excited to see these changes in the qualifying format (to a more racelike setting). I'm excited to see how Kevin Harvick and Tony Stewart and Kurt Busch are all going to handle being in the same room. That's going to be the biggest question mark."
On changing the Chase for the Sprint Cup to an elimination system:
"I think it's going to be awesome that these guys have to win, or they're going home. Just because you're locked in the Chase doesn't mean, 'OK, we made it in, we can get our bonus money from our sponsors now. We'll race for top 10s, and that'll be good enough.' It's not like that anymore. I think it's going to weed out those guys who run the normal Chase that we had ninth through 12th would pretty much run ninth through 12th every race."
Her expectations for the Busch brothers:
"Every year, I expect Kyle to be there at the end, and I expect him to be contending for a championship. He's been close, but somewhere during the Chase, the doors close and it's game over. So I really would like to see his potential. He deserves to be a champion. He is that good. He's one of the most naturally gifted drivers in that entire field. The fact that he hasn't won a championship yet is surprising, but I think it's just a matter of time.
"And Kurt, I'm excited to see how he's going to do. He proved a lot last year with the team that was underfunded. He did a lot with that. He didn't win a race. He didn't close the deal. But this year I think he has a great opportunity at Stewart-Haas."
On what is realistic for Kwasniewski in his first season in Nationwide:
"I wouldn't say he's going to win a race. I would say if he can notch some top 10s, even a few top fives through the whole season, and not wreck a lot of equipment, that is something to hang your hat on. That's what you're supposed to do as a really good rookie."
On whether Gaughan can be a factor in Nationwide:
"I think he can. He's proven to have a lot of speed. He's come close to winning these last few years in (Richard Childress Racing) cars. I'd love to see him get a win, but he hasn't proven it to me yet that he can seal the deal, especially with how stacked the field is during the races he shows up for."
On Richard Petty's comments that Danica Patrick would win only if no one else was in the race:
"I think she can definitely win a Nationwide race the next couple of years. Winning a Cup race is going to be a stretch. If she does, it would be like Daytona or Talladega. She's really good at those plate tracks.
"I think it's out of line for anybody to say that anybody that races at that top level of NASCAR doesn't have a shot at (winning) if anybody else is racing with them. I don't think that's fair, and I think it looks bad on the sport, when anybody says that about a female, especially her that's gone somewhere no female has gone. You can't put her in a corner and say she can't win a race. She is there because she can win. She won in IndyCar; she can win in NASCAR."
A driver under the radar who could be a factor this season:
"Maybe a Ryan Newman with Richard Childress Racing could be a surprise. Maybe Kevin Harvick finally gets that elusive championship that he's been going for. Maybe this is what Kurt Busch needs, these types of teammates. Those guys aren't dark horses, but they definitely can step up and challenge for that championship."
Contact reporter Mark Anderson at manderson@reviewjournal.com or 702-387-2914. Follow him on Twitter: @markanderson65.