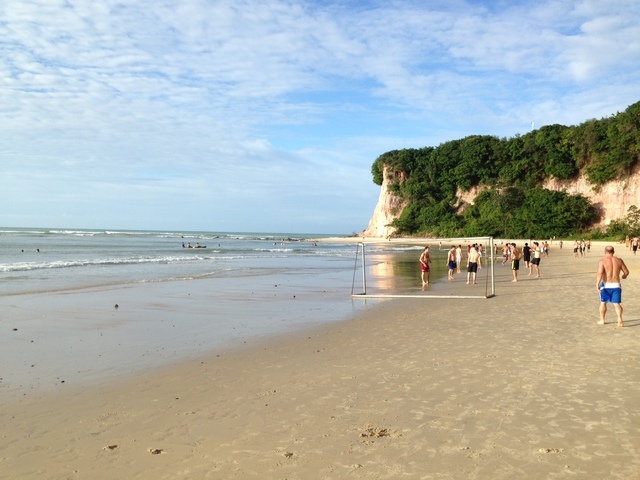 We are feeling very deflated today from that late goal by Portugal. The bar we watched the game at here in Praia da Pipa was packed with spirited Americans going absolutely crazy. We chanted and sang along to The Boss's "Born in the U.S.A.", Tom Petty's "American Girl" and Don McLean's "American Pie." At least our team's chances still look good to advance, and hopefully it will be in the cards.
We've been watching every Cup game each day at the same restaurant that has become our go-to spot. From our chosen table, the view with the TV above is complimented by the view out to the world going by on the street below. Between games we've been escaping down the harrowing steps to the incredible beaches to take in the sun and to lounge under umbrellas and drink cool drinks from gourds and coconuts.
We walked along Baía dos Golfinhos and saw many pods of dolphins playing and flipping above the surface close inshore. We also saw the locals play a spirited, full-team, barefooted soccer match on the flat beach with steel-framed goals at each end.
After returning from the beach on Saturday, we met Las Vegas lawyer John Gutke, who lives two miles from me in Summerlin, and his brother Paul from Logan, Utah. We shared the Germany versus Ghana 2-2 draw together over a few beers, and it was great to chat with someone from home. We planned to catch up down the road in a few days in Recife.
Brennan Karle is a Las Vegas teacher who covers prep sports for the Review-Journal. He's in Brazil for the World Cup and will be sharing electronic postcards on his experiences. You can see photos of his trip on Instagram at brennankarle.