Professional cornhole tournament coming to Las Vegas this weekend
April 25, 2017 - 11:11 am
Updated April 25, 2017 - 7:50 pm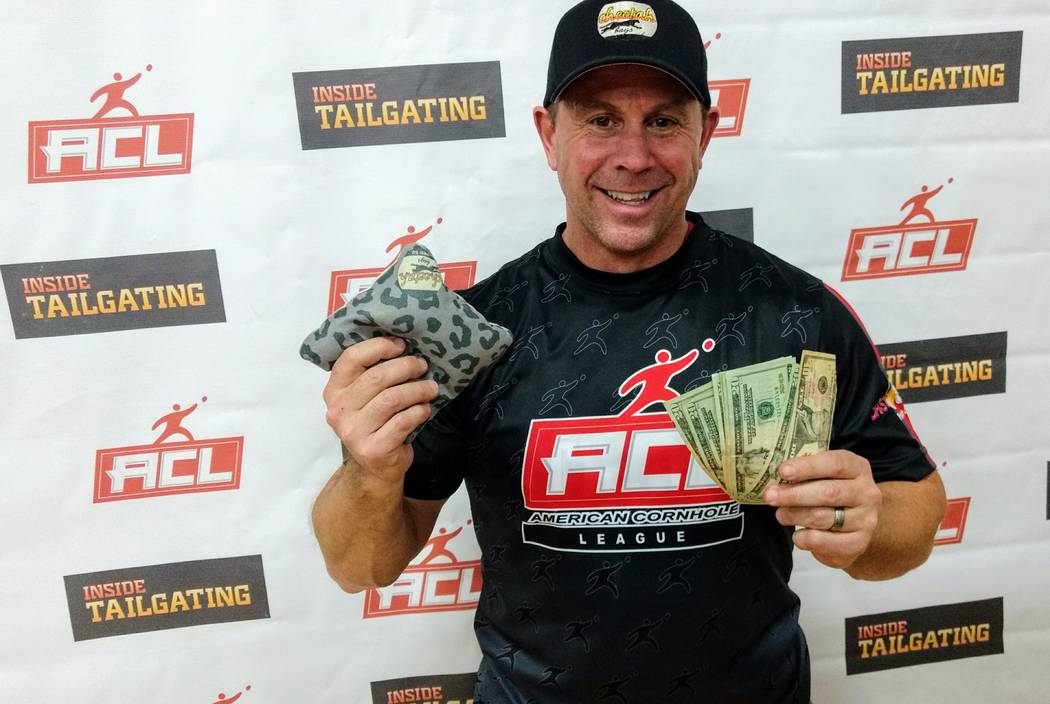 Eric Ryder and his son Trey, owners of their own set of boards, fancied themselves as pretty good at cornhole five years ago, so the Charlotte, North Carolina, residents went to a local tournament.
Soon they realized just how big the sport really is.
"We really just got our butts handed to us," Eric Ryder said. "We watched the best players, and we were in awe of their talent. After that tournament, we went home, started practicing and got better and better. From there, I was hooked."
Las Vegas will get its own chance to see how much the sport has grown when the American Cornhole League National 6 Tournament comes to The Linq from Friday to Sunday. Eric Ryder will be one of the professional players competing for a $5,000 prize pool, and Trey will provide color commentary of the event for ESPN3.
"We're really looking forward to Vegas," Eric Ryder said. "We want to grow this like the World Series of Poker, where we have the World Series of Cornhole down the road."
Eric Ryder is the sixth-ranked singles player in the American Cornhole League, which is in its second year. It was founded by Stacey Moore, a third-generation North Carolina State fan who built two tailgating brands and discovered people played cornhole more seriously before events than any other game.
The league plays eight national tournaments a year before its final in July and has been featured on ESPN3 twice.
"At the high end, there's quite a bit of strategy," said Moore, now the director of the league. "It gets very interesting. I think it has a chance of becoming a compelling broadcast."
The main events this weekend will be the open division singles and doubles competitions, though there also will be blind draws and ways for spectators to get involved and pick up a bag if they are so inclined. The open division competition is supposed to be tight, with about 150 players expected to attend.
"It's almost mesmerizing, because if you've ever played the game before or you've ever tried to throw a bag in the hole, you realize how difficult it is," Ryder said. "To see a guy walk up to the board and take four bags and throw all four bags in the hole with ease on a regular basis, it really is truly something to see."
While players can often hit the hole with ease, Ryder said players will use bags to block the hole for opponents and attempt different types of shots to try to gain an advantage. There's a level of gamesmanship involved, something he never realized before making the trek to that tournament five years ago.
"I think people are going to be able to see why cornhole is a legitimate sport," Moore said. "When spectators come in, they think that they're good when they're playing against their buddies in the backyard, and then they see people who practice three hours a day. It's pretty amazing, some of the shots that these guys hit."
Pickleball
Henderson unveiled its first dedicated pickleball courts Monday, located within the complex of the Whitney Mesa Recreation Area.
Four courts are dedicated solely to pickleball, and another four can be used for pickleball or tennis. The courts are open for public reservation and play.
The Recreation Notebook appears Wednesday. Ben Gotz can be reached at bgotz@reviewjournal.com. Follow @BenSGotz on Twitter.
Calendar
Friday-Sunday: American Cornhole League National 6 Tournament, Las Vegas
Saturday: Grant a Gift Autism 5K Race for Hope, Las Vegas
Saturday: Pahrump JROTC 5K, Pahrump
Saturday: REVEL Mount Charleston Marathon, Las Vegas
Saturday: Runnin' for the House 5K, Las Vegas
Saturday: Spring Recycled Run, Henderson
Sunday: Girls on the Run of Las Vegas Spring 5K, Las Vegas