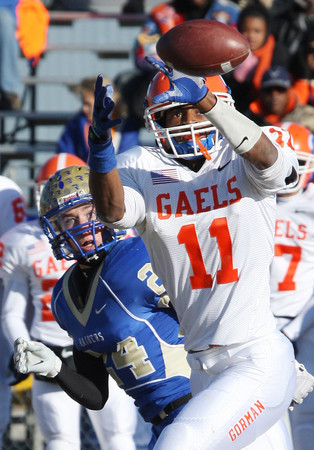 SPARKS — Bishop Gorman's football team faced many questions heading into its Class 4A state semifinal game Saturday afternoon at Reed High.
The answers were emphatic.
The Gaels scored four touchdowns in a span of five offensive snaps in the first quarter (and had one score nullified because of a holding penalty) to cruise to a 62-21 victory over Reed to earn a berth in next week's 4A state championship game.
"We've bonded so much, and we've been through so much as a team," senior running back Victor Belen said. "To finally make it to the state championship, all we got to do is finish. It feels great."
Belen scored twice, on runs of 15 and 1 yards, as part of the opening flurry by Gorman (14-0).
"We've waited so long for an opportunity to do something like that because so many people doubt our ability and doubt our toughness and doubt even our family," Belen said.
Gorman coach Tony Sanchez said erasing those doubts and silencing their critics was the Gaels' incentive.
Could they handle the trip up north? Could they handle the cold weather? Could they mesh a roster full of individual talent into a cohesive team?
"We just took that and hung that everywhere we went, and I'll be honest, that was our motivation," he said. "We couldn't wait to come out here and show everybody that we can play together, play as a team, run the football, throw the football."
The Gaels led 28-0 less than six minutes into the game, 35-0 after one quarter and 49-7 at the half.
Belen capped Gorman's opening drive with a 15-yard TD run for a 7-0 lead.
After Reed went three-and-out, freshman quarterback Jarrett Solomon connected with wide receiver Johnathan Loyd on a 64-yard pass for a 14-0 lead.
Reed (11-3) fumbled trying to run a reverse on the ensuing kickoff, and Gorman's Jordan Welte recovered at the Reed 1, setting up Belen's second score.
Loyd then intercepted Reed quarterback Tyler Pine on the first play of the Raiders' next possession to set up the Gaels at the Reed 25. After Shaquille Powell's 25-yard touchdown run was nullified by a holding penalty, Solomon connected with wide receiver Ryan Smith for a 35-yard score with 6:13 left in the first quarter.
"We kind of knocked them off balance early, and once we did, they just couldn't recover," Sanchez said.
Belen, who ran for 80 yards and three touchdowns on 14 carries, said Gorman's early dominance didn't surprise him.
"I knew we were capable of it," he said. "There's not a lot of teams who could line up against us who we wouldn't be capable of it against."
The Gaels weren't done after their initial explosion. Powell's 11-yard TD run capped a 90-yard drive that made it 35-0 with 1:12 left in the first quarter.
In the second quarter, Solomon connected with wideout Taylor Spencer for an 89-yard touchdown pass, on which Spencer took a short toss and eluded three tacklers before sprinting the rest of the way. Powell followed that with a 55-yard touchdown run for a 49-0 lead on Gorman's next possession.
Powell finished with 112 yards and two touchdowns on nine carries. Solomon completed 9 of 13 passes for 259 yards and three touchdowns.
"Honestly, you take the mindset in the playoffs that you've got to win by one point and you're happy," Sanchez said. "Never in a million years did I think we'd come out and do that."
In-depth high school sports coverage