Jack Del Rio stokes Raiders' confidence, belief in 2017
September 9, 2017 - 7:00 am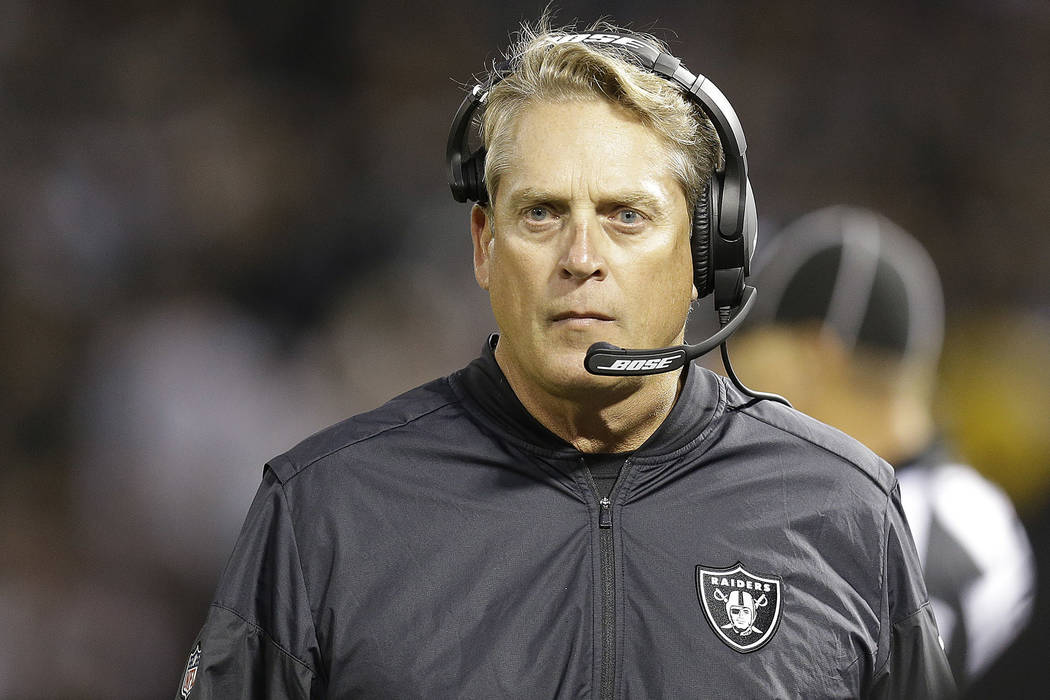 ALAMEDA, Calif. — It was just the two of them.
A young quarterback still finding his way. A head coach with the belief he would — and a video presentation to state his case.
Raiders coach Jack Del Rio met in 2015 with Derek Carr, a second-year quarterback at the time, following a loss early in their first season together. Carr demonstrated the same natural ability and competitive spirit for which he is known today, albeit with less polish. Case in point: He exited Week 1 upon injuring his hand when stiff-arming a defender on a scramble.
Del Rio privately showed Carr game footage of other quarterbacks.
Great quarterbacks. Hall of Fame quarterbacks.
"He said, 'I want you to know I have your back. I want you to know that you can be one of these guys,' " Carr said. "What that did, I knew my head coach had that much confidence in me. That meant whatever he said, I just felt like we could do it."
The Raiders are now entering their third season under Del Rio, seeking to follow last year's 12-4 campaign with a deep playoff run. But to understand what they have in 2017, to grasp this locker room and how it functions, is to understand how the Raiders won 12. The franchise exhibited a historic ability to finish close games, a knack players credit to Del Rio and the confidence he instills.
Belief is their mystery ingredient, their secret sauce.
"We think we're going to win every game," tight end Lee Smith said. "That starts with Jack."
Closers
"The Greatest Show on Turf," the St. Louis Rams of 1999, blew the doors off opponents with an average margin of victory of 22.9 points. The Green Bay Packers of 1996 boasted quarterback Brett Favre in his prime and the NFL's No. 1-ranked defense when disposing of teams by an average of 22.3 points per win.
Dominance is often associated with highly successful teams.
The Raiders were successful in 2016. They were not dominant.
Since the NFL expanded from a 14- to 16-game schedule in 1978, 140 teams have won 12 or more games in a regular season. No team did so less decisively than the Raiders, their average margin of victory a mere 6.7 points per game. The average for teams with at least 12 victories is 13.7 points, a full touchdown difference.
The 2016 Raiders were one of four teams since the 1970 NFL-AFL merger to go undefeated in games decided by three or fewer points when having played at least five such games. They were 5-0. Further, they went 9-2 in games decided by one score, the win total tied for second-most by a team since 1970. Only the 2003 Carolina Panthers (7-0, 9-3) accomplished both feats in the same season.
It nearly was unprecedented for the Raiders to win so close, so often.
Yet under Del Rio, they did.
Personnel and coaching go hand in hand. To some degree, this roster under GM Reggie McKenzie was built to finish. It has an elite edge rusher in Khalil Mack who can help ice a win.
The offense has the quarterback, protection and weapons to maneuver a successful two-minute drill. This was demonstrated time and again, as Carr owned a 120.3 passer rating when the Raiders trailed in the fourth quarter, completing 41 of 73 attempts for 612 yards, eight touchdowns and no interceptions. He was sacked just twice.
But even talented teams can underachieve.
They can lack execution. They can lack chemistry. They can lack confidence.
The Raiders don't lack with Jack, something that was apparent during last year's Sept. 11 opener against the New Orleans Saints. A quarterback and team who had begun to believe in themselves took the next step.
"Building belief is something we do work on," Del Rio said. "What happened that day was it basically culminated into a magical moment, but certainly, we did not go in looking to make a statement. We went in looking to find a way to scratch out a win, one way or another. Looking back, I think it had that kind of effect because it was validation of all that we had talked about and worked on throughout the offseason.
"It sort of culminated in a huge moment and gave us confidence going forward."
'Two' on the Bayou
The game was one of 16. The win was one of 12.
But even now, days away from an entirely new season, what transpired in New Orleans on the first Sunday of the 2016 campaign is something Raiders players carry with them and reference on occasion. They learned not only about themselves but their head coach.
In that sense, they haven't looked back.
The Raiders trailed the Saints 34-27 late in the fourth quarter at the Mercedes-Benz Superdome. That is when Carr prepared to take the field. Del Rio already had made up his mind. By multiple accounts, he told his quarterback the team would attempt a two-point conversion after scoring a touchdown. Indeed, so it went, Carr connecting in the end zone first with wide receiver Seth Roberts and then wide receiver Michael Crabtree for a 35-34 win.
No one could fault Del Rio if, when making that decision, Saints quarterback Drew Brees was a consideration. Brees had thrown for 423 yards and four touchdowns without an interception.
Nonetheless, he demonstrated belief in his team to execute in a high-leverage situation. Having won in that fashion to start the year placed a gust of wind at the Raiders' back for the next late-game situation. As the narrow-margin wins stacked, the gust became a steady wind of confidence.
In late-game situations, Carr says that he finds Del Rio on the sideline. They have, after all, a history together. This is the head coach who believed in him early in his career, who showed him video of greats from the past and stressed how they weren't perfect, either. No one is. Del Rio said that he told Carr in 2015 he believed in what they could accomplish together.
Carr believes the same.
"I always go to him and I'll be like, 'Hey, what do we want here?' " Carr said. "Even if it's, 'Duh, we want a touchdown.' Hey, what do we want? And he tells me, like in New Orleans, 'We need a touchdown. We're going to go for two. We're going to win this game.' OK.
"I think it's that confidence. He's so good at instilling it in each one of us players. When he takes the time to grab you and show you something like that and show you … what you're capable of, that's something that sticks with you. … Everyone needs people to encourage them and believe in them. Especially when it comes from the head coach, that's something, I think, that is a real gift he has."
Del Rio has been there.
He attended high school in Hayward, California, a campus about 12 miles southeast of the Raiders' facility in Alameda. He starred at linebacker for USC before the Saints drafted him in the 1985 third round. He knows what it's like to be traded. He knows what it's like to be released. He knows what the body feels like on Monday, Tuesday and Wednesday mornings.
Del Rio totaled 1,005 tackles across 160 games in 11 seasons for four franchises.
His experience as a player and former head coach — with the Jacksonville Jaguars from 2003 to 2011 — is punctuated by what players and coaches consider to be a venerable presence that befits a leadership position.
"Number one, the guy has (guts)," Lee Smith said. "He proved that in New Orleans last year. He ain't scared. Any chance he has to go win a football game, he's going to go win it. He ain't gonna wait around. And he trusts us. … The most important thing on the sideline is we think we can win, period."
"It's not that we're cocky or think the other team isn't good," Smith said. "Everyone gets paid in this business. But we do not think anyone can stop us. And on top of that confidence, we have a head coach who's played a long time in this business that has a bunch of cajones to call big plays. It all just trickles down to us. Fortunately, we were able to pull them out last year. But last year don't mean (squat). It's time to go out and do it this year."
More Raiders: Follow all of our Raiders coverage online at reviewjournal.com/Raiders and @NFLinVegas on Twitter.
Contact reporter Michael Gehlken at mgehlken@reviewjournal.com. Follow @GehlkenNFL on Twitter.