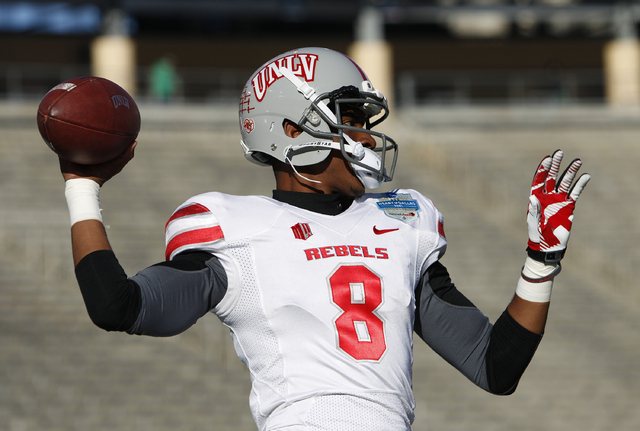 This is how much quarterback Caleb Herring meant to UNLV.
Now that his playing days are over for the Rebels, they're not ready to let him go.
Herring, who showed not only physical ability in rescuing the Rebels' season but also mental fortitude in saving his college career, could remain in the program.
Coach Bobby Hauck would love to keep him nearby, and Herring could assist the program next season as a graduate assistant.
"Caleb is obviously a well-liked, strong personality on our team," Hauck said. "He's played awfully well. He's been so consistent throughout the year. It's been special to watch the evolution and development, and I think his teammates have enjoyed that as well. Like any time, when guys go out the door, it's almost like a wake in there. But we'll move forward, and we're hoping he hangs around a little bit and helps out."
Should Herring become a graduate assistant, he could serve as a valuable mentor to quarterback Nick Sherry, who will be a junior next season.
Both know what it's like to be at a crossroads of a career, which is where Sherry finds himself now. Sherry, the starter in 2012 and at the beginning of this season, lost his job after he failed to protect the football.
Herring went through a similar experience in 2011, and a year later even found himself taking more snaps at wide receiver than quarterback. Rather than transfer to another program or become a disruption in the locker room, Herring worked hard, then went into spring practices and training camp last year with the determination to at least push Sherry.
He did more than that. Herring won the job after rallying UNLV from 21-0 down in the third week and leading the Rebels to a 31-21 victory over Central Michigan.
Without his play, it's difficult to imagine the Rebels making the Heart of Dallas Bowl, where they lost 36-14 to North Texas on Wednesday at Cotton Bowl Stadium. The bowl game was UNLV's first in 13 years, and its 7-6 record was the school's first winning season in the same span.
Herring threw 24 touchdowns passes this season, tying Randall Cunningham's total in 1984 as the second best in UNLV history. Jon Denton tossed 25 TD passes in 1996.
Herring also showed an ability to take care of the ball, setting school records by completing 62.9 percent this season and 59.5 percent for his career, while establishing UNLV lows with a 1.2 interception percentage this season and 2.0 for his career.
That's quite a turnaround for a player who just two years prior had three interceptions returned for touchdowns by Southern Utah and went 1-for-14 for 8 yards at UNR.
"Sometimes in life you get dealt a hand," Herring said. "The way you respond to those hands is everything. I think that's pretty much the main thing in my career here that I've learned, is to deal with adversity and make the most of it."
Herring will be a difficult act to follow, especially in this age where the quarterback position takes on even more importance given the offense-friendly rules.
Maybe he'll remain at UNLV as a mentor to Sherry. That is, if Sherry wins back his job. He will be challenged in the spring and training camp by junior college transfer Blake Decker and a group of freshmen.
Whoever is the starter next season will have the difficult task of following a quarterback who left a void to fill larger than the state where UNLV just played.
Herring spoke after the bowl loss about how this season set a foundation for future teams, about the pride and work ethic being irreplaceable even as players are changed out.
"I think that the team motto," Herring said, "will echo throughout the years."
Contact reporter Mark Anderson at manderson@reviewjournal.com or 702-387-2914. Follow him on Twitter: @markanderson65.