Rebels survive a blown 19-point lead; beat Hawaii 39-37
October 12, 2013 - 8:39 pm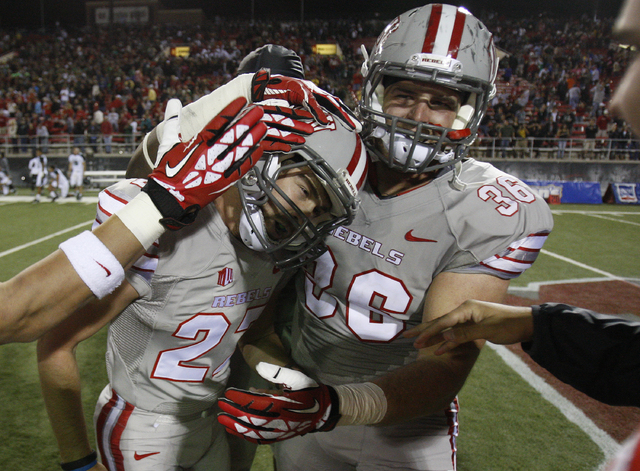 FINAL
Nolan Kohorst made a 44-yard field goal as time expired tonight to lift UNLV to a 39-37 victory over Hawaii at Sam Boyd Stadium.
The Rebels appeared to have victory securely in hand, leading 36-17 with 13:11 left in the game.
But the Rainbow Warriors rallied to take a 37-36 lead with 1:44 left on Sean Schroeder's 44-yard touchdown pas to Chris Gant.
UNLV then drove to the Warriors' 26-yard line to set up Kohorst's game-winner.
The Rebels (4-2, 2-0 Mountain West), who next play at Fresno State on Oct. 19, have won four in a row for the first time since 2000. It is their first four-game regular-season winning streak since taking seven in a row in 1984.
Hawaii dropped to 0-6, 0-4 in the conference.
THIRD QUARTER
UNLV outscored Hawaii 17-0 in the third quarter to erase a four-point halftime deficit and take a 30-17 lead.
Caleb Herring's 10-yard touchdown pass to Anthony Williams put the Rebels ahead 20-17. They extended the advantage on a 41-yard field goal by Nolan Kohorst and a 5-yard touchdown run by Tim Cornett.
UNLV dominanted statistically, outgaining the Rainbow Warriors 528-304 in yardage.
Cornett has 154 yards and two touchdowns rushing, and Herring has completed 26 of 40 passes for 351 yards and a TD.
SECOND QUARTER
UNLV outgained Hawaii 348 yards to 217, but missed opportunities left the Rebels trailing 17-13 at halftime.
The Rebels settled for field goals in the second after advancing to Hawaii's 18- and 1-yard lines. UNLV failed twice in the first quarter on fourth-down conversion attempts.
Hawaii's Sean Schroeder threw touchdown passes of 12 and 27 yards in the final 2:26 of the half to give the Warriors the lead. UNLV had gone ahead 13-10 on Tim Cornett's 1-yard scoring run with 1:35 left.
Caleb Herring completed 18 of 26 passes for 252 yards, but was intercepted on the final play of the half. The ended a streak of 183 consecutive passes without an interception, breaking the school record and tying Wyoming's Brett Smith for the Mountain West mark.
Cornett rushed for 95 yards on 16 carries, and Devante Davis caught six passes for 118 yards.
FIRST QUARTER
UNLV had its chances to score, but was stopped twice on fourth down, ending the first quarter against scoreless.
The Rebels drove to the 2-yard line on their first series, but quarterback Caleb Herring was sacked on fourth down. On fourth-and-1 at Hawaii's 18, running back Tim Cornett was stuffed on a run up the middle.
UNLV outgained the Rainbow Warriors 135 yards to 81.
PREGAME
UNLV will wear its all-gray uniforms for just the second time when it faces Hawaii at 5 p.m. today at Sam Boyd Stadium.
The last time the Rebels came out in that look, they also came out firing in building a 31-14 halftime lead last season against UNR. But UNLV collapsed in the second half, and was beaten 42-37.
UNLV (3-2, 1-0 Mountain West) hopes to continue the momentum of a three-game winning streak when it faces Hawaii (0-5, 0-3). The Rebels are on their hottest streak since 2003.
Quarterback Caleb Herring is responsible for much of that success. He has thrown 158 consecutive passes without an interception, only 15 shy of the school record set by Omar Clayton spanning the 2007 and 2008 seasons.
Interest is high in this game. Eleven NFL scouts have been credentialed, though the meeting with Hawaii generally brings out the scouts because it saves them a long and expensive trip.
The Rebels will wear helmet decals that support Breast Cancer Awareness.
Contact reporter Mark Anderson at manderson@reviewjournal.com or 702-387-2914. Follow him on Twitter: @markanderson65.