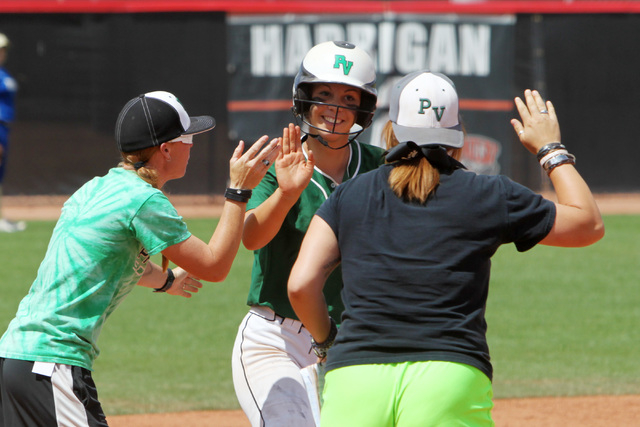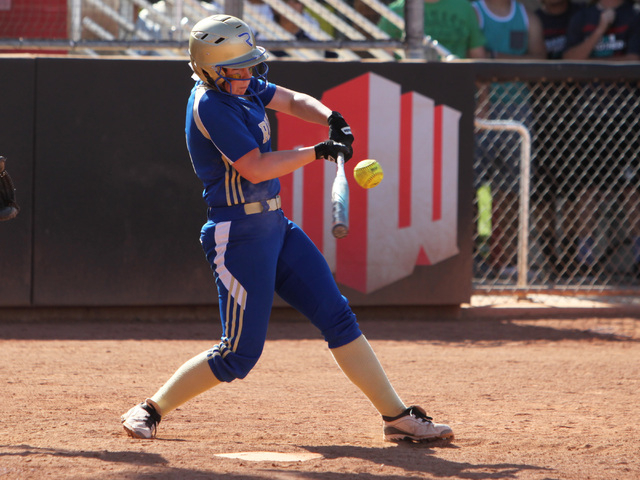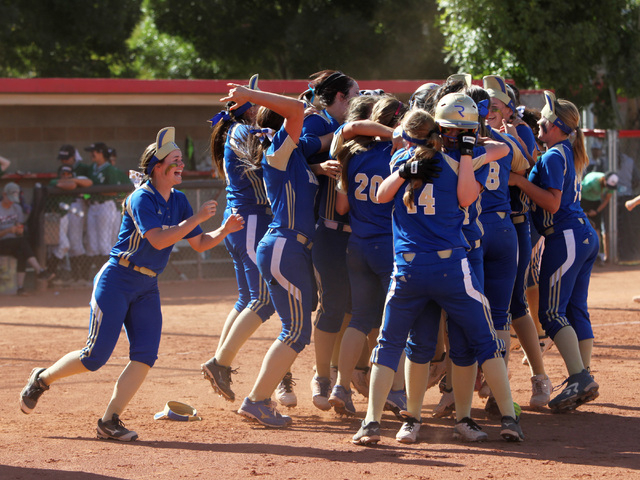 Mackenzie Howren's primary bat was taken away from her before the start of the state softball tournament.
She used her backup bat to hit the biggest ground ball to second base in her young life.
Reed's junior second baseman rolled a bases-loaded fielder's choice to second with one out in the bottom of the eighth inning Saturday, and courtesy runner Ryia Grant beat the throw to the plate to lift the Raiders to a 3-2 win over Palo Verde in the Division I state championship game at UNLV's Eller Media Stadium.
"She's a very smart kid and hard to get rattled," Reed coach Jon Wunder said. "I told her that we knew they were going to throw her inside and just kind of step back. Her hands weren't fast enough. (I told her) just put it in play."
Reed (37-2) won its first state title since 1998 and avenged a loss to the Panthers (33-10) in last year's championship game.
Howren's bat was not on a list of approved bats umpires were told to check before the start of the tournament, and she had to go to a backup and struggled for much of the tournament.
But she came up in the right situation to end the game.
Rheanna Smith, who bounced into a double play on a 3-and-0 pitch to end the fifth inning, led off the eighth with a single that got past Palo Verde right fielder Jordan Menke, allowing Smith to reach second.
Courtesy runner Grant moved to third on Julia Jensen's single to center, and Alysha Imperato was hit by a pitch to load the bases.
After Allie Hughes fouled out on the first pitch of her at-bat, Howren hit an 0-and-1 pitch to second. Palo Verde second baseman Kali Tomlinson fielded the ball cleanly and threw a strike to the plate, but Grant beat the throw to end the game.
"Ryia Grant is so fast that I knew that was it," Jensen said. "It's something we've been waiting for probably since we started playing softball. It feels great."
As she did in Friday's winners' bracket final, Jensen threw a gem.
Reed's sophomore allowed just four hits — none in the final four innings — and struck out 10 less than 24 hours after holding the Panthers to three hits and striking out 14 in a 2-1, nine-inning win.
"Julia is the whole package, with the bat and pitching," Wunder said. "She was the difference."
The Raiders took a 2-0 lead on Jensen's long home run to center field in the first inning, but Palo Verde battled back.
Tomlinson homered in the second inning, and Emily Guthrie singled and scored on Kiley Harrison's ground-out in the third.
"I just have to figure out how to put the same type of kids on the field that I had this year," Palo Verde coach Kelly Glass said. "It's going to be a tough hit, losing the seniors this year."
Palo Verde senior Kelsea Sweeney, pitching her third game in less than 24 hours, worked out of a few jams and allowed nine hits.
"I wish that we could have given her the gift of a state championship," Glass said. "She deserved it. She worked so hard, and she wanted to do it for her team."
Contact reporter Bartt Davis at bdavis@reviewjournal.com or 702-387-5230.